Guardian Rottweilers M LITTER
Sire: Nando Se Ungo-Rot
Dam: Ajka Se Ungo-Rot
Can. for International Ch.                          Ch. Ajka Se Ungo-Rot
Nando Se Ungo-Rot                                       Sire: Zoro Se Ungo-Rot
Sire: Marsio Ri Mobby Dick                       Dam: Reni Se Ungo-Rot
Dam: Tosca Se Ungo-Rot                            Born: 4 Feb 2007
JR 719665 Rw                                                  HD +/-; ED +/-
Chip: 688050000568220                          JR 719234 Rw
HD-FREI; ED-FREI                                       Chip: 688006000309928
Multi V-Rated                                                  Ch. Macedonia
Adult CH of Bulgaria                                    Ch. Montenegro
Bulkan Champion
Grand Champion
2x CACIB; 2x CAC
---
Guardian Mahala Von Gottschalk
I'm sure I don't need to tell you how great Mahala is.  Actually she is beyond great.  Three months and one week and she is up
to par with the rest of the group.  Although I still need to recognize her as a puppy for her own safety I need not worry about her as
she is always with the group or at my side.  She does not go in the house, sleeps though the nite no problem, first into the car for that ride to the golf course, very respondant to what I tell her.  My four yr old male cavalier took to her first.  They play and she chooses him over the rest to lie down next to.  My younger male is trying to impress her with all sorts of unusual (for him) leaps and stunts but as soon as Mahala goes to play with him he stops.  Older male tolerates with an occasional playful moment.  Two females just tolerate.  Mahala is the perfect match to this group.  Thank you for being so professional and knowledgeable and caring about placing your dogs.  She is in heaven here.  She is home.
Kim
Keeper of the garden. One year old now. She is doing great.
Kim
---
"Crom" Guardian Meiko Von GOttschalk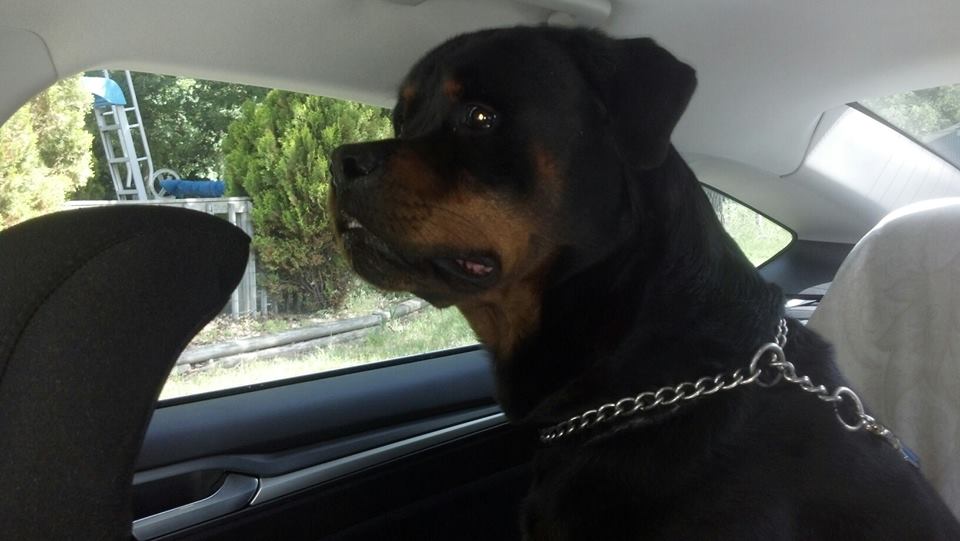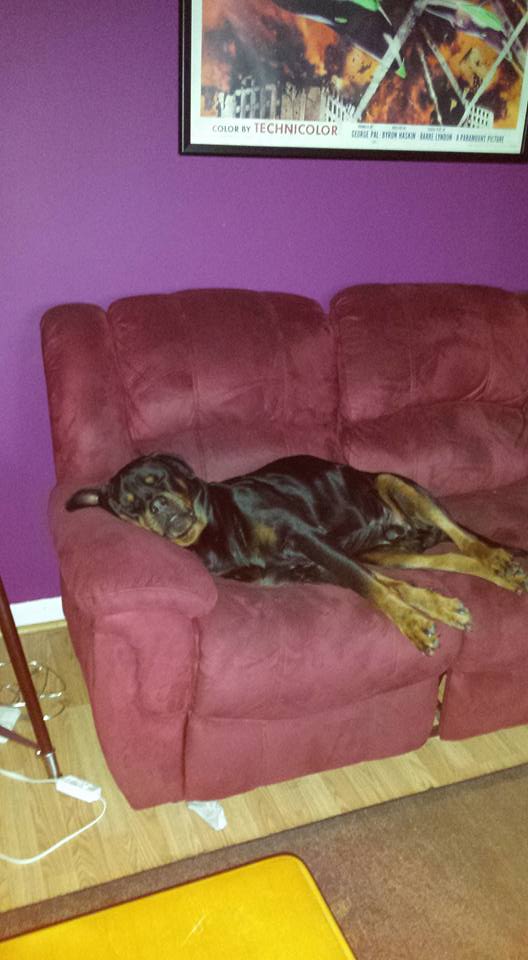 Alice.
First I want to extend my deepest sympathies for your recent loss of a member of your Rottie family.
Back in 2011, Diesel was one of the reasons why we chose Guardian Rottweilers for our first Rottie in 10 years since the loss of our beloved Brandy.  Every so often our boy reminds me of her.  She's gone, but will never be forgotten.  Im sure you feel the same about your Diesel.
Our boy Cromm, (yep we got the name idea from one of your males), is now going on 6 years old and he is happy, healthy and a loving animal.  Our family could not be happier with him.
Which brings me to my point.  We are looking to bring a female Rottie into our family.  Pet quality, low prey drive, family oriented.   We are not opposed to a young adult if you feel that she would be a good fit for our family.  We still live in the same house on acreage with a large dog run area.
We would like to take our time in finding the right fit for us so we are in no hurry.
I attached some pictures of "His Majesty" for you.
Oh, I wanted to mention this to you as I have never known a Rottie to do this.  When I come home from work, Cromm is always waiting for me at the top of the stairs where I come in through the basement.  Our house is built in a hill.  One day I came in, and he is there wiggling his butt and whining like always, so I start talking to him and he starts howling like a hound dog.  Every now and again I can get him to do it when he gets a cookie.  Its really funny.
At any rate, thanks for your time and message me back when you can.
thanks
Dave
(Visited 8 times, 1 visits today)