Guardian Rottweilers C LITTER
Sire: "Ocho" Guardian Warrick Von Gottschalk
Dam:  Guardian Kashi Von Gottschalk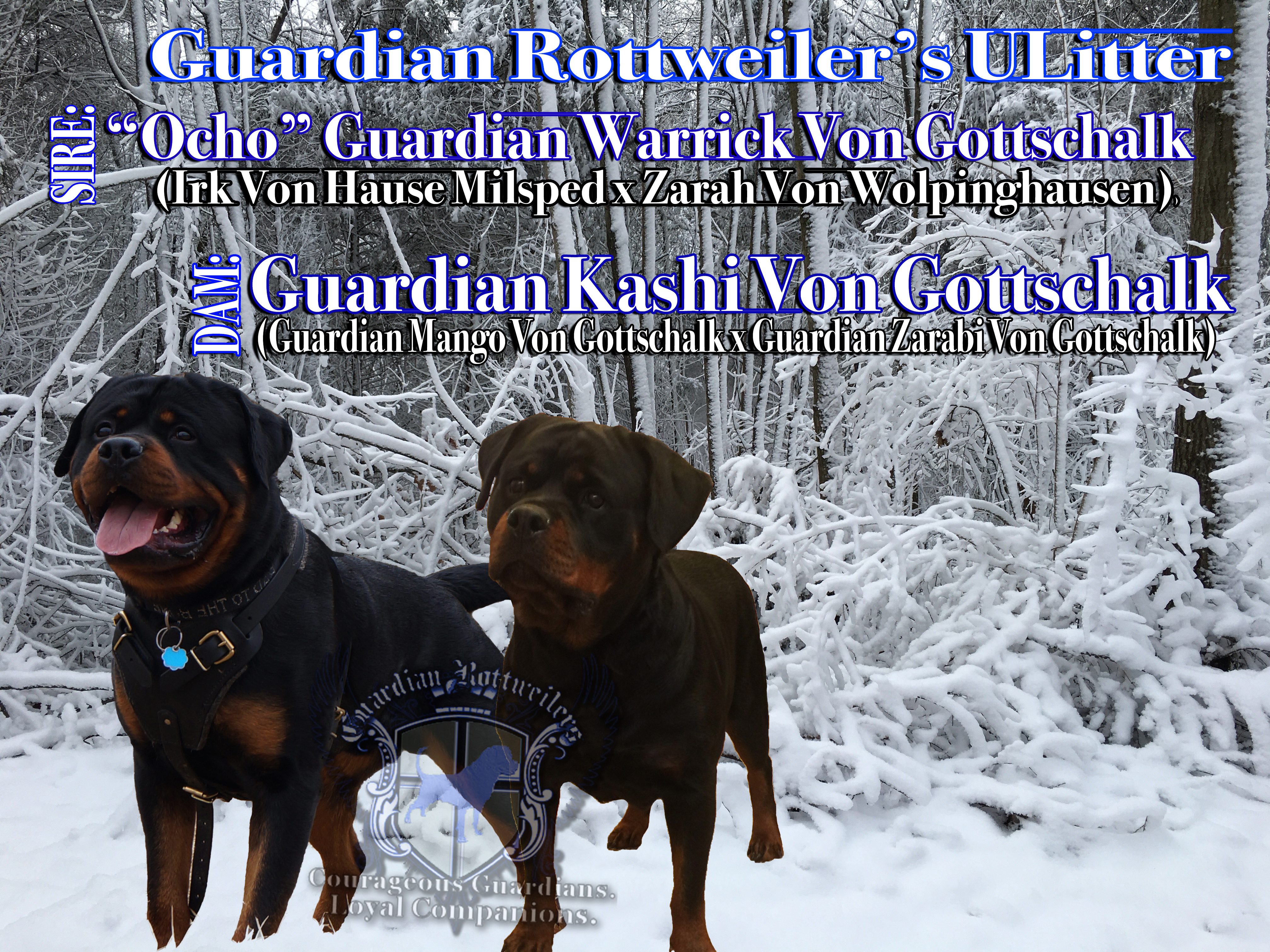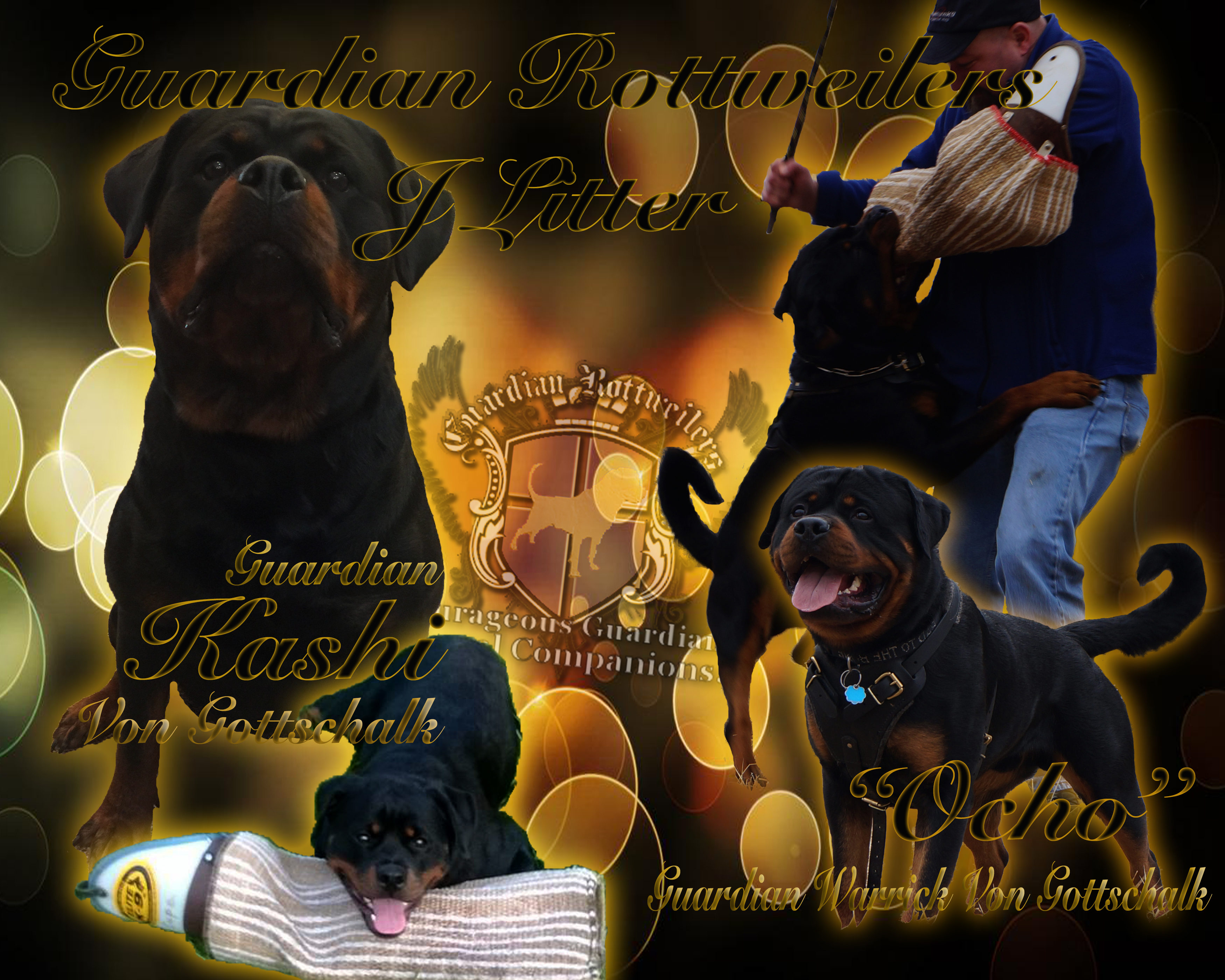 This is a repeat breeding of our J Litter from 2015 and our U Litter from 2016.  Both litters produced absolutely phenomenal pups and we expect nothing less this go!  We are so excited for these puppies! 
Our little Ocho and Kashi cubs at 4 weeks old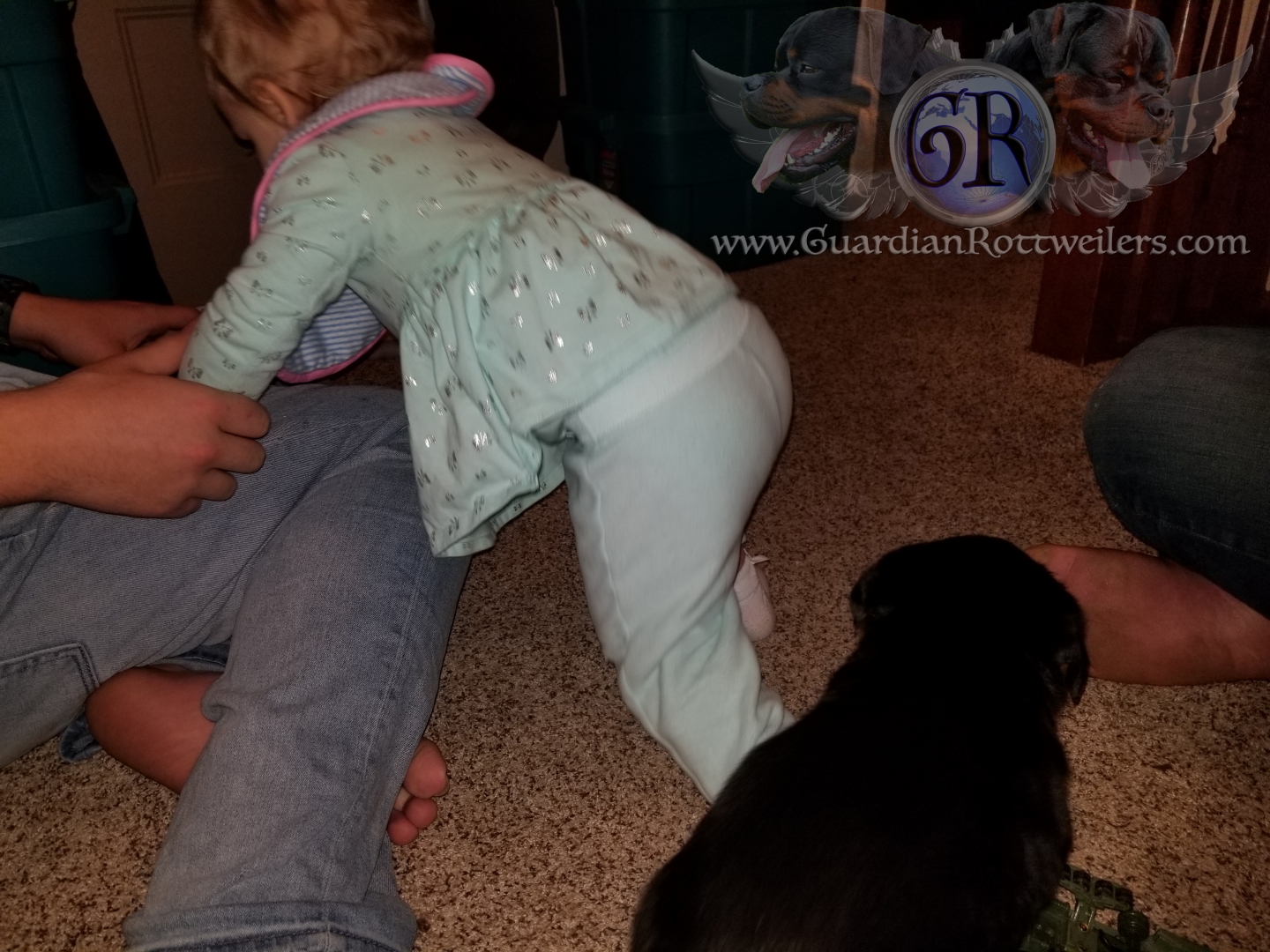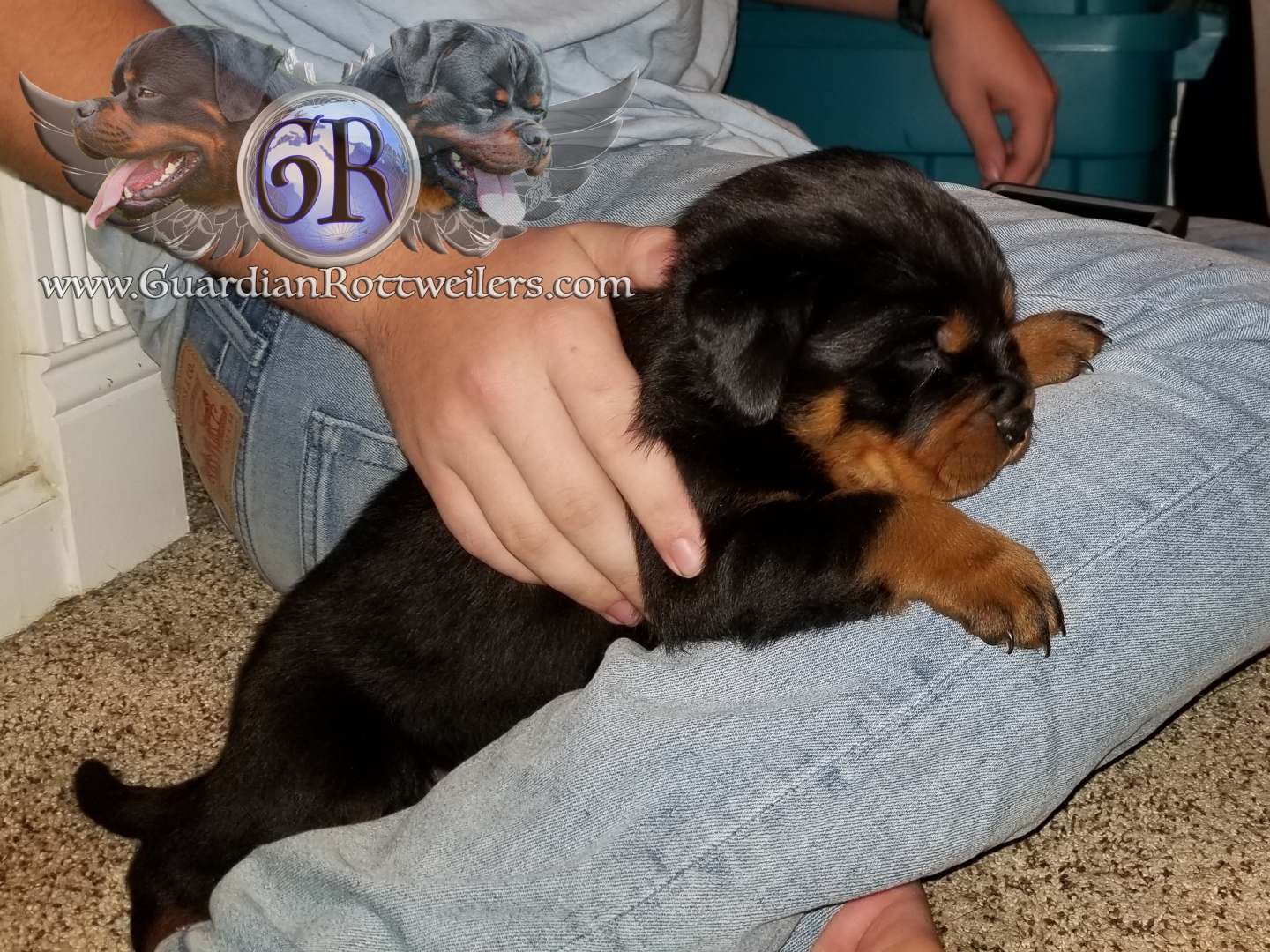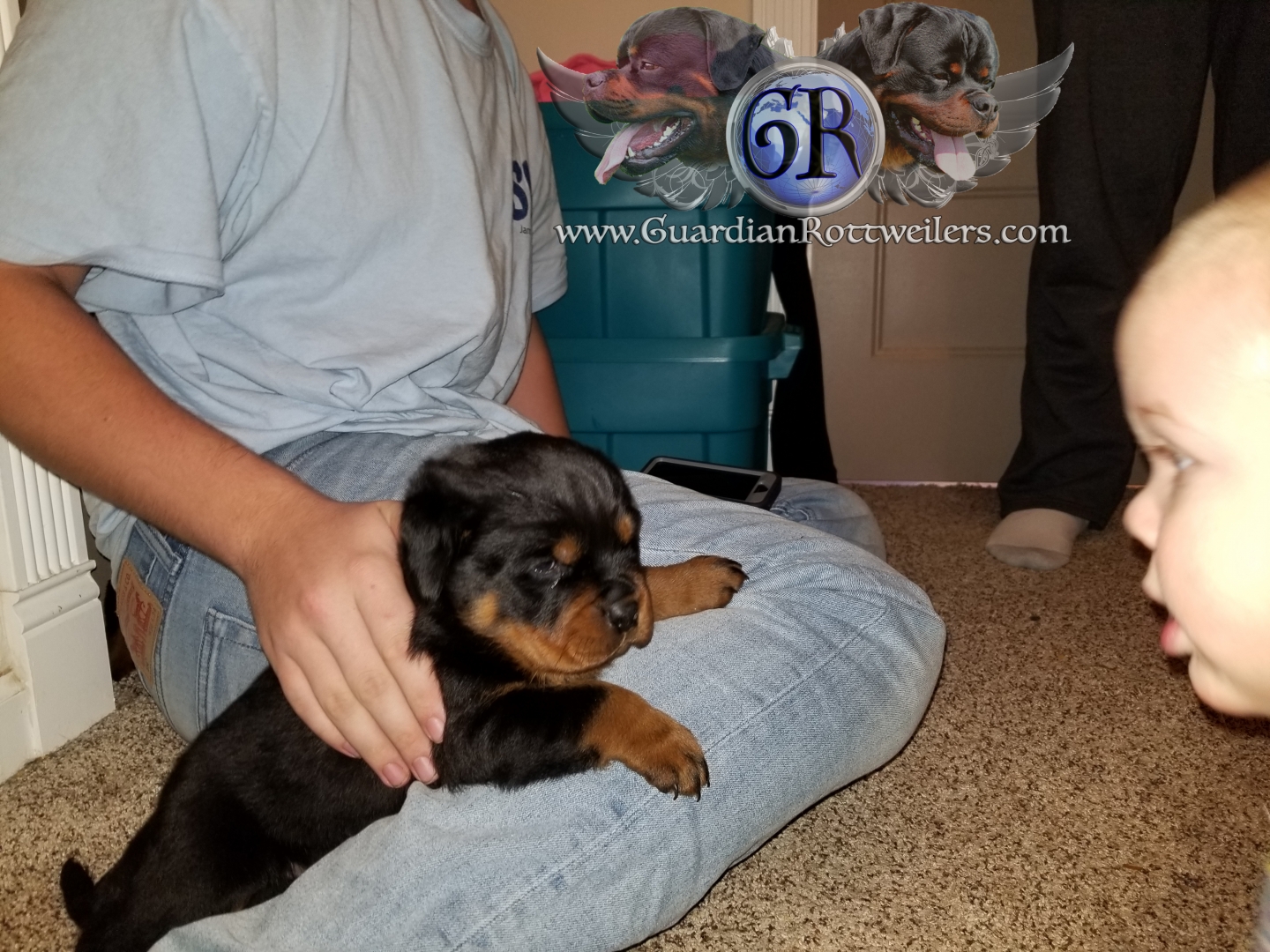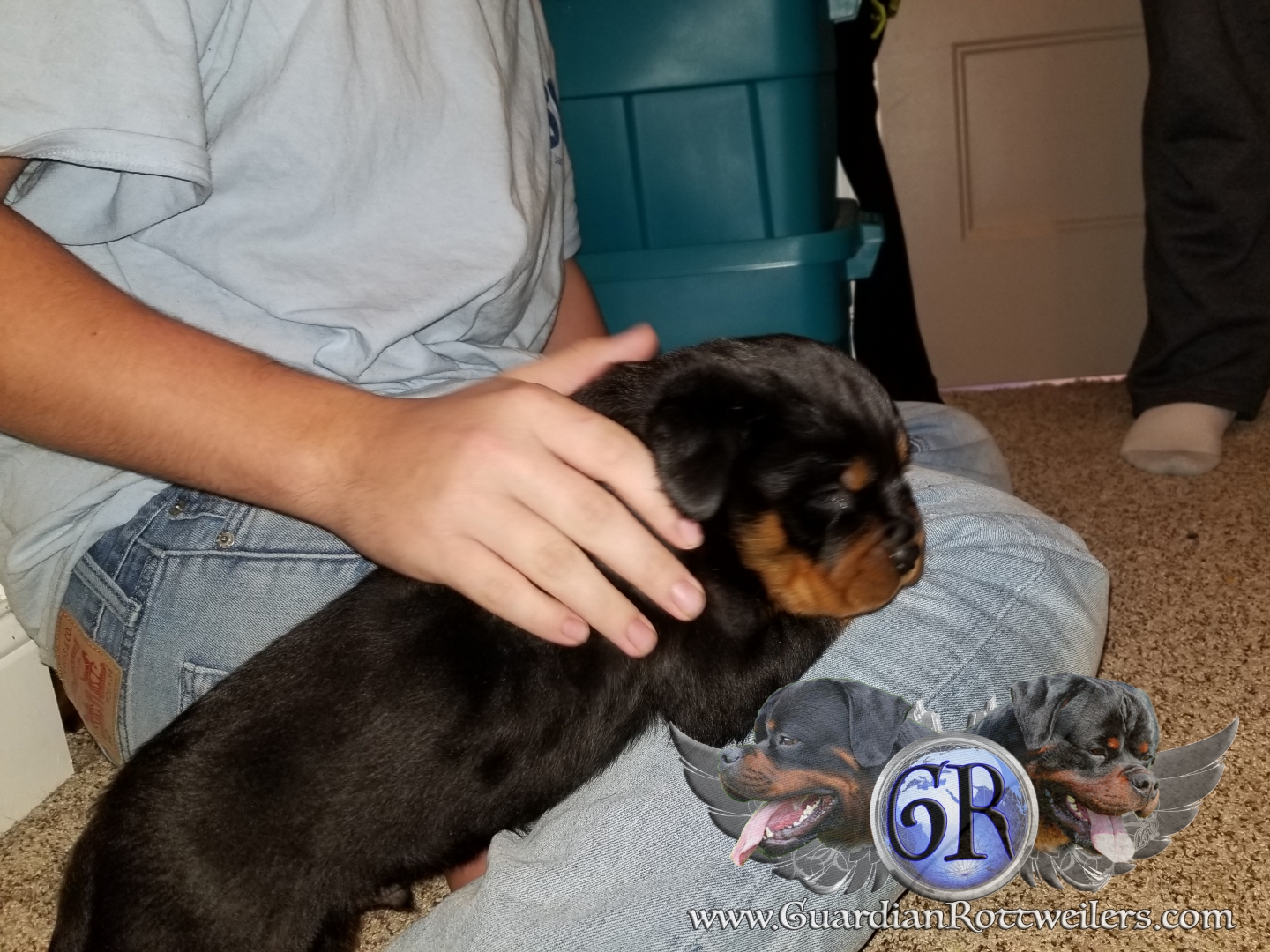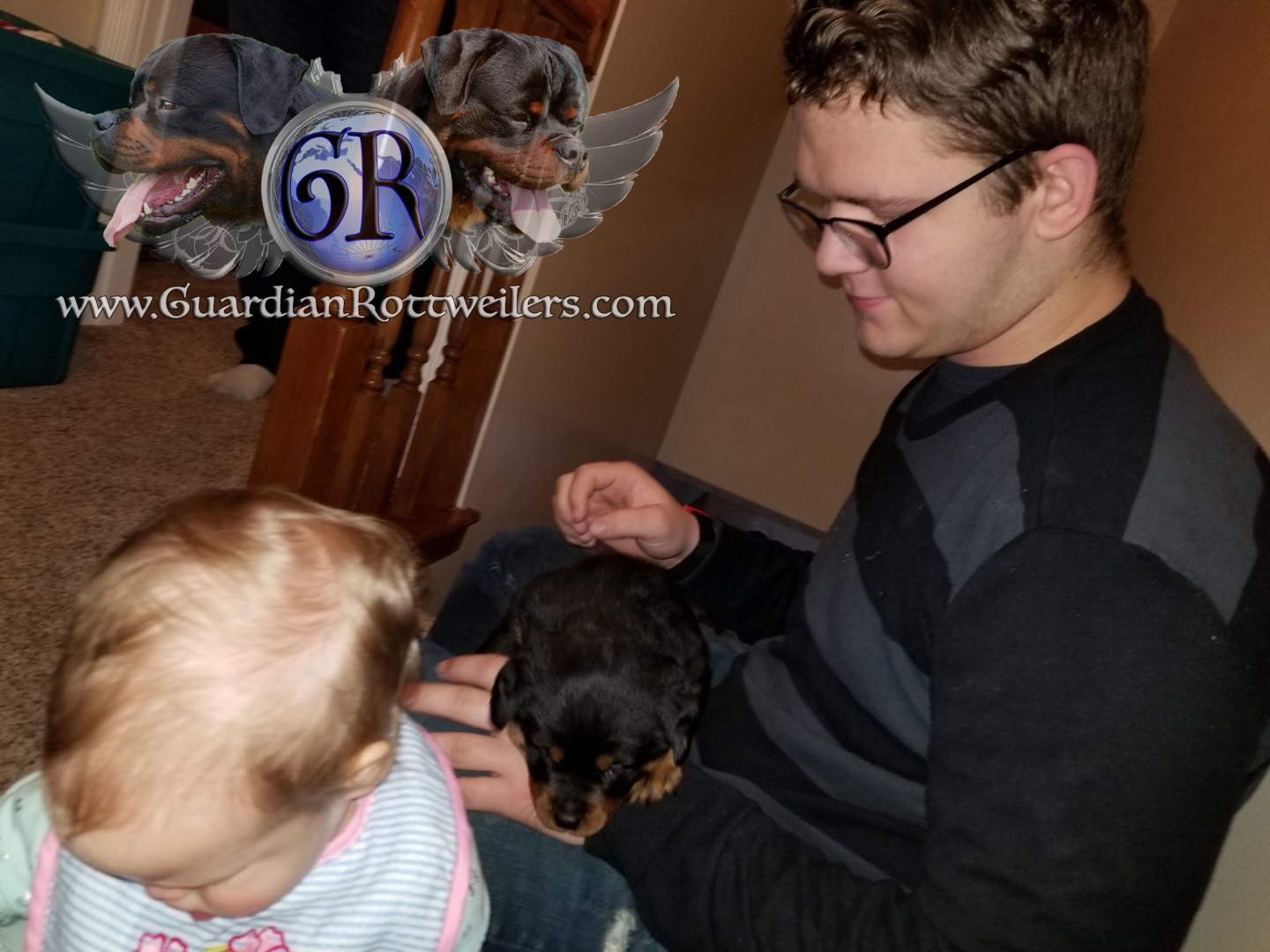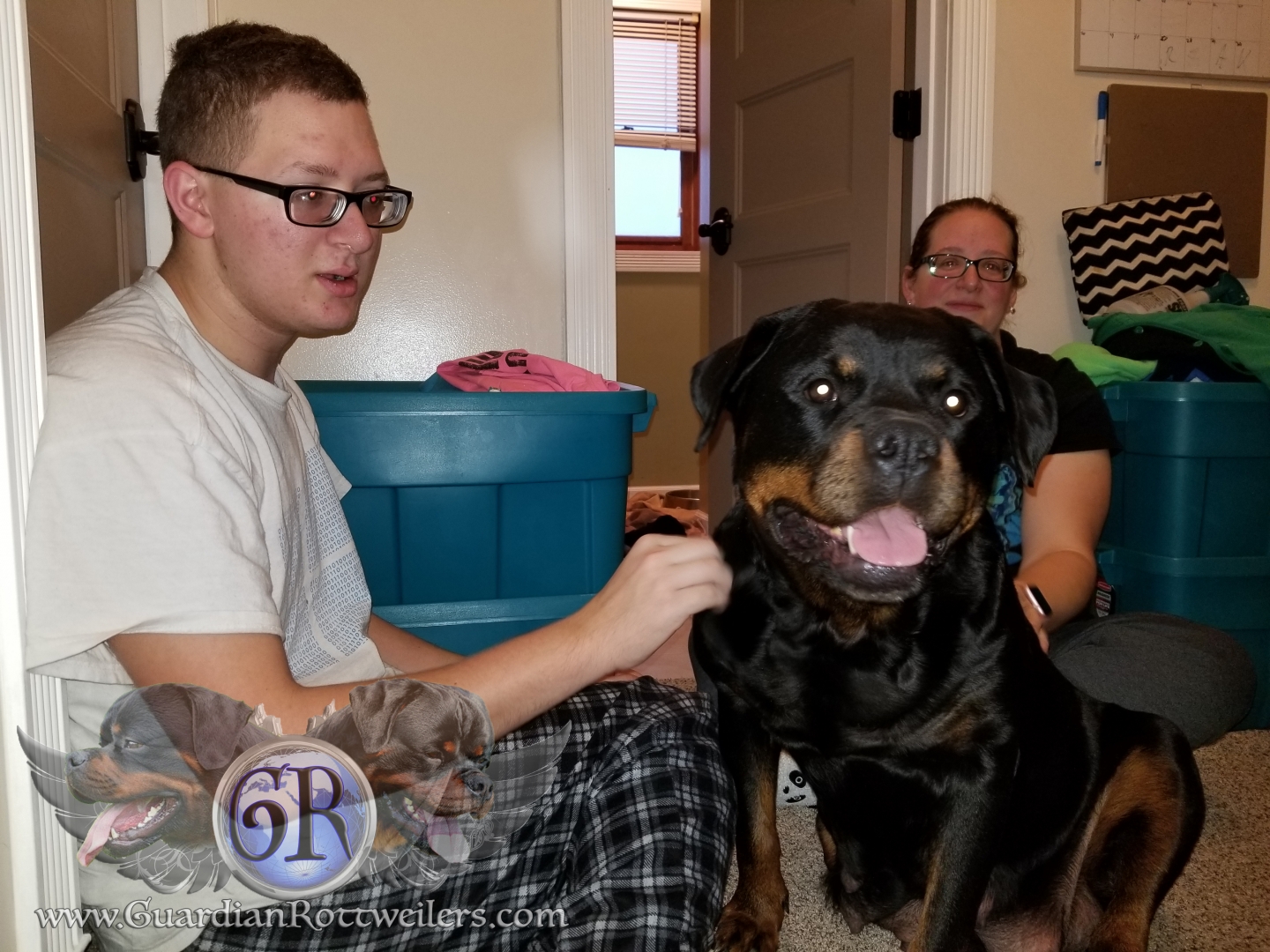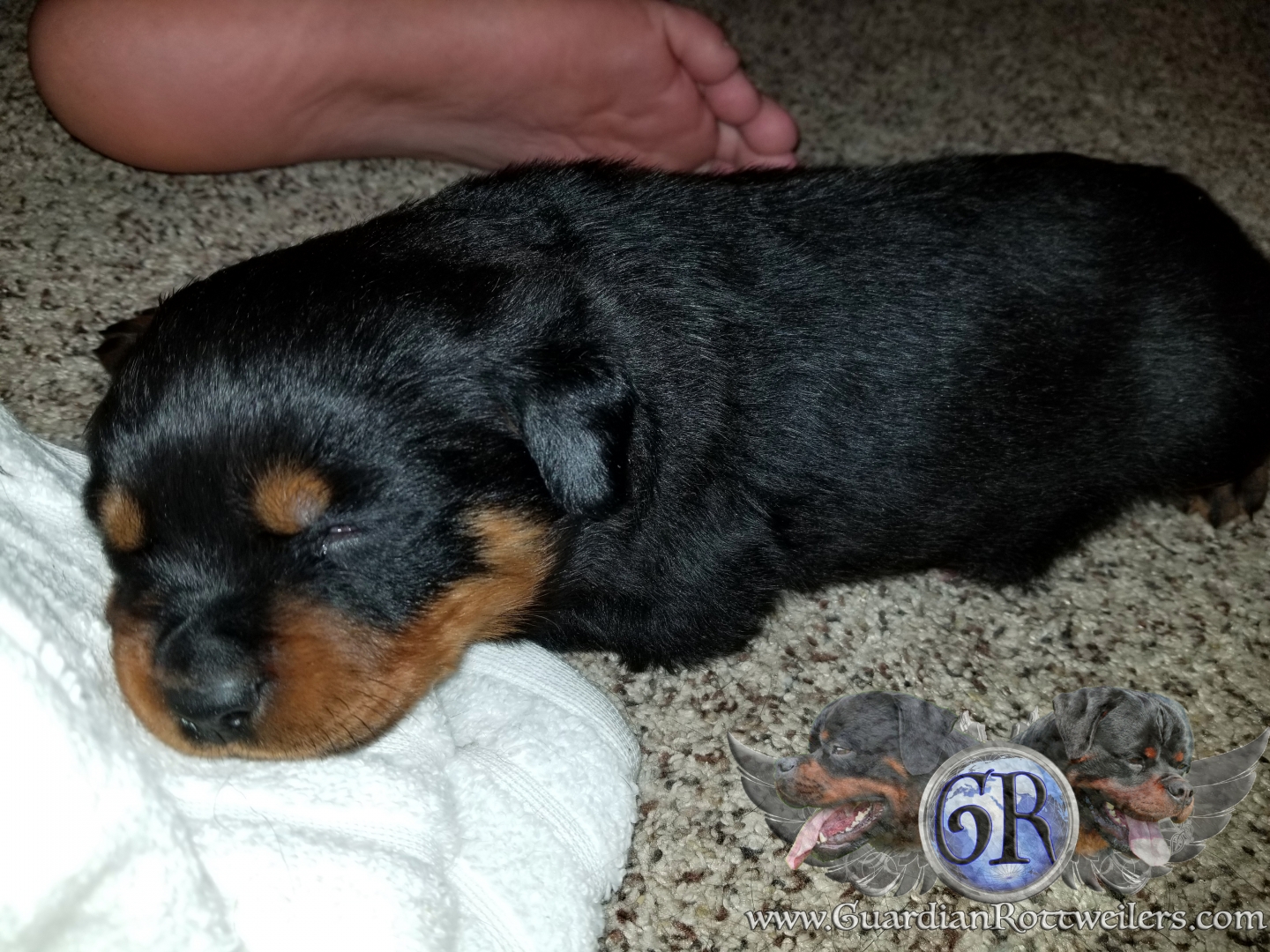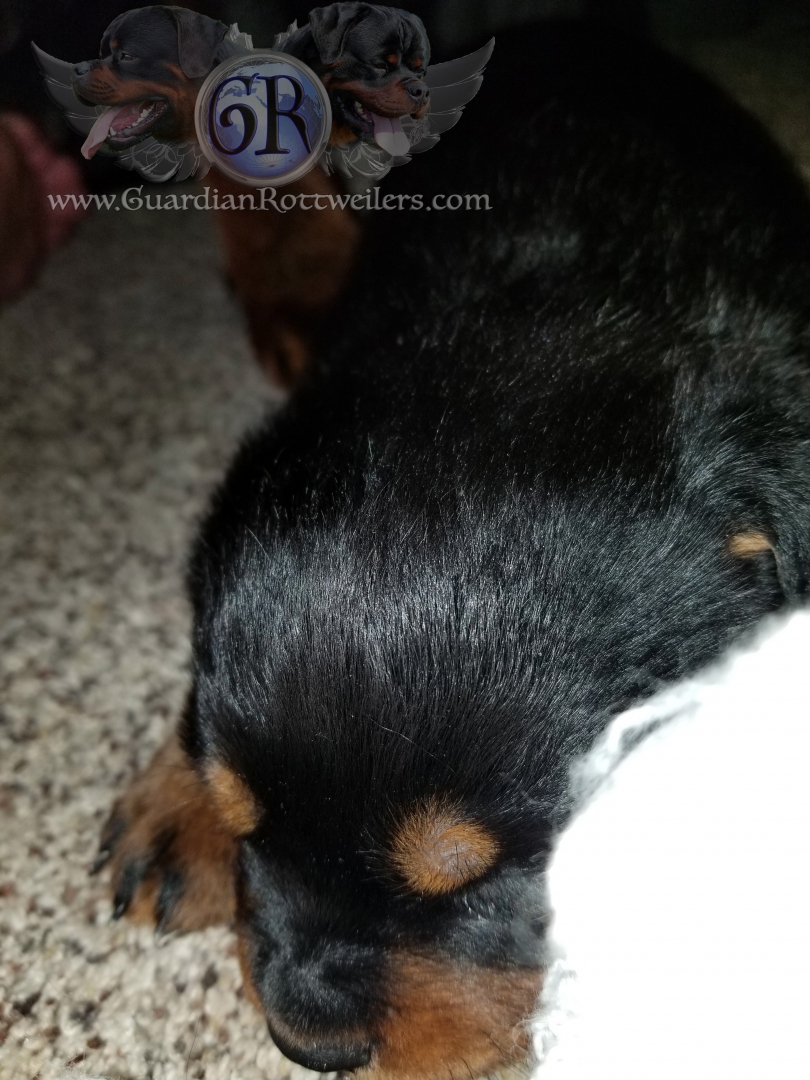 "Taavia" Guardian Chilli Von Gottschalk
Good morning, Alice.
Successful vet visit yesterday morning. Dr Daley was very impressed with the new addition. Conformation (as expected) is good and no issues with heart or lungs; no other apparent issues based on physical exam. Fecal test results due back today. She commented on the large head and expects she will be a big girl. Attached is the invoice for the visit for your records. They input the wrong birth-date, which we will have them update on the next visit
in 3 weeks
time.
A few photos attached. She has settled in beautifully with Mortimer (Fr Bulldog) and Kiva (Lab) and has quickly learnt to use the dog door to access outdoors for doing her business. House training is progressing well. Mortimer has introduced her to the joys of chewing on sticks and they both "tackled" the evil toilet roll yesterday and proceeded to drag/spin-out almost the entire roll into the living room before we could catch them! They have become partners in crime – God help us! Her start to life in Colorado could not have gone better. She is incredibly sweet, gorgeous and smart.
Thanks for getting her off to such a good start – we are excited to carry that responsibility on throughout her life. We will keep you posted, particularly as she grows over the next year or so, with occasional photos so you can see how she develops.
Cheers,
Guardian Carne Von Goschalk
Can't wait to see how these girls come out . an the other litter to but when u breed ocho.again to cashe or another big Alfa female u breed him to. This big pup is got some drive let me tell u whoo . an we will be coming this time so we can meet an he should be out of his first 8 week training school an back home for a month an then he be going back for longer there doing it all in 4 stages with the obedience 123. Then will start the protection work an agility bite work . an then if u an ur trainer aprooves him then I would like him to do the seiger training ur opinion. On him an the training poor fellow is 56 pounds an has all baby teath.lol. Thanks .Charles Tompkins.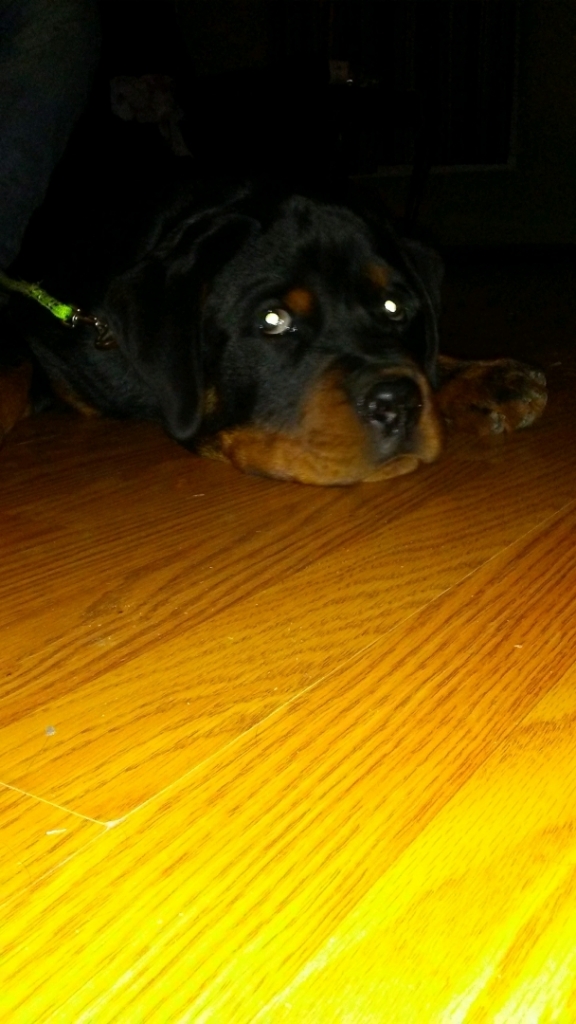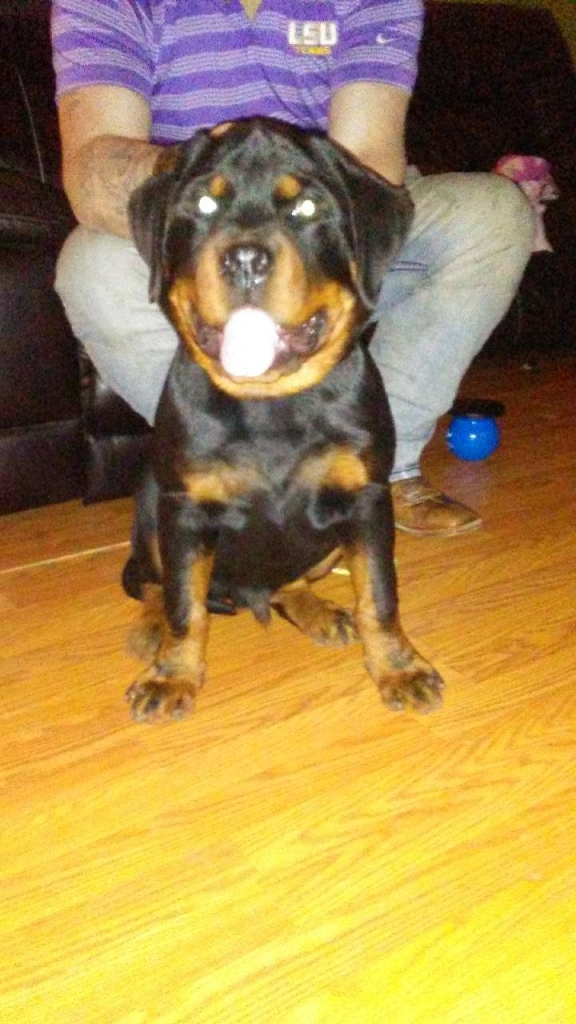 Here was a few more he was just tired from working an just cleaned his bowl like allways lol.

Will be doing starting first seiger scutchund tracking. Confermation. An man he does have the natural drive for the protection an working. So hopefully we meet at one of the shows across the pond. I'll send one more.

Here is or big baby meat head 68cm an 63kg first scutchund show an confermation this year an tracking an man does he have the drive for it . Ocho baby boy. An to let u no I'll have deposit sent in this week. Ps is there any top ch bred top show quality in Europe  that u would suggest. I'll send a couple pictures of meat head.
12 month old ch Ocho an kashi . big pup at 68 cm an a 130 lbs  Anton / carne aka meat head. Starting his bite work supper drive hits like a Mack truck .an will go to first show this year. . Thanks mis alice . he's one of a kind. Charles.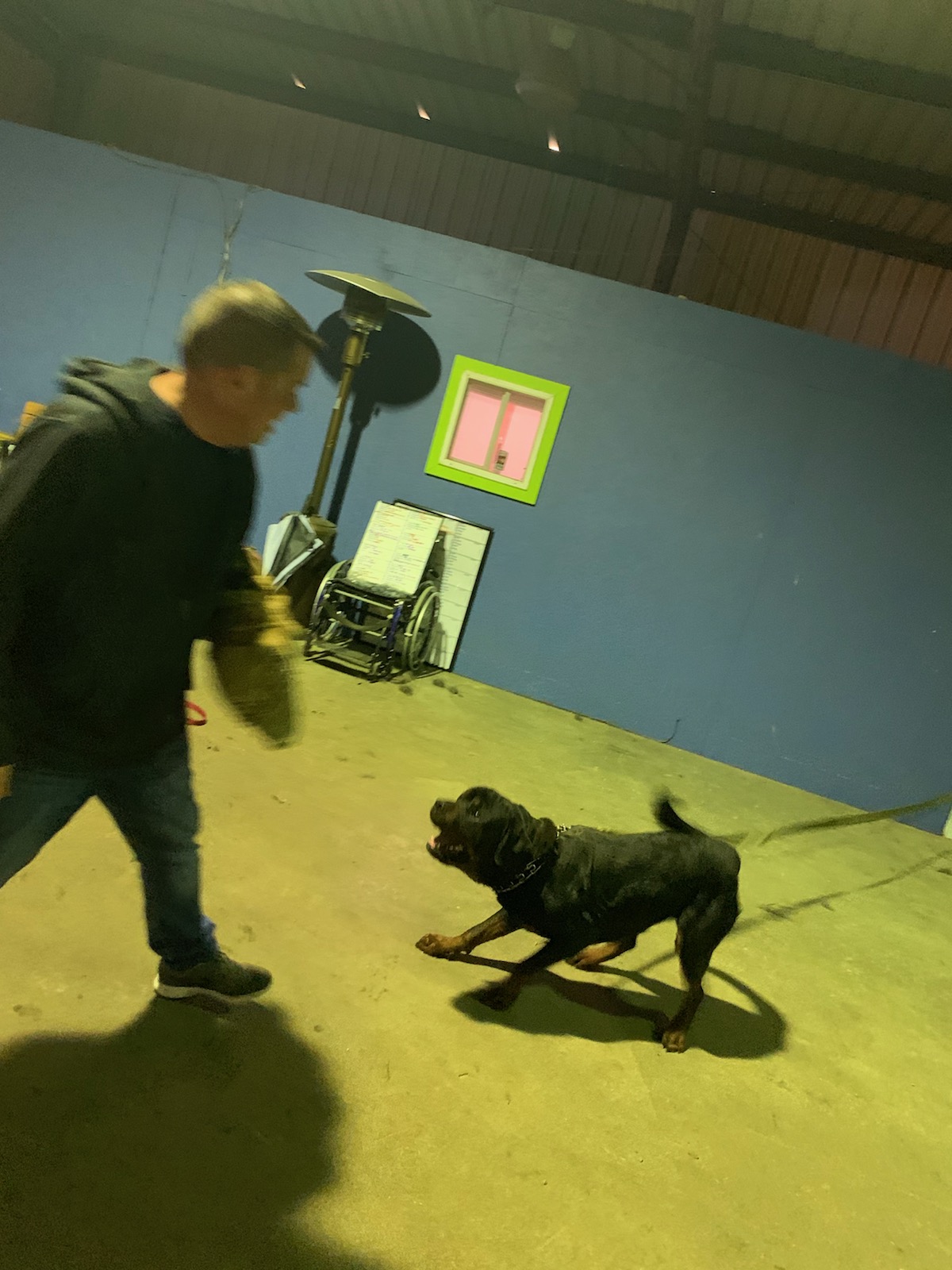 IMG_0274
(Visited 17 times, 1 visits today)