Guardian Rottweilers T LITTER
Sire: Crom di Alaricus Rex
Dam: Daisy Vom Nettetaler Land
Born:  15 Mar 2004

LOI #04/124043

Italian Import

AKC #WS35073301

DNA #V602325
Heart Cert.# RO-CA5099/84M/P-VPI


HD-FREI; ED-FREI (FCI)

FCI Champion of Reproduction!

IPO 1

CH. ADULT MACEDONIA 09

CH. ADULT BULGARIA 09

CAC 6x, RCACIB 2x

Multi-V Rated

Dam: Cindy vom Borner See
Born:  May 16, 2006
ADRK No: 112802
AKC #  WS29219701
AKC DNA #  V557414
HD-frei
SchH/VPG 1
ZtP
BH
Multi V Rated
"Dozer"  Guardian Troy Von Gottschalk

Happy Birthday Dozer is 1 today!!!  I love my life!!!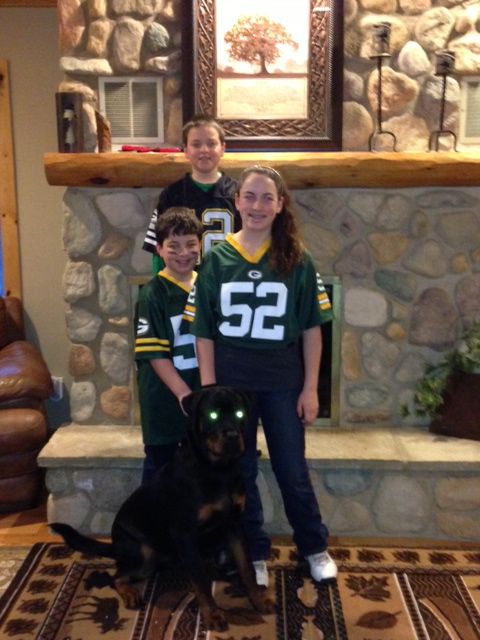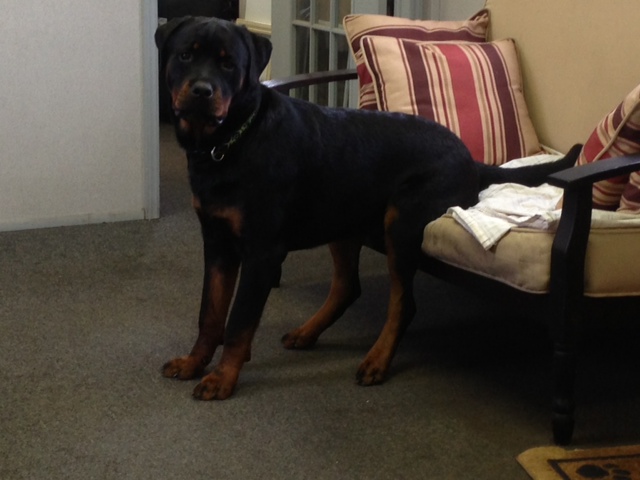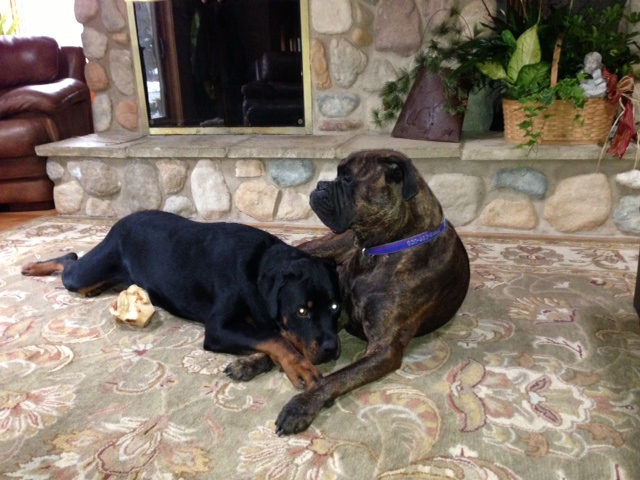 ---
Guardian Tama Von Gottschalk
Sorry this has taken so long, but life has a way of becoming hectic.  Tama and Charlie are doing great.  At last vet appt, Tama weighed a healthy 100 lbs.  She has adapted well here in Westfield and patrols the house and property like she owns the place.  Wanted to send pics as well.  Charlie is on the downhill slide with his arthritis- 100mg of Vetprofen twice daily now, but he still tries to keep up with Tama.  Keep us in mind if you need to place another great pup (or dog).
Doug, Trina, Charlie and Tama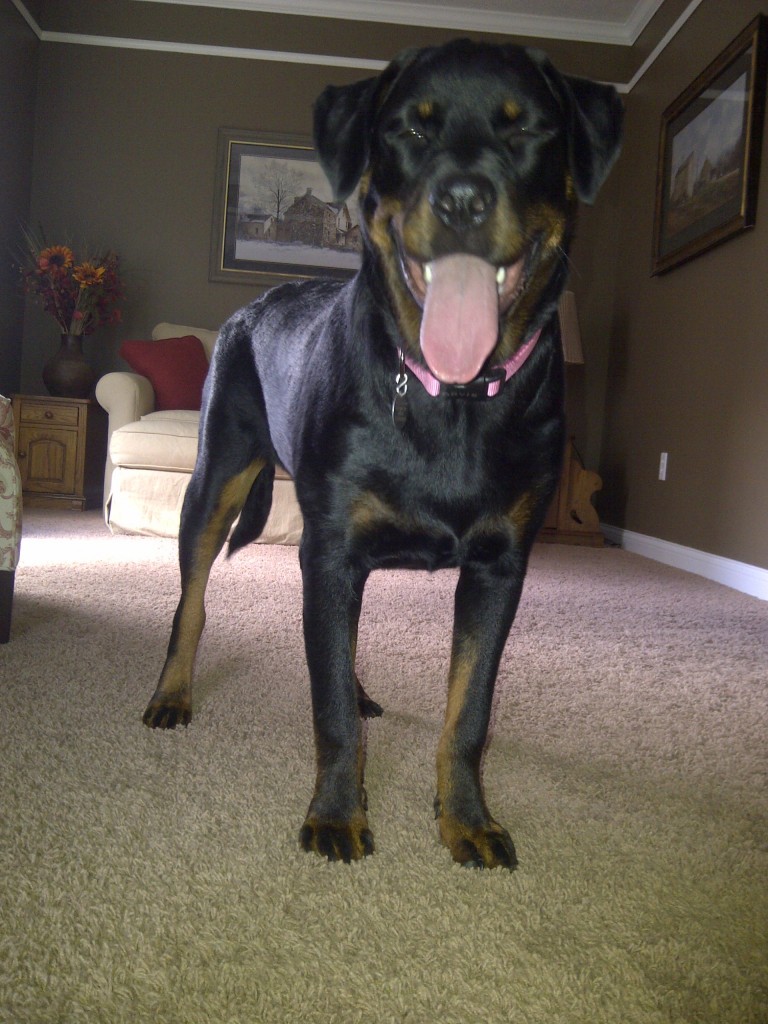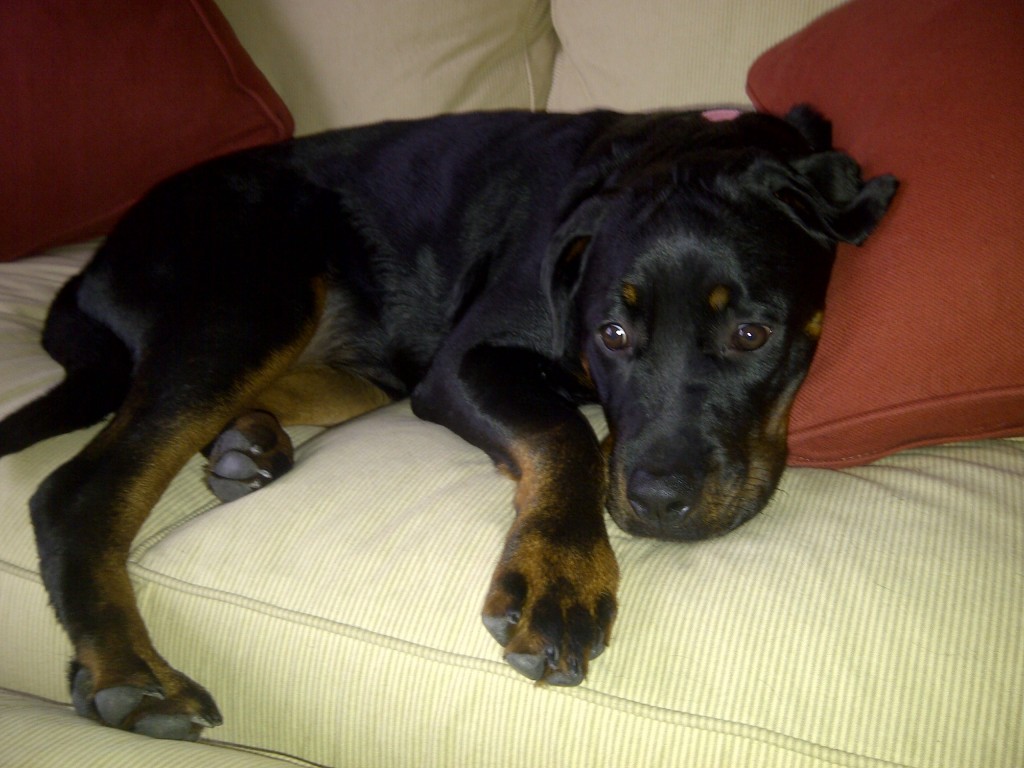 Hey Alice,
We hope this finds you and your family well, especially during this winter.  We wanted to share some news regarding our Tama girl.  She ended up rupturing her CCL a couple of weeks ago.  Upon getting x rays, the vet told us that she has one of the worst cases of hip dysplasia that she's seen.  We went down to the orthopedic vet for a pre- surgery consult, where they discovered a heart murmur.  So, we're going to go back next week for a cardiology consult to see if she's even viable for surgery.  Needless to say, Trina is especially devastated because Tama is her little girl.  We're not sure if putting her through the surgery will help with the dysplasia and we don't want to put her through something that traumatic.
We'll keep you updated as we go, just wanted to let you know.
Take care,
Doug and Trina Biggs
P.S.- Bolt (Wolverine) that we "rescued" from Frank Mcatamney is doing well, just very ornery!
So wonderful to hear from you, but I am so, so sorry that it is under such unfortunate circumstances 🙁  I have only had 2 other heart murmurs in nearly 20 years, but how incredibly frustrating that it would happen to her after she was already diagnosed with hip dysplasia.  Do you know if it is bilaterally (on both sides) or just one?  What did they grade the heart murmur?  My brother's labrador lived to be 14+ with a heart murmur, for what its worth 🙁  
Do you have any updated photos of her?  I am going to send an email to her siblings with this unfortunate news so that they can be aware and I would love to have some photos to send as well as I know they would love to see how she is doing (of course other than this 🙁 ).
Please get back to me when you can if you have any additional information.  We will all keep her in our prayers.  I am so glad that Bolt is doing well.  Please give them both our love.
Alice
So, the dysplasia is bi lateral.  We are meeting with a cardiologist next week to determine the extent of the murmur and if she can have to surgery to repair the 
ligament.  I will attach a couple of pics of our cutie- she is such a loving dog and we hate to put her through all of this.
Will let you know results of the cardiology workup.
Doug
Thank you so much for the photos, especially for letting me get to see a pic of my boy as well <3  They are both GORGEOUS!! <3  
I have sent the information to her siblings and added it to her webpage.  I will let you know if I get any feed back from anyone else.  Her father, Crom, passed a few years ago 🙁  And her mom is retired and living the life in Canada.  I would obviously have discontinued both of them in our breeding program when faced with 2 more severe health issues in a pup, so I cannot tell you how grateful I am that you have shared this with me.  I try my absolute best to be improving this breed with every generation, and the only way to continue on an upward trajectory is with good feedback from everyone.  Both parents were strong German bloodlines, so I am surprised that there were any issues, let alone both hips and heart.  But she is a prime example of why we emphasize so much how important health testing is in every single generation.  Too many breeders rely on "the grandfather had good hips" or something similar and they foolishly think that they can tell by looking at the dog whether or not the heart, elbows, hips, etc. are good and they can see with their own untrained eye if the dog has any faults and should or should not be bred :/  Even in the absolute best bloodlines, issues can pop up intermittently, so you can only imagine how rampant it can run in the dogs/lines that are not at all tested.  I will double check my records, but as far as I know, this is the only case of hip dysplasia Crom ever produced- in all of his breedings all over the world, and I am equally certain this was the only heart murmur he produced.  I cannot tell you how profoundly sorrowful I am for you and Tama that she had to be "unique" in that way 🙁  
Please do keep me in the loop and let me know if there is anything else I can do for you.  You and your family will be in our prayers <3
(Visited 9 times, 1 visits today)