Guardian Kinder Von Gottschalk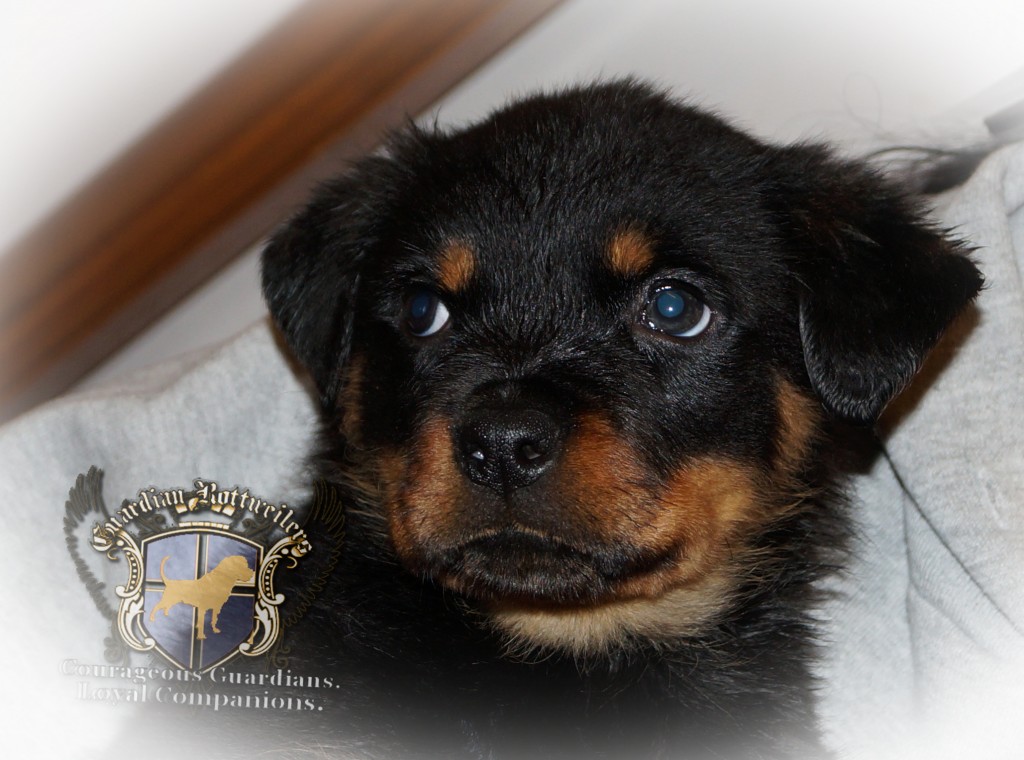 Where to begin?  Love this beautiful, strong, angel so, so, so much!  She was completely hand raised for the first 4 weeks, and even though she has spent a load of time hanging out with Holly's babies since about 4 weeks of age, Kinder still thinks she is more people than puppy 😉 Kinder is German for child, and it is also the name of my kid's most favorite German Chocolate eggs that have a toy inside.  Kinder eggs are like easter eggs, only the egg is made out of a delicious chocolate!  These are only available in Europe, but my kids cannot get enough of them!  So, between the fact that she thinks she is one of the kids, the fact that she is just SOOOOO stinkin' sweet like fine chocolate, the fact that she has certainly been our happy surprise, and the fact that we cannot get enough of her either, Kinder was just the absolute most fitting name for this adorable little warm fuzzy!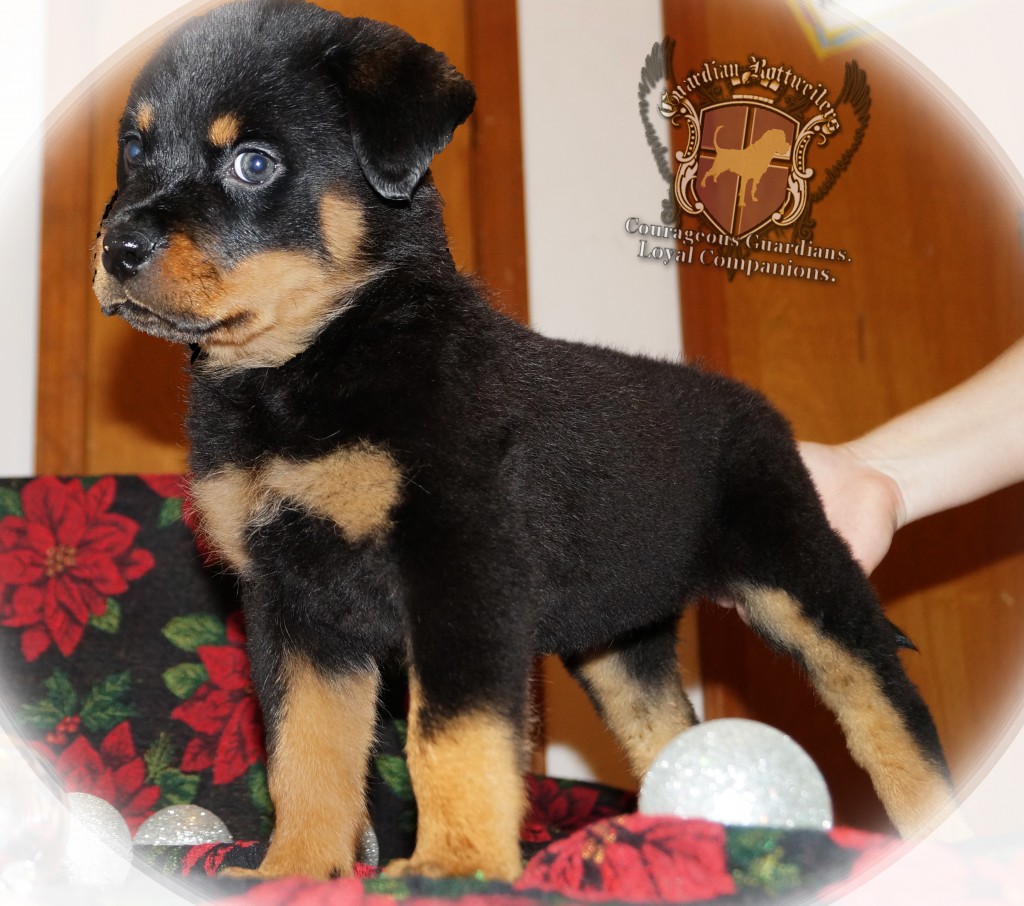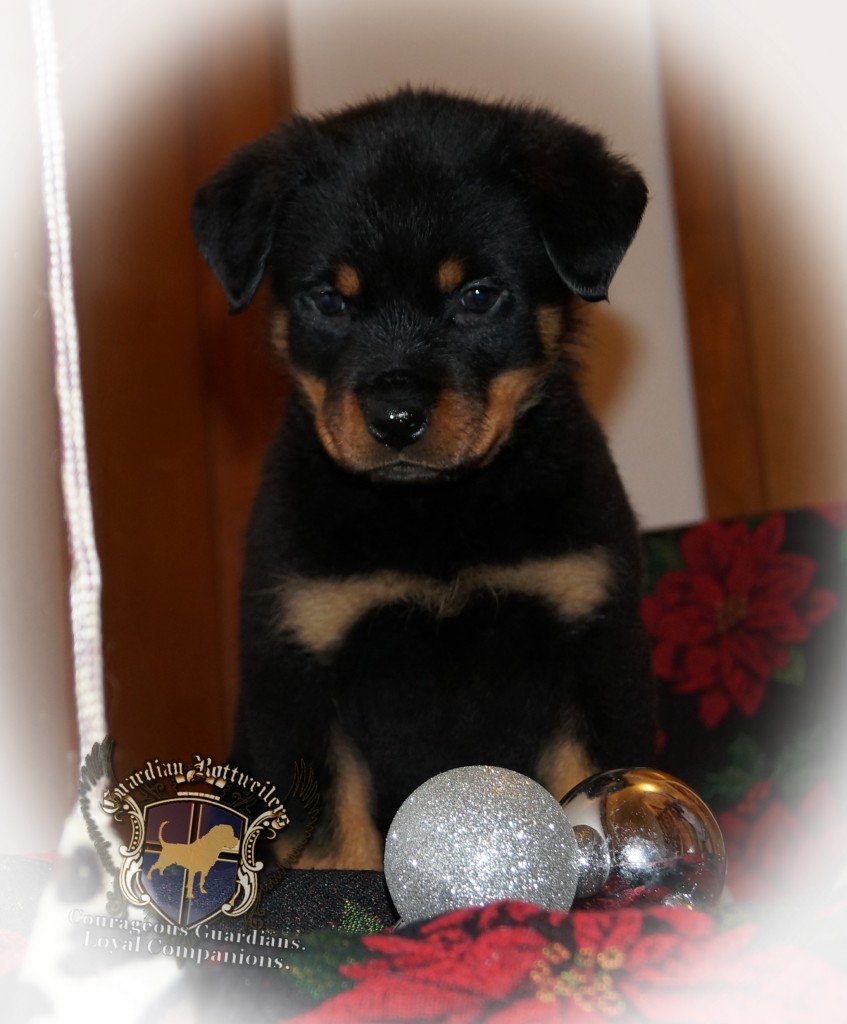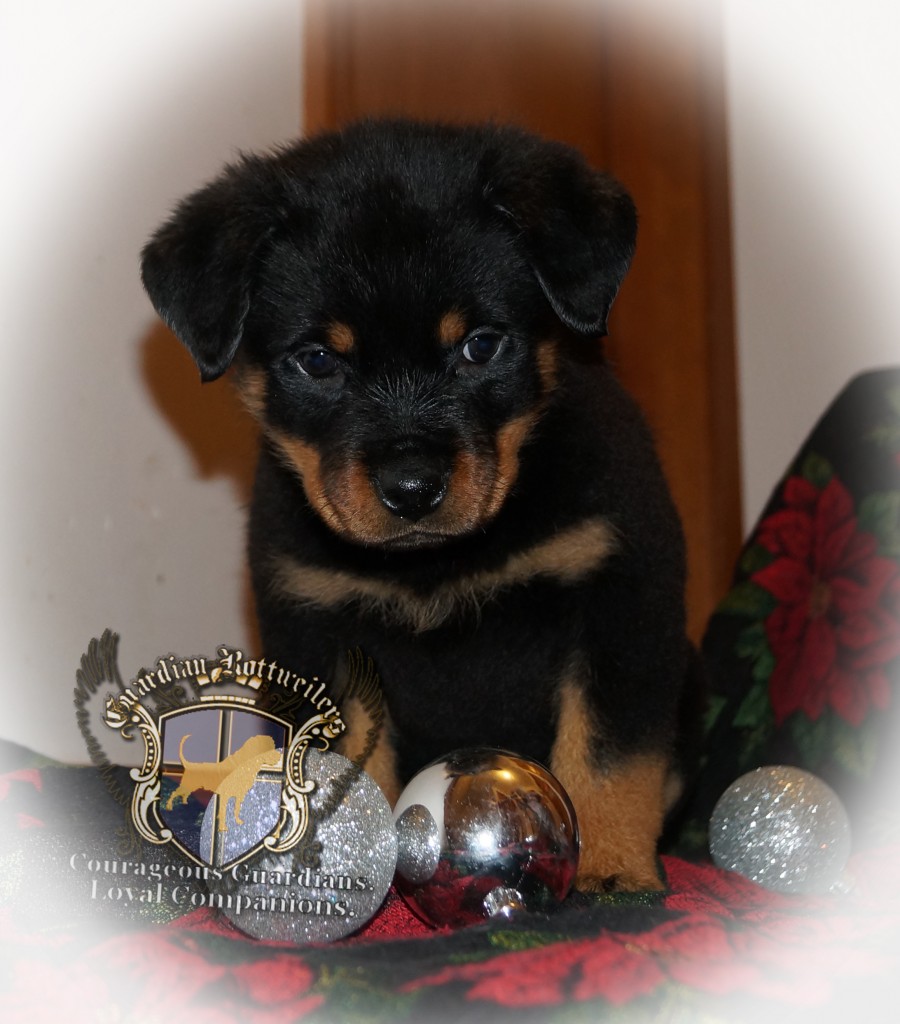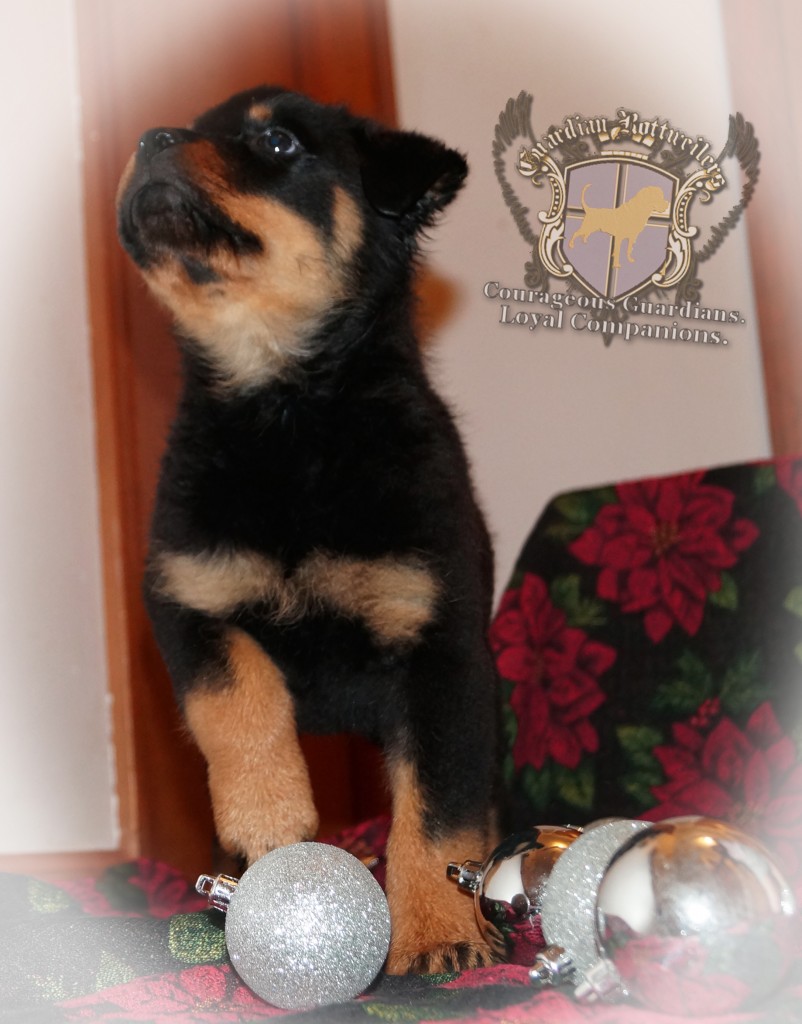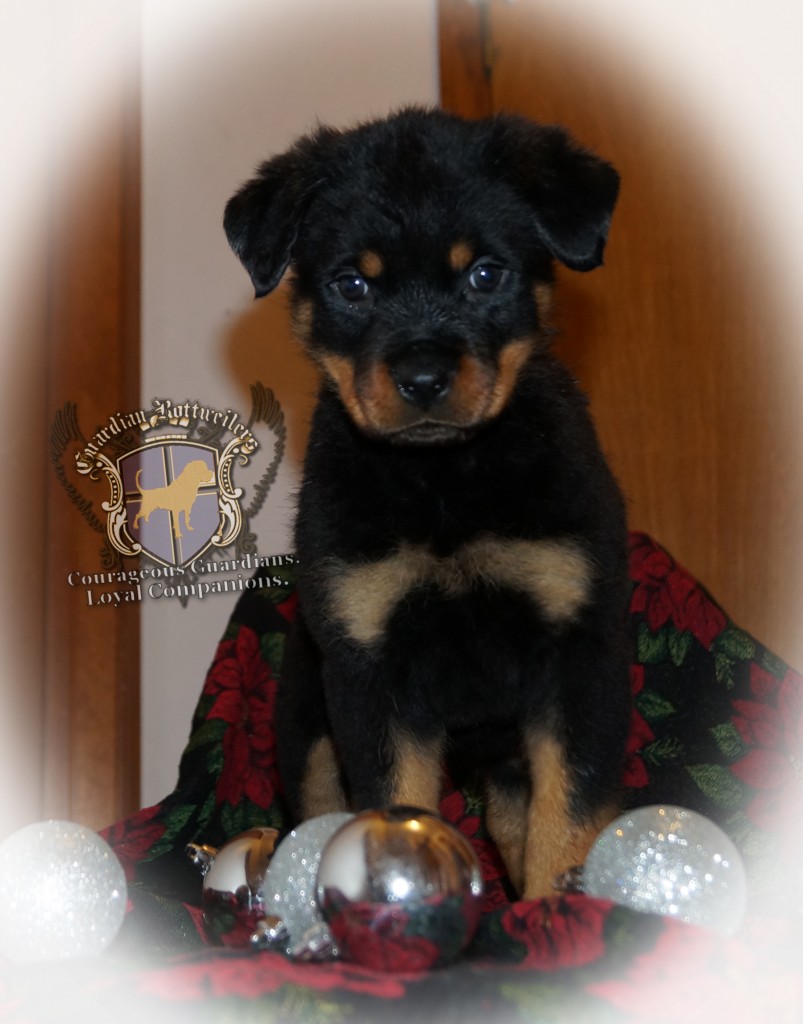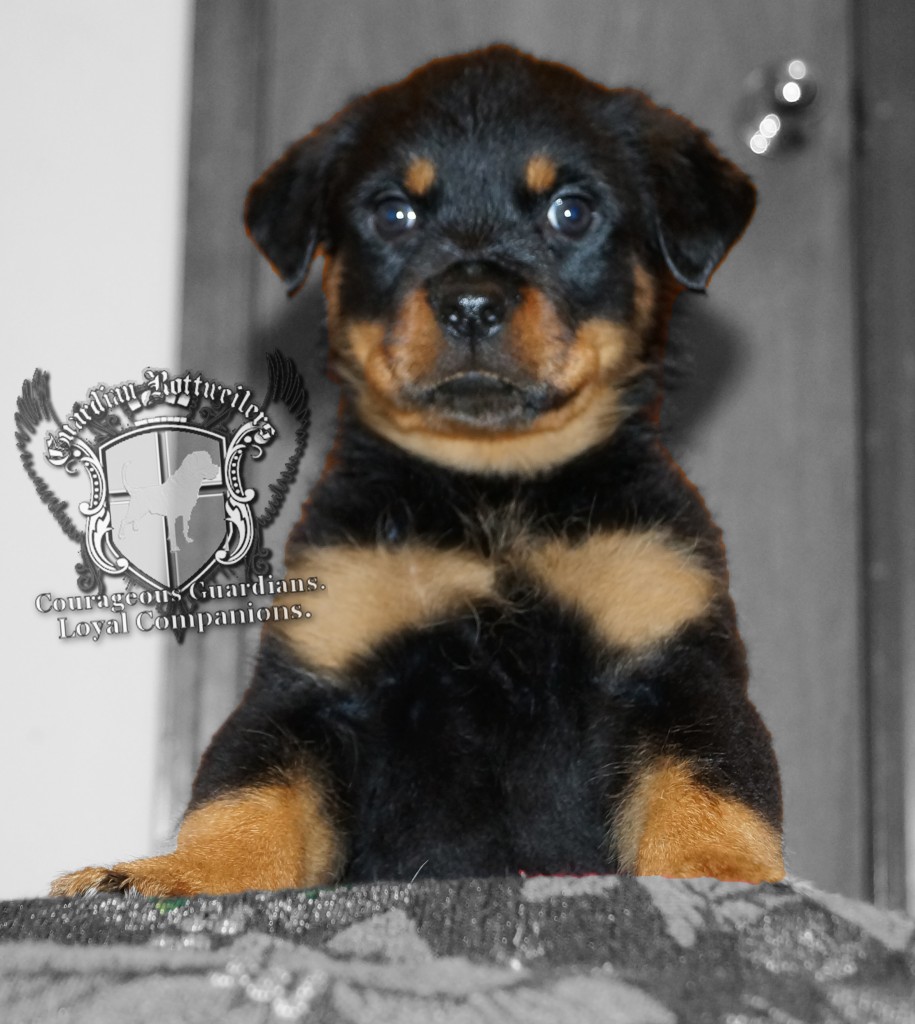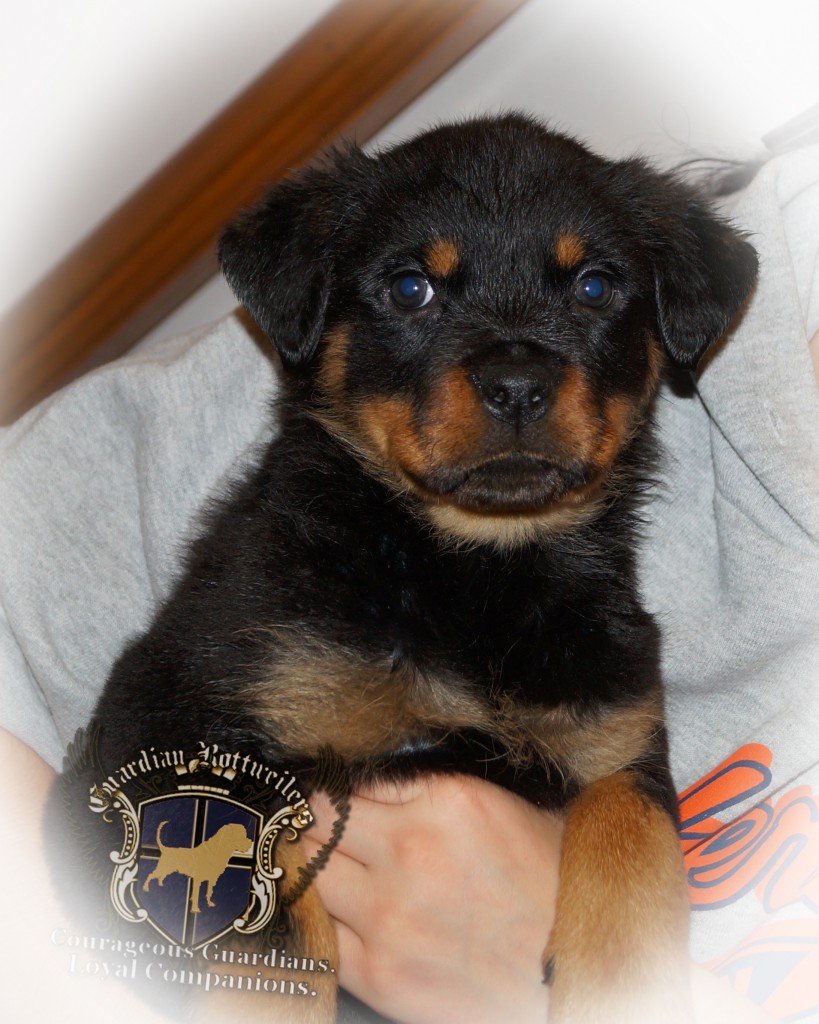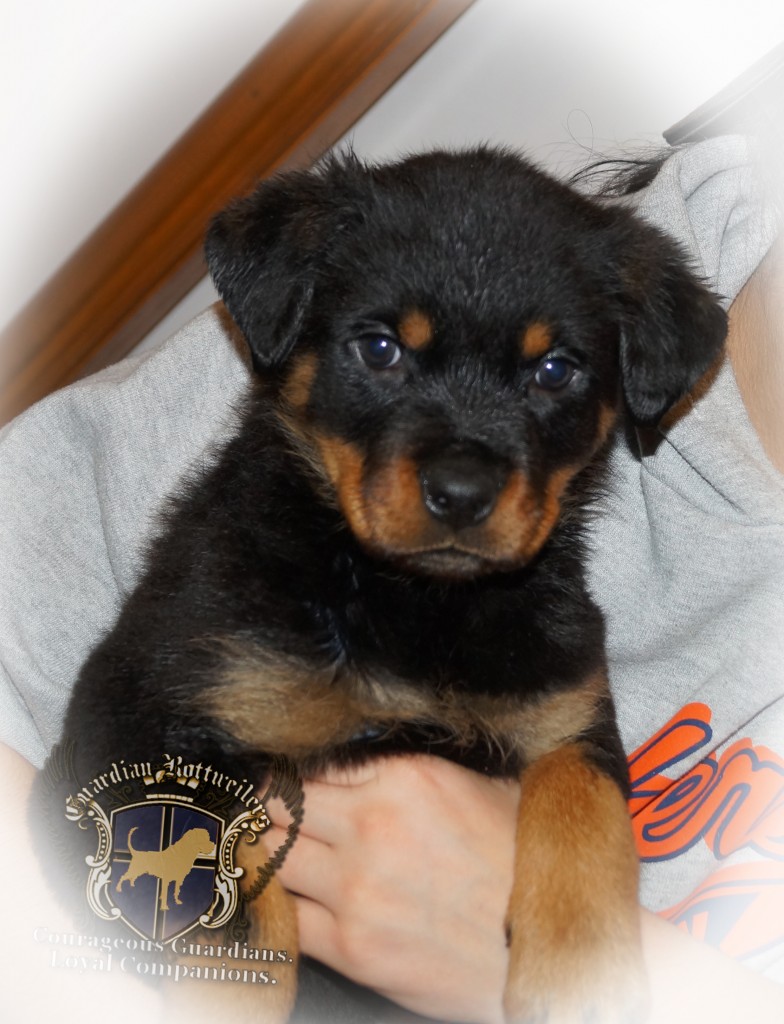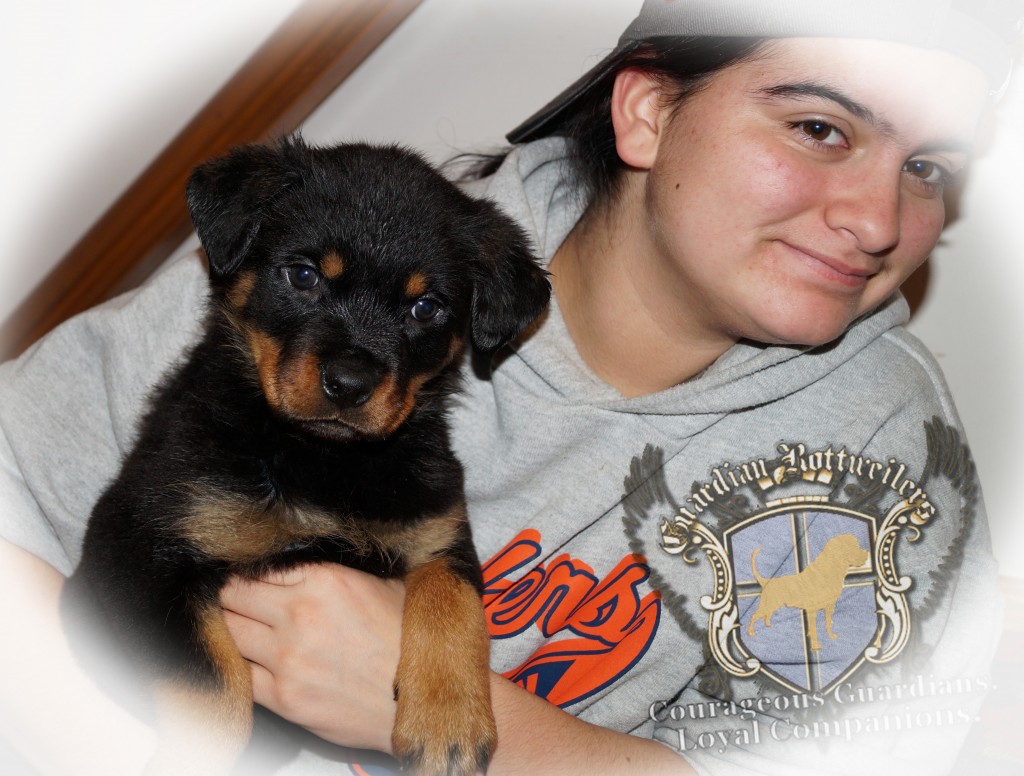 "Wolf" Guardian Zev Von Gottschalk X Guardian Violet Von Gottschalk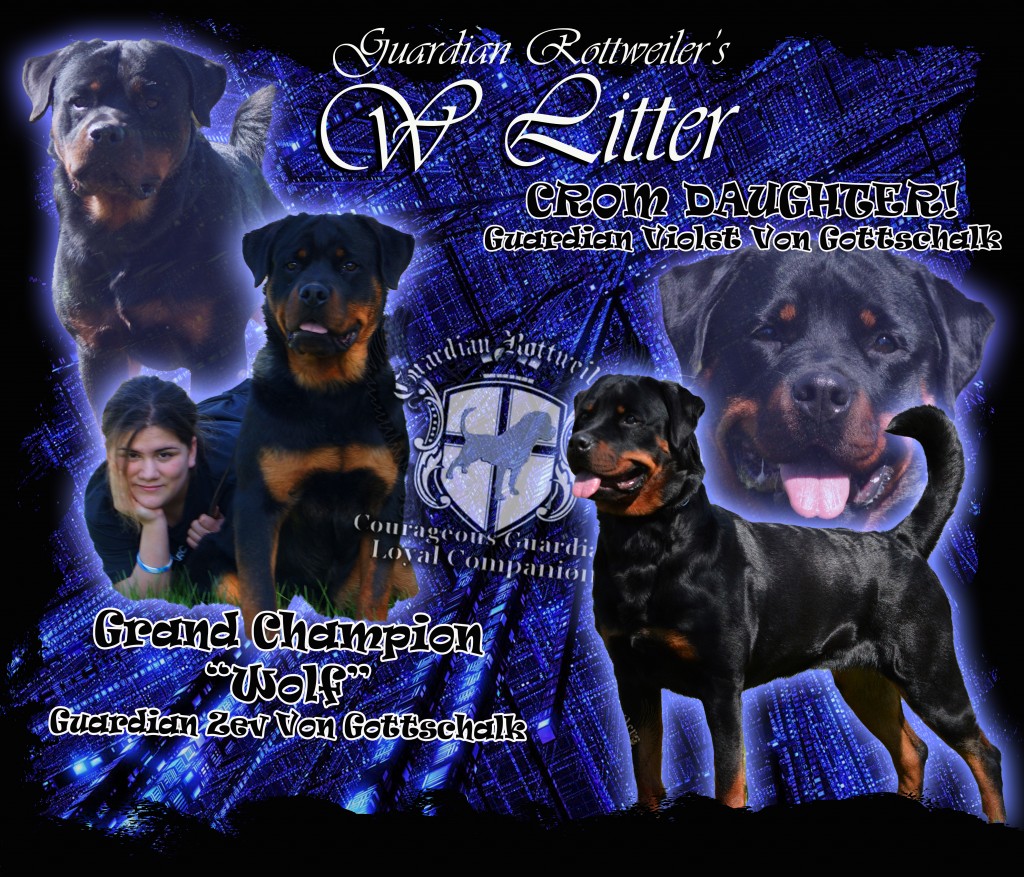 What a litter!!!  Balou and Mambo lines are not only some of the most tried and true German bloodlines in the history of the breed, but also bloodlines that have been crossed on each other with great success over and over!  Violet's sire, FCI Champion of Reproduction, Multi-Champion Crom di Alaricus Rex was such an exceptional male.  He embodied everything that I love about this breed.  He was ferocious on the field- high in courage and lived to work.  Yet off the world, my Crom was a complete teddy bear who loved to give hugs and curl up in my lap like a kitten.  Crom was a direct son of DT-VDH Champion, Multi CAC/CACIB, ES '02, SCHWZ.KS '02, O-KS '02. MAMBO VON DER CROSSENER RANCH, SchH III, IPO III, ZtP (05.00), AD, BH, FH II.  Mambo has long been hailed at the single most contributing Rottweiler in prominent pedigrees for the last 2 decades as well as the pioneer of the "extreme head type".  Violet's mother, Natascha, is the granddaughter of one of my most favorite German Rottweilers of all time, DT-VDH Champion,  BALOU VOM SILBERBLICK, AD, BH, SchH III, FH, Gekort bis 14.05.02, ZtP ADRK 93552, HD-, ED- .  Violet is such a smart, clever girl- one of those dogs where you can just see the wheels turning when she cocks her head to the side and watches you.  By having both Balou and Mambo bloodlines, not only does violet have a compact frame with excellent conformation, but also a hard as nails, born to work attitude and a brilliantly clever mind!  By breeding her to Wolf, we are adding the head and bone of Marsio lines and that balanced, biddable character that Marsio's bloodline is world famous for!  Hoping for some excellent working prospects in this litter and definitely expecting some extremely intelligent, highly trainable puppies!

---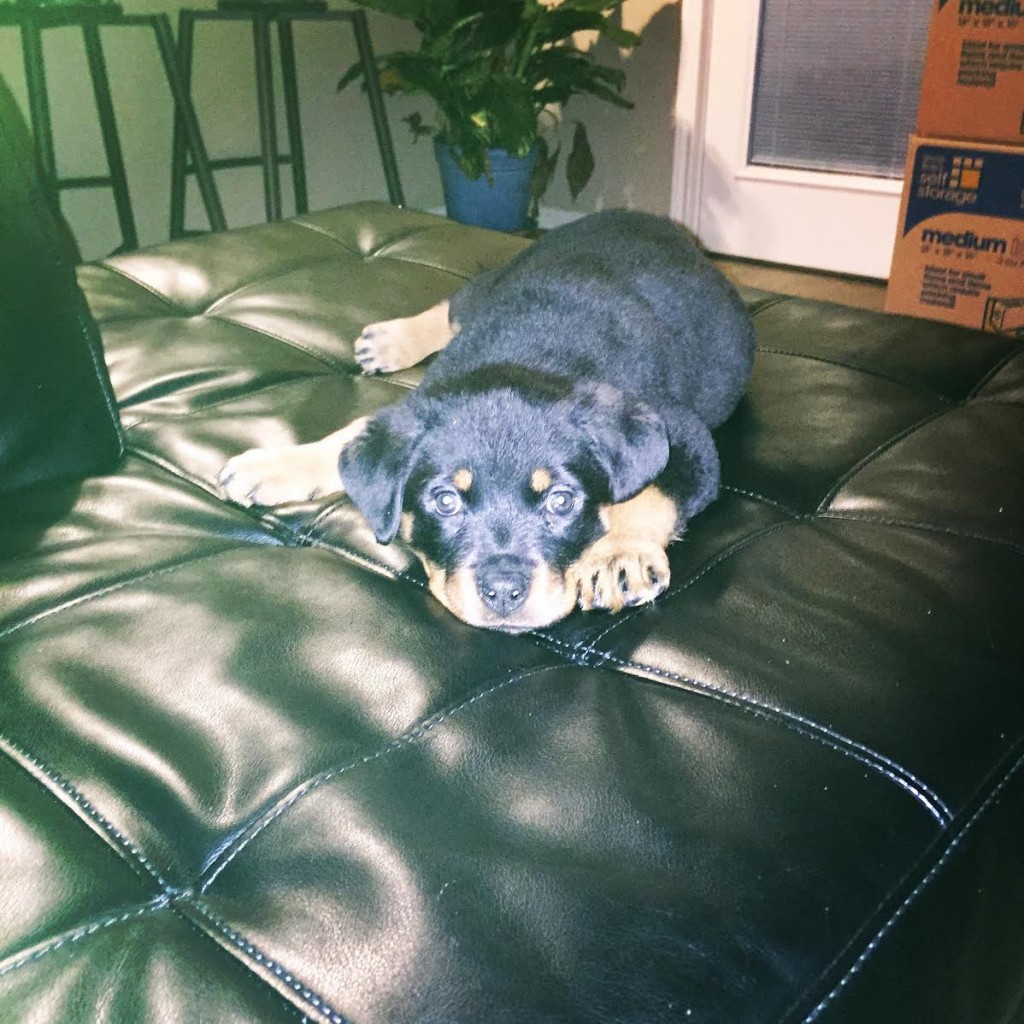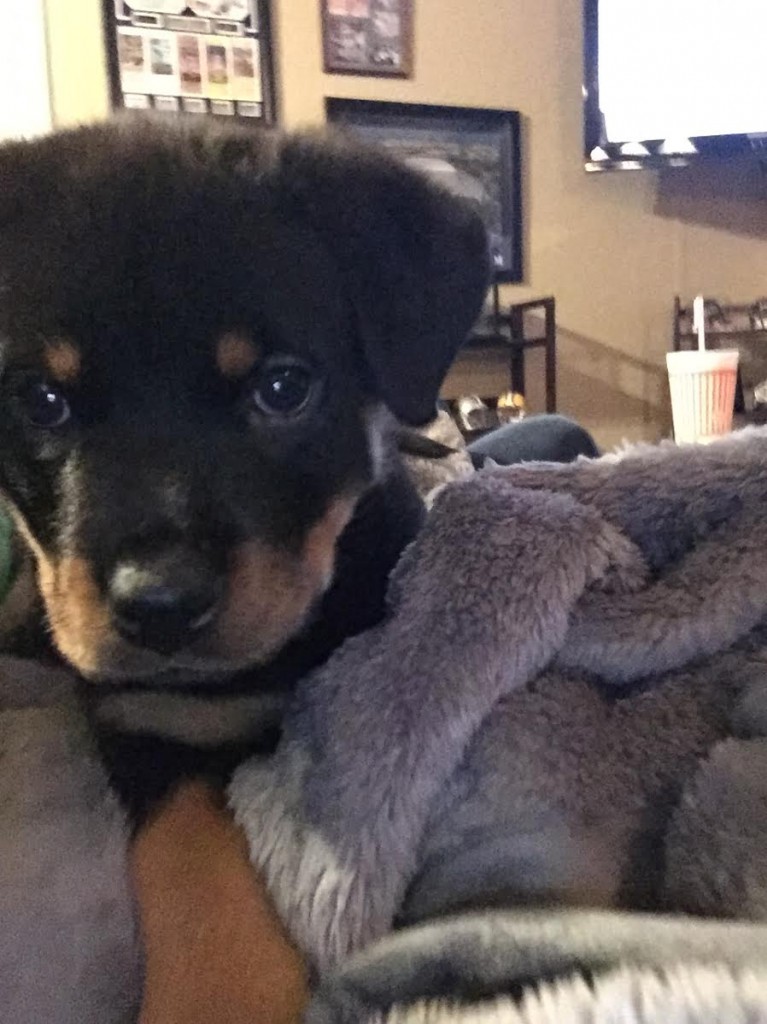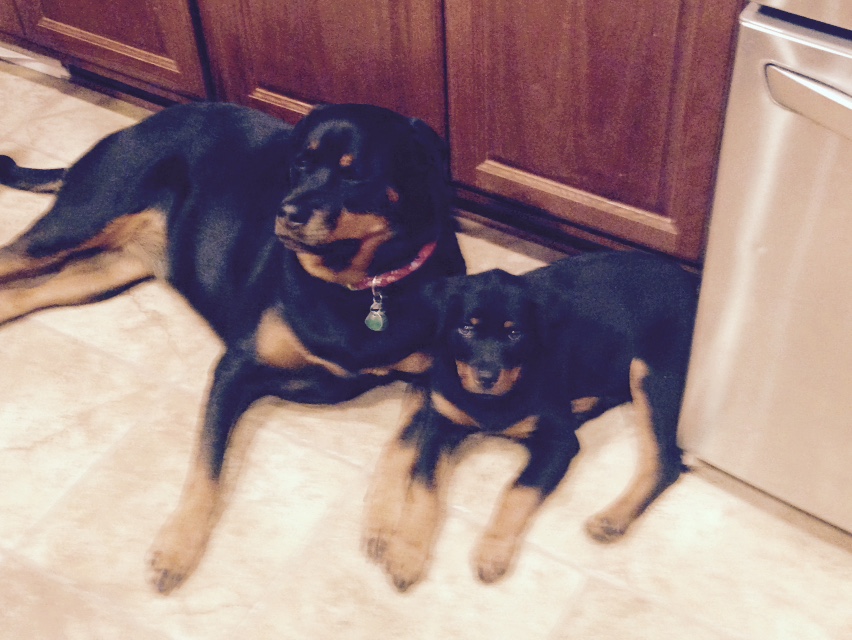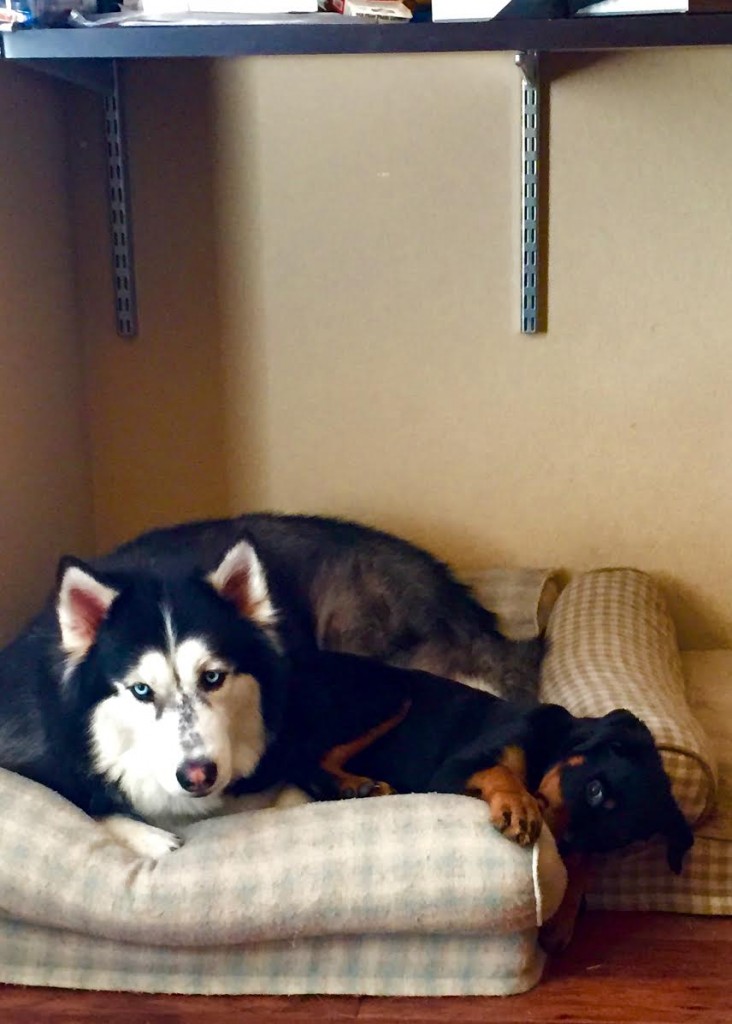 She is running around but she is good amazing!!! She weighs almost 60 lbs!!!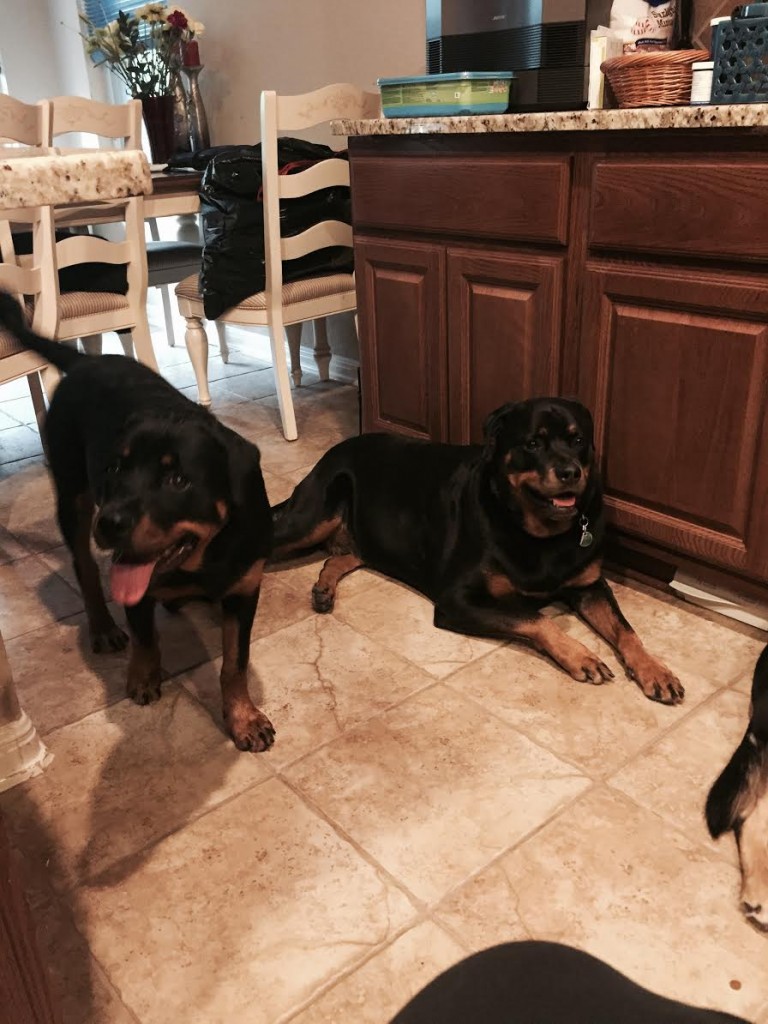 She is a horse now!!! Almost as big as Tara!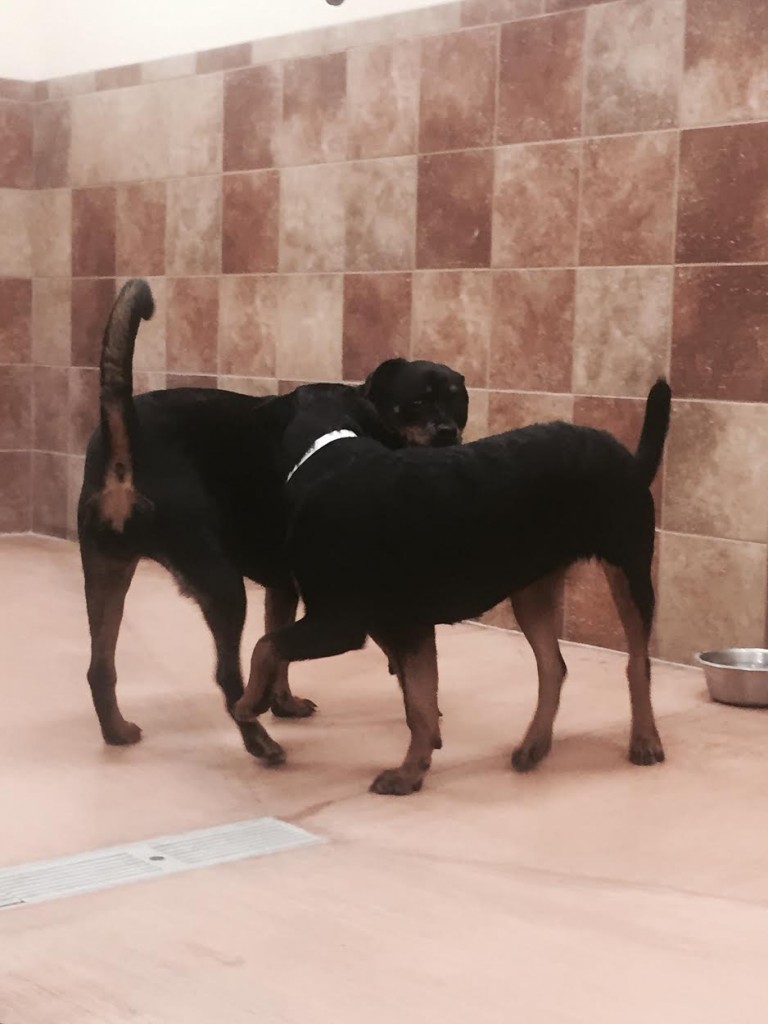 (Visited 11 times, 1 visits today)