Guardian Rottweilers O LITTER
Sire: Sting Haus of Lazic
Dam: Citta Se Ungo-Rot
Sting Haus of Lazic                                       Ch. Citta Se Ungo-Rot
Sire: Burning des Princes d'Aragone          (Marschall X Una Se Ungo-Rot)
Dam:  Priska Haus of Lazic                        Born: 08 Feb. 2010
HD-FREI; ED- FREI                                      HD-FREI; ED- FREI
Junior Pannonia winner 2011, BOB       JR 720379 Rw
Loznica winner 2011, Serbia – V1,            AKC #WS38383001
Loznica winner 2011, Best of Breed        AKC DNA
Westkunstenschau 2011, ADRK – V1,     Heart Cert.
Westkunstenschau sieger 2011                  CAC LIPE- V1;
Lechschau 2011, ADRK – V1,                       CAC-Intermediate Class
Hessen sieger 2011
CAC Jajce All breed show – V1,
CAC, BOB, BOG, Best in Show
Pannonia winner 2011, Croatia – V1,

---
Guardian Omara Von Gottschalk
Hi Alice, Omara is doing great! She has lost most of her baby teeth over the last couple of weeks, and she is growing very well. Her stomach issues have mostly settled down, also; although the pot-belly comes and goes (you can see in one of the pictures I attached). She's going back to the vet on Monday for one more follow-up, but she seems to have turned the corner. We will be starting another obedience class in January as well as a conformation handling class, so hopefully she'll be ready for her big show-ring debut sometime next summer. She has loads of personality and is great fun everyday! I'm attaching a few pictures so you can see how she is growing. 
Hi Alice! Just a quick update on Mara! She is doing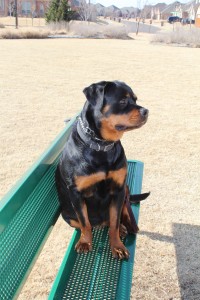 great! She really is everything I hoped for when I got her from you. She is a wonderful dog in the house, but she is also a great buddy for walking and doing activities. She is also hilarious to play with; she is crazy about tugging and has a trick where she jumps straight up in the air to grab the toy. She can jump as high as I can hold it, which is pretty impressive! She's really an athlete.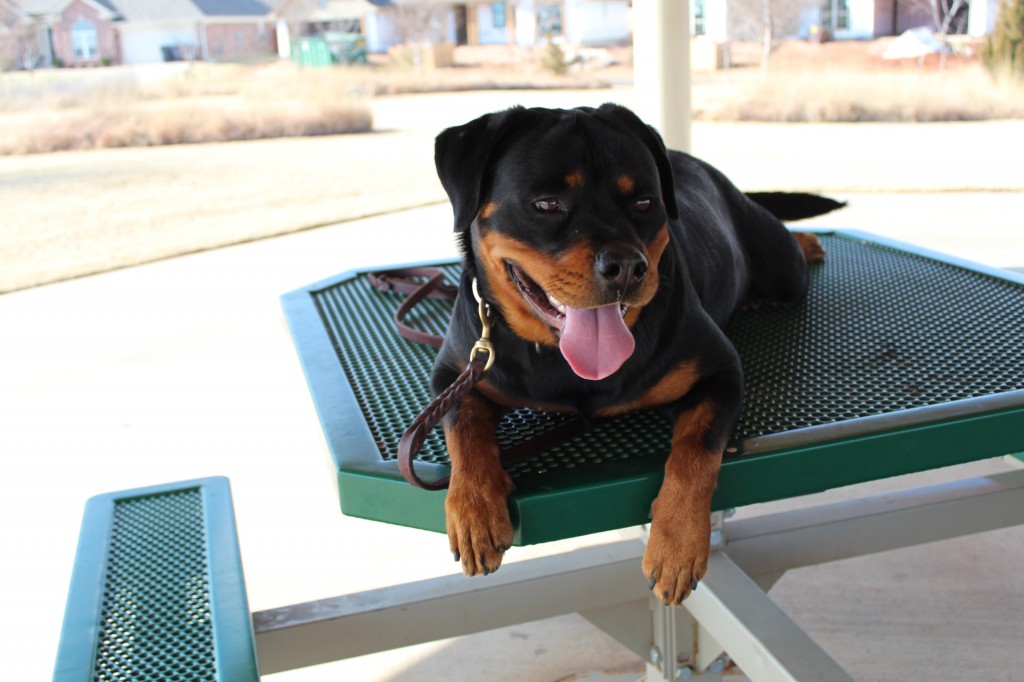 Right now we are doing obedience casually and for fun. We tried a schutzhund class last year, but Mara apparently doesn't have the right temperament for it (she is very submissive to humans, which is mostly a good thing, but not right for schutzhund). Right now, Mara has some "reactivity" to other dogs and can't really do group classes without special handling (we were working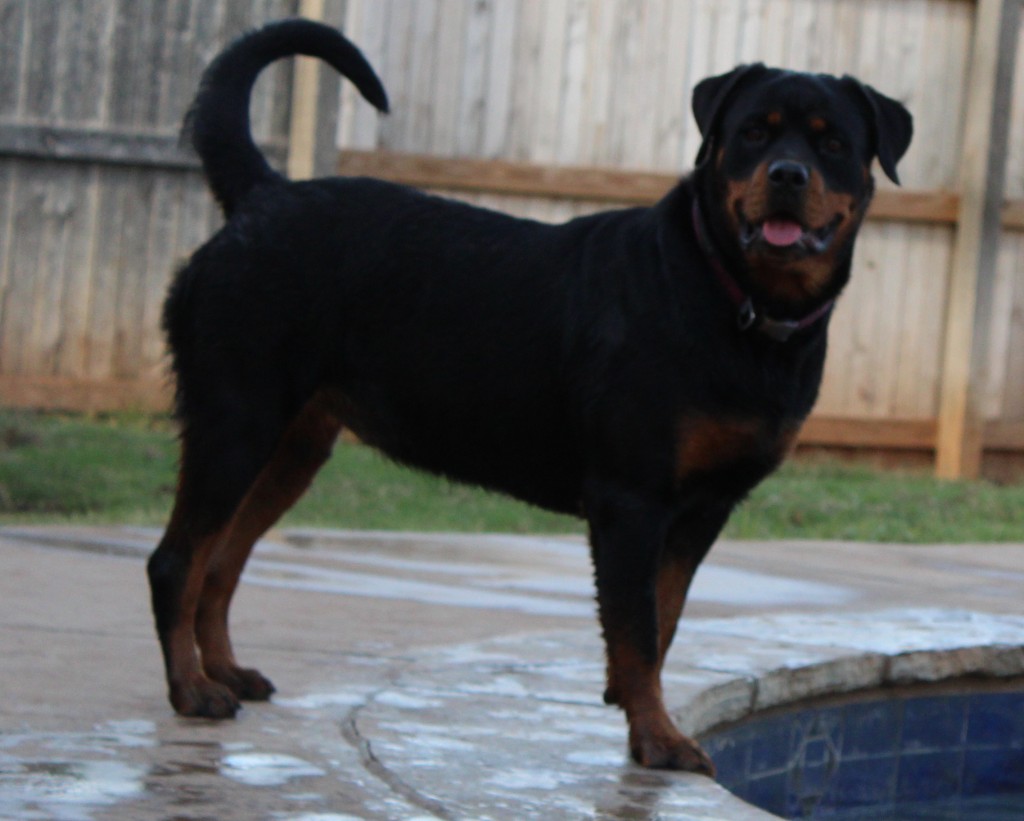 on it in classes, but unfortunately the trainer who was helping us passed away, and I am still searching for a new trainer who is as good). But I have been working with her on my own, and it has become a non-issue on walks, so hopefully we will be able to branch out to working outside the dog park and places like petsmart soon!
Besides that, she really is a wonderful dog. She is awesome with kids; whenever we run into them she "platz"es or rolls over on her back. She is a hit in the neighborhood! She is a goof and is game for any of the silly stuff we do (as you will see in the St Patrick's Day photo).
She has also turned out to be absolutely beautiful! I attached a bunch of photos. The ones of her standing sideways so you can see her conformation are from October, the ones in the park with the green furniture are from February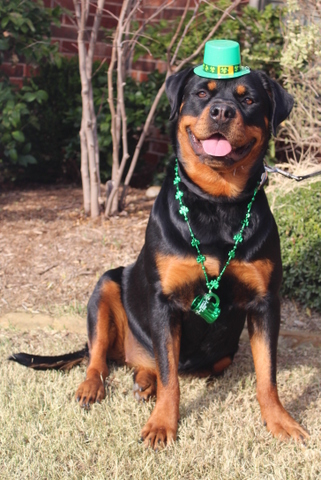 (although she's lost weight since then, she got a little chunky over the winter!). Her head is absolutely perfect, in my opinion, and she has a great expression (I attached two of her looking sideways, but I don't have a good closeup of her head). She has really come into herself in the last 9 months or so. Unfortunately, she had a pyo scare last June and she ended up at the emergency vet. She had to have an emergency spay. I really regret it now, but at the time it seemed like the only option. I think with the way she's developed, she could easily have gotten her UKC championship (since AKC seems to really frown on tails). I guess it wasn't meant to be!
This was supposed to be a short update! But when I talk about Mara I tend to go on and on. 🙂
Hope you and your family are doing very well. I read on your facebook page about your daughter's accident, and I hope she has recovered completely by now. What a brave kid! Anyway, just wanted to say hi and give an update.
Sincerely,
Samantha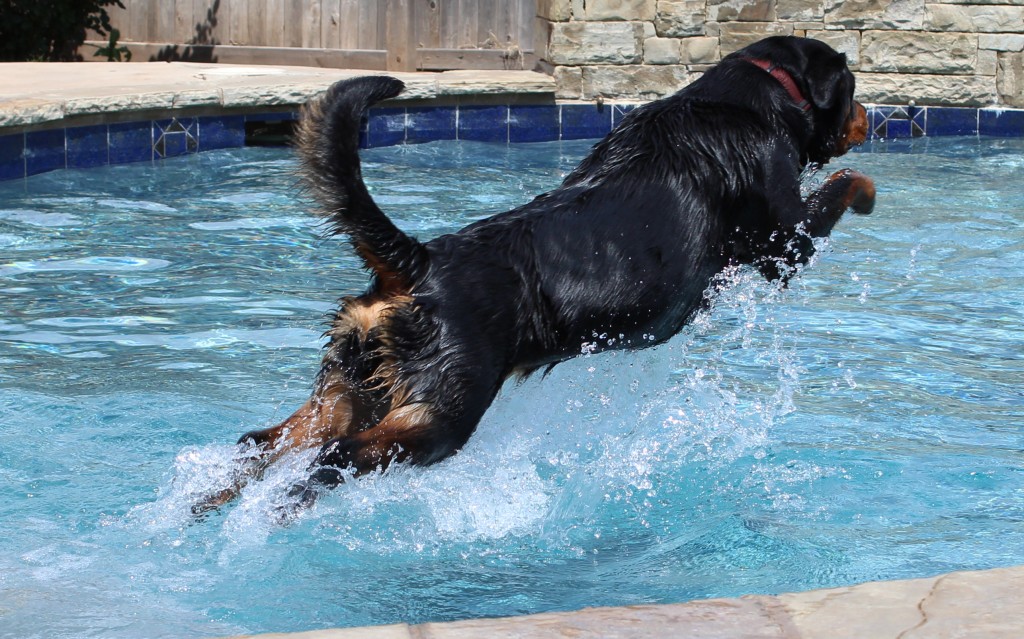 (Visited 26 times, 1 visits today)