Guardian Rottweilers L LITTER
Sire: Roko Von Hause Edelstein
Dam: Honda Se Ungo-Rot
This litter will be a linebreed on legendary IFR YOUTH WORLD CHAMPION in 2014, and IFR WORLD CHAMPION in 2015 LEX vom hause Edelstein, ZTP, DNA, IPO I, BALKAN JUGEND SIEGER 2014, DONAUJUGENDSIEGER 2013, Vice Ö – BUNDESJUGENDSIEGER 2013, YOUTH FOREGIAN ALBA REGIA CUBWINNER 2013!!!!, YOUNG CHAMPION OF SLOVENIA, YOUNG CHAMPION OF CROATIA, YOUNG CHAMPION OF AUSTRIA, ZAGREB JUNIOR WINNER 2013, 9 x BEST YOUNG MALE, 6 x J.BEST OF BREED, Multi BOS, 5 x BEST OF BREED.  To win the prestigious IFR WORLD title is a lifetime goal for most dogs/handlers/breeders.  Lex not only won IFR youth winner when he was still a youth, but came back and took the whole show as an adult!  I have had my eye on Roko since she was a young buck.  I knew even then that he was going to be a ROTT STAR!  I reserved a breeding with him over a year ago but had to wait for the perfect female to finally call that chip in.  I am excited for this litter and cannot wait to meet these beauties. 
Honda's male: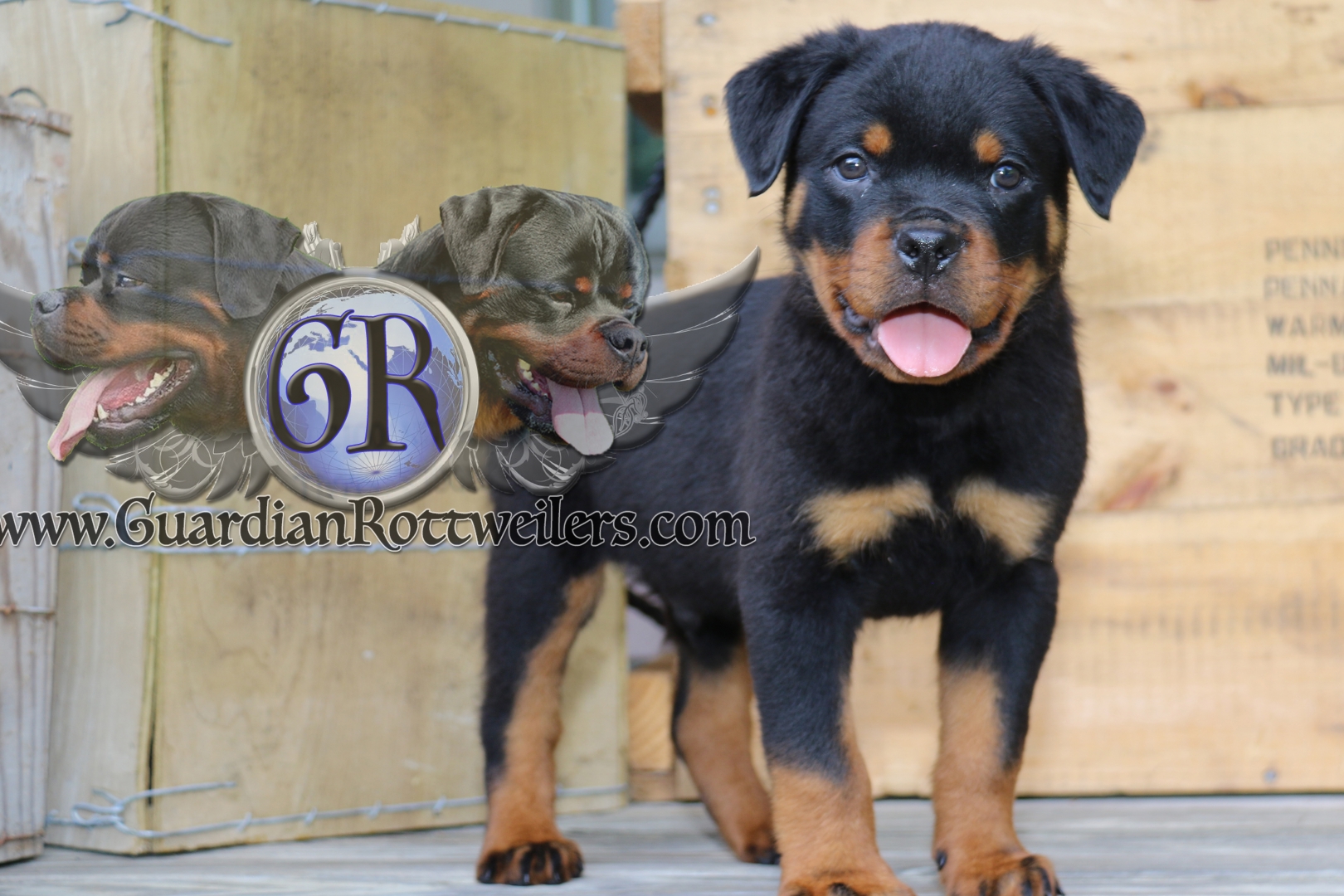 Honda's females:
---
"Indie" Guardian Lexi Von Gottschalk
Hi Alice + Miguel:
Your Lexi, now my Indie (Indigo when she needs a full name), is adapting great to life as an only pup in her new Duluth home. She's gaining her appetite back, learning the ins and outs of a crate, and figuring out what are toys and what are not toys but, in fact, my feet (although I completely understand how feet, when walking, look like a fun "gunna get you" game).
She had her first, new vet appointment today and was a huge ham for the ladies who saw us. She got a booster of distemper and didn't flinch, whine or whimper. And they absolutely loved her tail – as do I! She'll be starting a Puppy Kindergarten class for socialization soon.
It's hard to catch a good picture of her when she's awake as she is such a firecracker, so most are of her sleeping. So far, she's only had one accident in her crate (which is why there's no bed in the one picture of her bc it was currently in the wash) but I think it's officially become her den as she chooses to nap in it during the day now and does not cry at bedtime – going out only once during the middle of the night.
Thank you again for starting my baby off right in life – she's exactly the pup I've been hoping for!
Sending our well wishes,
Rachel + Indie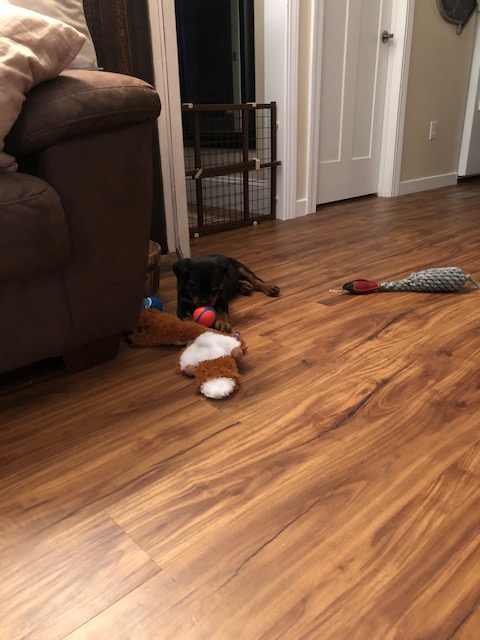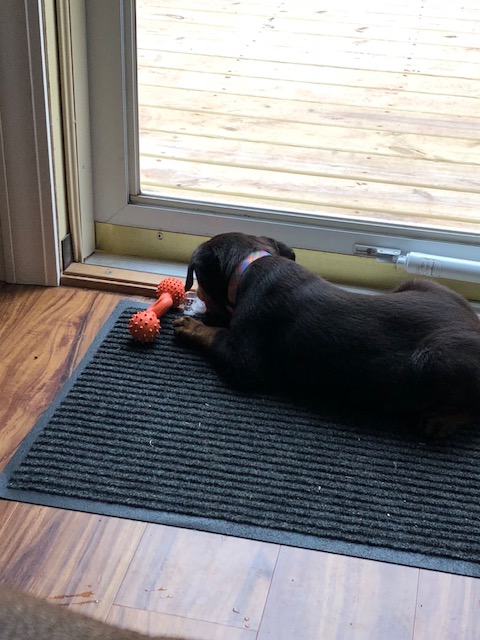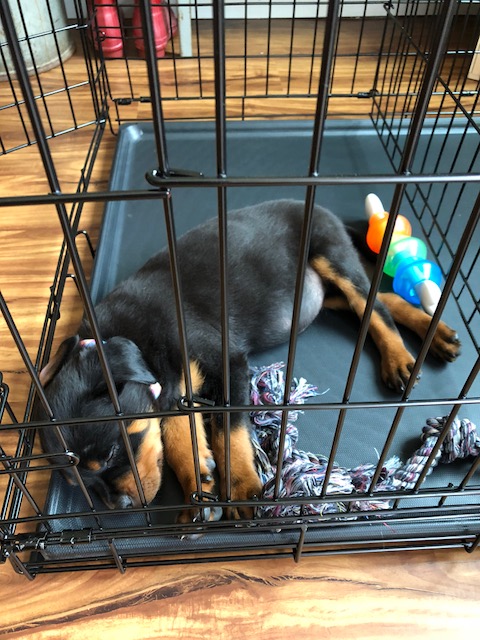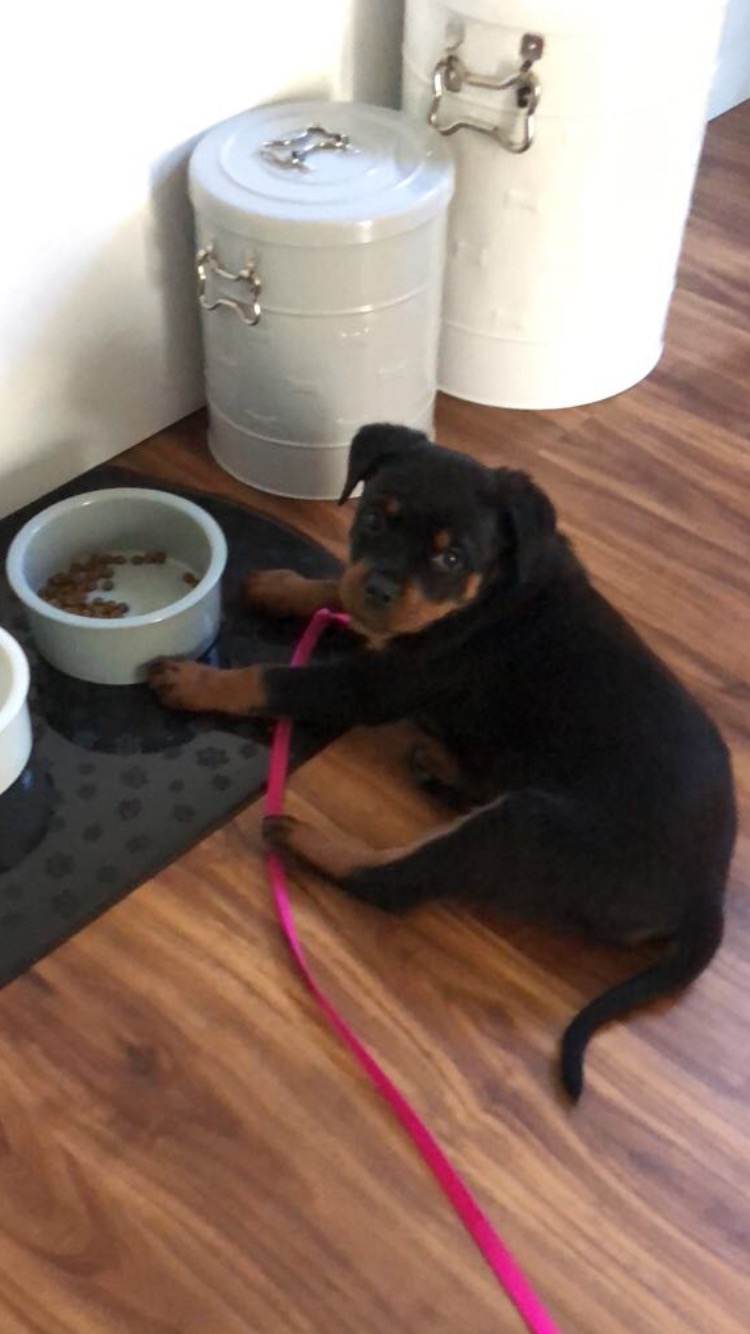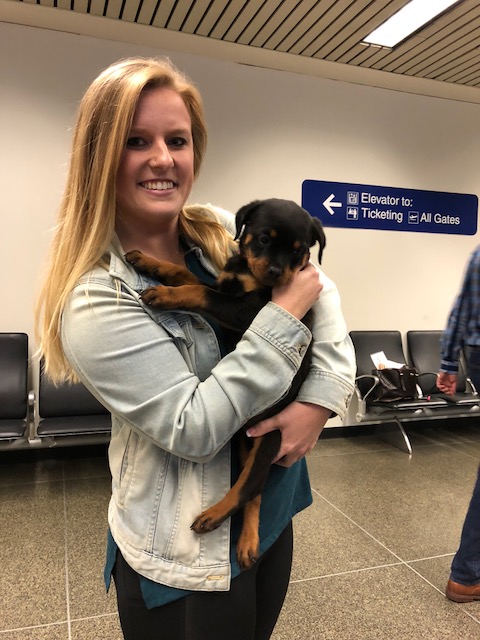 Happy New Year!
Thought I'd send a quick update about Indie (Lexi). She's graduated from her Puppy Kindergarten class and will be starting a basic obedience adult class for 5 months and up pups on Tuesday.
She's now fully taken control with going potty outside by ringing her potty bells on the door handle which has been great – especially when we visit friends and family, we can take those easily with us! She's recently figured out she's a chewer and has all the best chewie toys to satisfy her need (even though she's had them all long, they are now interesting).
I don't know if you'll remember, but she has a pretty natural tendency to heel but has recently been testing boundaries with pulling and jumping. We've started using a gentle lead during walks; she very quickly learned to respect that and return to her natural left-side heel position – but I'm very interested to hear what a trainer will recommend once we start class (I have a pinch prong collar as well but don't know how to size it properly so I'm waiting for the class to start to decide to stick with the gentle lead or change to a prong – which is what my childhood dog used and greatly respected after learning it, just by simply wearing it after a while). I was a bit torn of keeping her "working" during the entire walk but have started spending extra time after the walk outside playing fetch off-leash so she can still have "fun" while learning her place, how to behave and also burn off some extra energy – fetch was also something she had a natural tendency for, I just helped her hone the skill a bit.
Apart from jumping while walking (which is getting much better) Indie has begun jumping on people when she's excited or they are newly entering the room, as well as the counter. I know consistently is key, and I'm quick to correct it and stay on top of it but I'm wondering if you have any special tips specifically for her plucky little personality:)
Indie got her rabies vaccination and is scheduled for a spay surgery at the end of January in hopes of beating her first heat cycle. I've read the pros and cons of spay around this age vs when she's a little older, but I do want to go forward as planned – if you have a strong feeling regarding this one way or the other, I would really love to hear and do value your opinion, experience and expertise. She'll have some bloodwork done the week before to make sure all is as it should be. I can't remember if because she came with a pet registration if I need to send proof of the spay or not?
Hmmm…this quick update become lengthier than I planned. But again, thank you for providing her such a great start in life – we are consistently being praised for her friendly attitude towards both people and dogs.
Sending wet nose puppy kisses your way,
Indie and Rachel Schultz
P.s. her right ear began to fly-away as you thought one/both may. I re-watched your taping video, kept it on for about an hour and that brief amount of time seemed to really do the trick!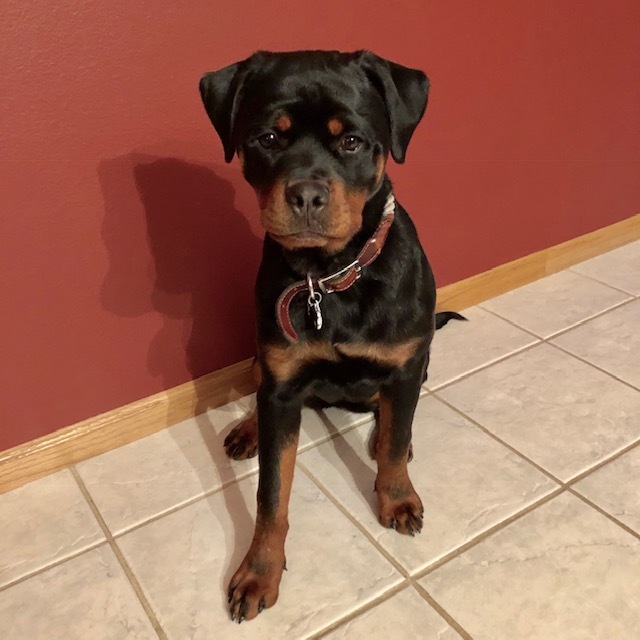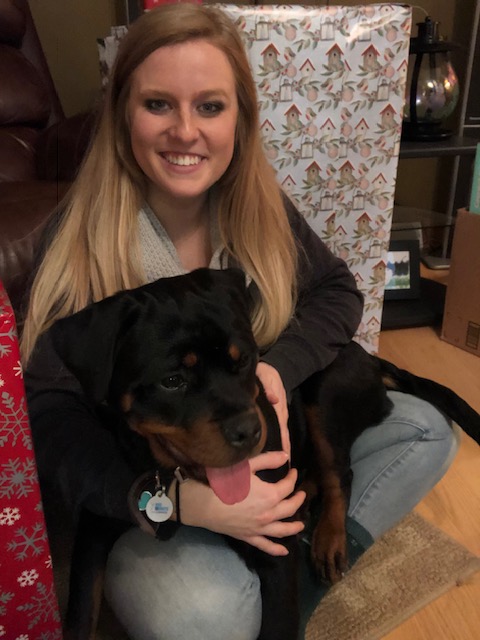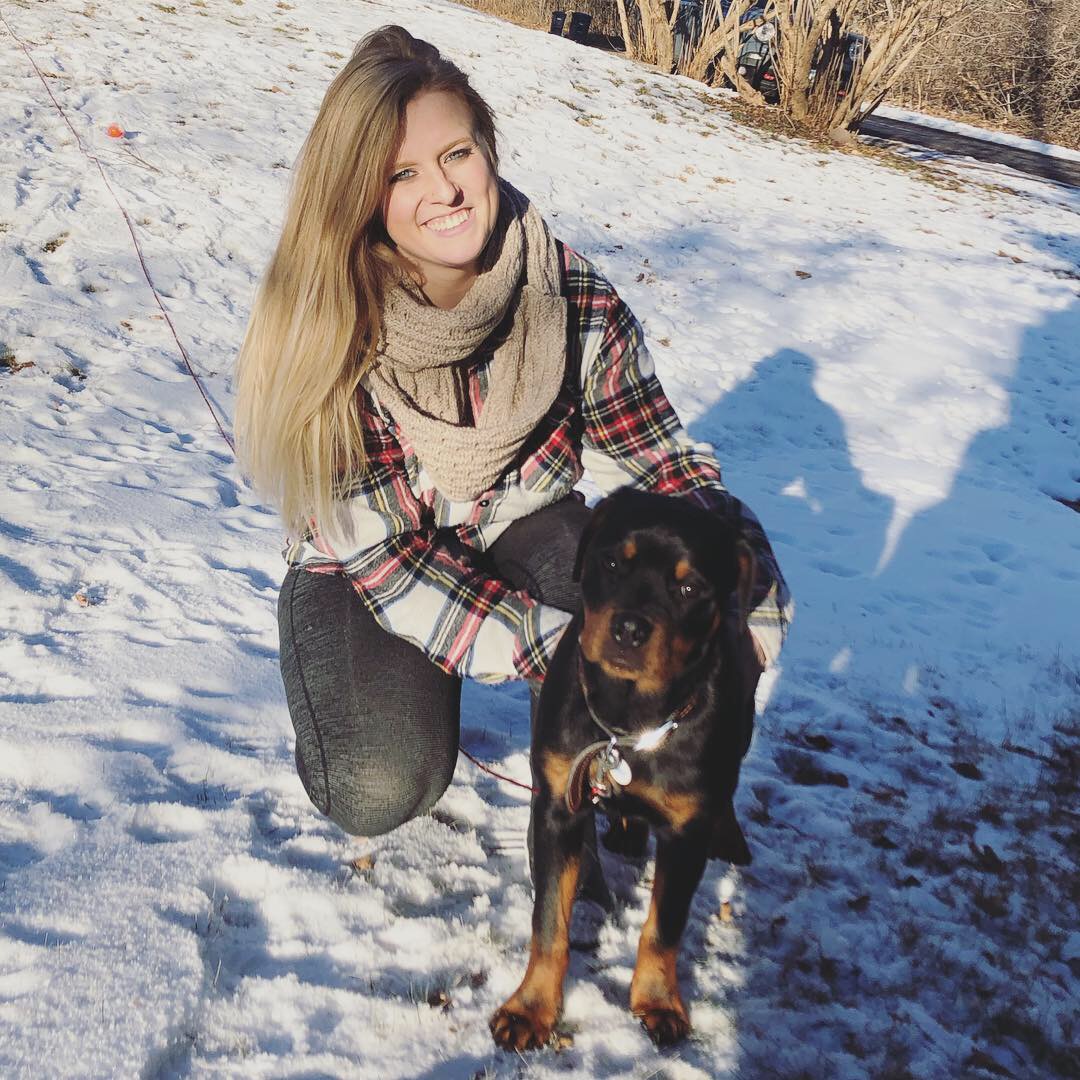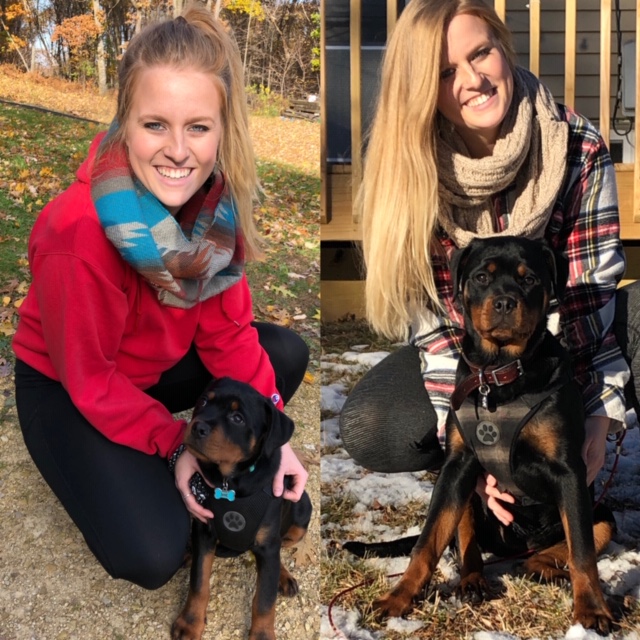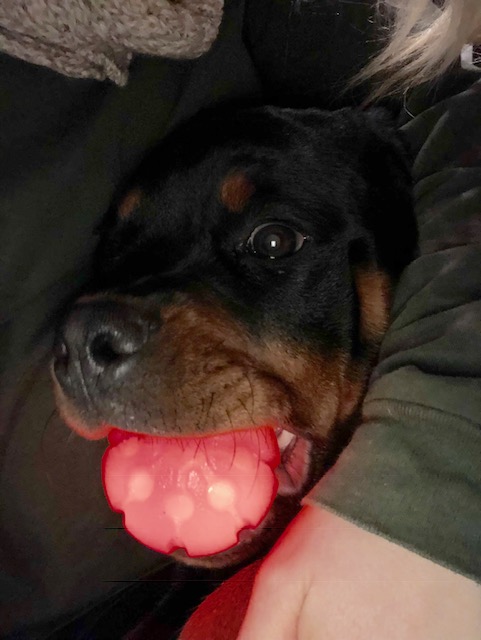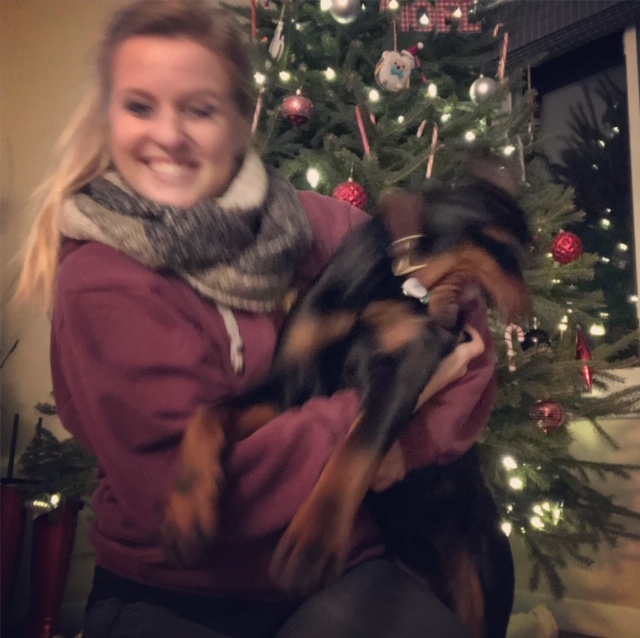 (The last pic is awful quality but I think wonderfully represents life with a puppy and thought it was too cute to not share!)
---
"Odin" Guardian Legacy Von Gottschalk
Hi Alice!
To say today was the best day of my son's life would be an understatement.
He is in love, as we all are, with this perfect little pup! We are 95% sure we are going with the call name of Odin.
He is majestic and equally sweet. And he is already responding so well to our commands.
Our female, Ginger, was so happy to welcome him. Her tail was going a mile a minute. They are settling in together just fine. Such a relief!
It has been a long day full of excitement and we are all wiped out. I promise a million updates!
Here are a few pics from our awesome day!
Please say hello and thank you Miguel. We really appreciated meeting him and his making the trip with our new family blessing!
Our hearts were so full of grief when we lost out Bear. Dogs are such precious gifts. We look forward to all the minutes, days, weeks, months and years to come with this little guy. Our family is whole again.
With love and gratitude, Lisa
Hi Alice
Hope you and the family are doing well. Legacy (aka Odin) is doing amazing.
After a pretty tough kidney infection, he's on the road to health. He has another urinalysis next week to be sure his stubborn infection is finally gone and everything is functioning as expected.
We've been working with a private trainer. He's been a the easiest dog to train. Highly driven, so smart, patient and eager to please. He's doing fantastic off leash which is such a relief given the wild animals strolling through our yard – turkeys, deer, rabbits, muskrats, mallard ducks, etc. He's been very curious but sits on command and stays.
Anywhere we go – and I bring him everywhere – us the the star. Since we are in construction, our lumber yard and buding supply stores know him by name and every customer wants to meet him. He is so calm and well behaved meeting new people which many people comment on bc they have this preconceived notion that he's going to be aggressive. Quite the opposite. Sure he is very alert, even at 4 months, but he's confident and calm. Such a beautiful combo in this baby.
He's brought me so much joy. I can't even explain. When we lost our Boxer, my 5th,I thought that a new puppy would be great but that I perhaps would not bond with him as much. I resigned to that and was okay with it.  However, he owns my heart and has filled the cracks that the loss of my Bear had left. My heart is bigger and stronger than ever as and he is my boy – much to my husband's chagrin. Haha. I'm blessed to have him.
He's now 35lbs and a show stopper. He loves cuddling, gnawing on antlers, and being with us everywhere. He loves his ducks and tries to push our screen door open to go sit by the pond and watch them. Ooohh! And last week he did a running cannon ball right into the pond. I have to work on that in training! Ha!
I'm attaching a few pics and a video so you can add to his page. I'm not actually able to get to his page though. It days it can't be found. Can you let me know when it's back up?
Also, it looks like Legacy has a splayed right paw. Is there anyway to correct this? I don't trust Google and want to ask you. I don't plan on showing him but you should know regardless given we did purchase a show quality pup and I understand this may be genetic. I love this dog and I'm in no way seeking an adjustment on his fee. It's very important to me to know if I can help him. He's growing quickly and I don't want weight on that foot to bring him any pain. I'd really appreciate your input!!!
Wanted to share my response as growth issues are unfortunately common in large breed dogs.  Nutrition is extremely important followed by correct exercise.  There is more information on this topic and other growth related issues on the Q&A page as well.
So wonderful to hear from you!  Holy cow he is gorgeous!!!  That head belongs in a magazine!  <3   And I am so glad he is on the mend.  Did your vet have any idea what caused the kidney infection?  I have had a UTI before, but, knock on wood, not a kidney infection, but it does not sound fun 🙁  
I am very sorry for his webpage, but no worries, it is not lost.  I am having to completely redo most of my website- it will not greatly effect what you see, but I am having to move it to a different server and trying to update pages/links/etc. at the same time.  I have over 100,000 photos, many that are HD, hundreds of videos, and over 400 pages.  Apparently, that is a lot.  And it was causing my server to stop working more often than it was working.  I had to deactivate all of the 'bulky' pages while I redo them.  It may take me a couple of weeks because there are so many pages, but I promise, his page will be back up as soon as I can, with photos and video <3 
I am not sure what you mean my splayed?  I cannot tell in the photo if it is a bit turned out or a bit lax in the wrist.  As long as there was no growth plate injury, if it is just a bit turned out or lax in the wrist, that can be helped, usually completely.  It is unfortunately common among large breed dogs.  Bones grow faster than soft tissue (ligaments, muscle) and sometimes, when the bones grow too fast, the soft tissue struggles to keep up.  This can cause laxtivity in the wrist.  I have had this a few times over the years.  Here are the tips an old German judge gave me years ago that have been super helpful:
1) if he is not on a diet that is high in glucosamine and chondoritin, add those supplements now.  One of my go-to's is Missling Link, joint formula.  I LOVE this stuff!!
2) Make sure he is getting plenty of sunlight.  You would be surprised just how much sunlight affects the absorption of vitamin D and bone development, let along immune system and cardiovascular.
3) Move his food and water dishes up high enough that he has to stand on his tip-toes to reach them.  This causes him to help strengthen those tendons that are too lax by stretching them up every time he eats or drinks, as opposed to constantly bending them if he has to bend over to eat/drink.
4) Try to find some gravely area for long walks- gravel driveways are great.  The instability on the rocks again forces him to use the tendons and auxiliary ligaments/muscles to help strengthen that joint.
My Crom was lax in the tendons as was my Colossus (Diesel kid), and I am now going through it with one of my Doctor son's.  Those darned heavy bones 😉 
Please do follow up with me and let me know how he is progressing.  If he does not appear to be getting better or if he seams to be getting worse, definitely talk to your vet about it and make sure there has not been any damage done to the growth plates.  He has growth plates at the end of the long bones in his wrists and they are unfortunately easy to damage (it is why we harp so much on not jumping higher than his shoulder for at least the first 12 months). 
He looks so, so beautiful and I cannot wait to see him mature.  He is going to stop traffic (although I imagine he already does!)  Once I get the website up and running correctly again, keep those photos/updates coming <3
Hi Alice
Thank you for your replies!
Yes, the kidney infection and the term "kidney failure" definitely had me totally on edge.
Our Vet did not indicate any cause on the infection. He said there could be many from genetics (kidney malformation) which we ruled out or simply (and more common) a UTI that traveled north.
Legacy was peeing a ton. Even after I took him out. He was also drinking double the amount of water for a pup of his size because his kidneys worked totally functioning. The water intake and pee frequency triggered, as well as increasing versus decreasing number of accidents, raised my concern and that's when I took him right in for blood work.
After 2 rounds of antibiotics, he is clear of the infection. I just dropped of his last urine same to the lab on Weds and everything looked good! We're clear.
He's growing like crazy and our dog trainer adores him. She says he is the least nippy puppy she has encountered in years and she wants one of your dogs!
He's such a joy and cuddle bug. My husband says that I stole him. I'm with him every day and take him with me to site visits to check on projects, into the lumber yard and building supply store. He's famous!
And he is doing very well and never even noticed that he was sick! It was just me that was a wreck. I actually slept with him every night in the living room so I could be with him and get him outside immediately if he needed to go. As soon as I heard him stir, we'd be up and out. It was the only way to set him up for success with house training and really make him feel supported.  Because of those nights together, I'm his person now.
He experienced his first snowfall last night! He did a big run around the pond chasing all the snowflakes! It was adorable.
I hope you are healing quickly. I'll keep you in my prayers. You've had a rough few months! I remember the dog bite as a result of trying to save that pup on the highway with your son! I get the sense however, that your built for it. You can get through it. God is perfect in his design.
I'll keep you updated! Somehow I feel like we are a Guardian family for life!
Attaching another pic. Not sure if I sent this one!
All of best, Lisa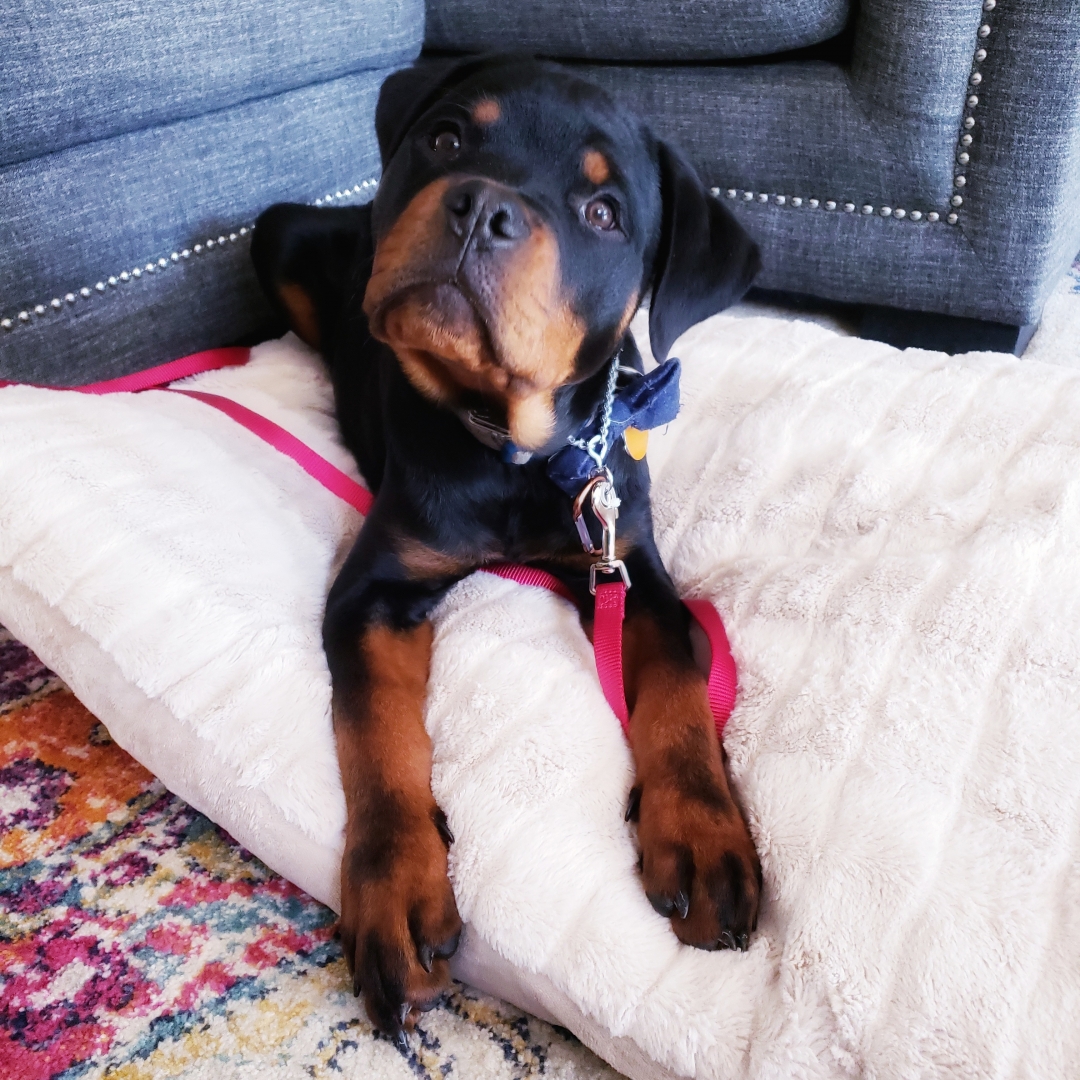 ---
Guardian Lake Von Gottschalk
Hi Alice,
Just wanted to update you that "Lake" is doing very good. She just had her next Vet visit and weighed in at 24.5lbs at just over 13 weeks. She got her shots and next round of Interceptor Plus. She has a bit of puppy vaginitis discharge but the Vet said that that will go away on her own.
She is doing very well at house training and most of the time now goes to the door and sits as an indication that she needs to go out.
She sleeps in her crate all night without a peep or accident and is surrounded by her stuffed animals (that she confiscated from my daughter. Lol) She also will nap or go in the crate without an issue if we have to leave the house for an hour or two.
Her appetite is better and she is less of a grazer now. She has learned that when the food is down 3X a day that it is time to chow.
All in all, she is doing well and a good addition to the family. I hope all is well with you.
PS Your other puppies that you recently listed are also beautiful too!
Sean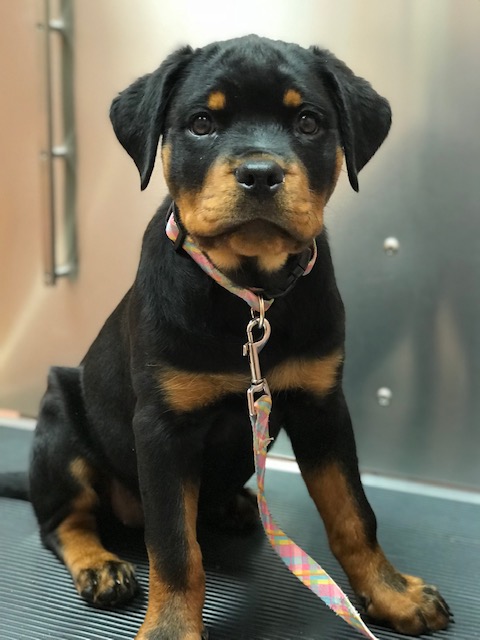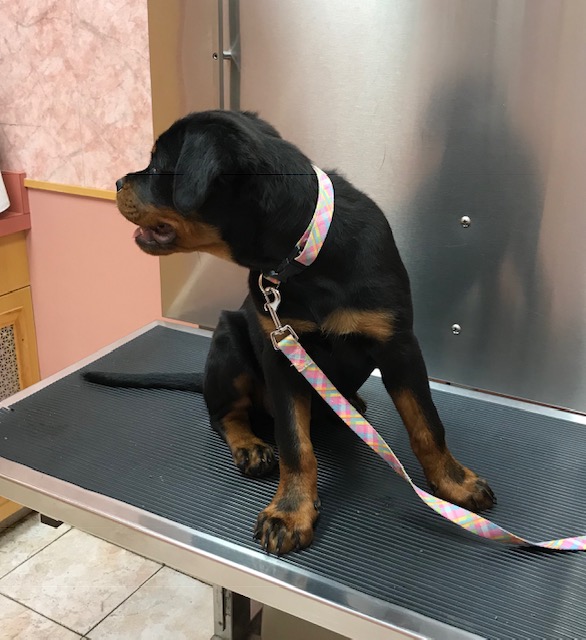 Good Morning Alice,
    I just wanted to give you a quick 5 month update with "Lake." She is weighing in at 53lbs and is doing great. Very friendly temperament so far with people, the kids, and other dogs. She is great at alerting me to anything outside or approaching us which I love.
Hope all is well with you guys.
(Visited 50 times, 1 visits today)