Guardian Rottweilers Q LITTER
Sire: "Kaos" Jergan Joep Von Den Hatzrüden
Dam: Guardian Xoana Von Gottschalk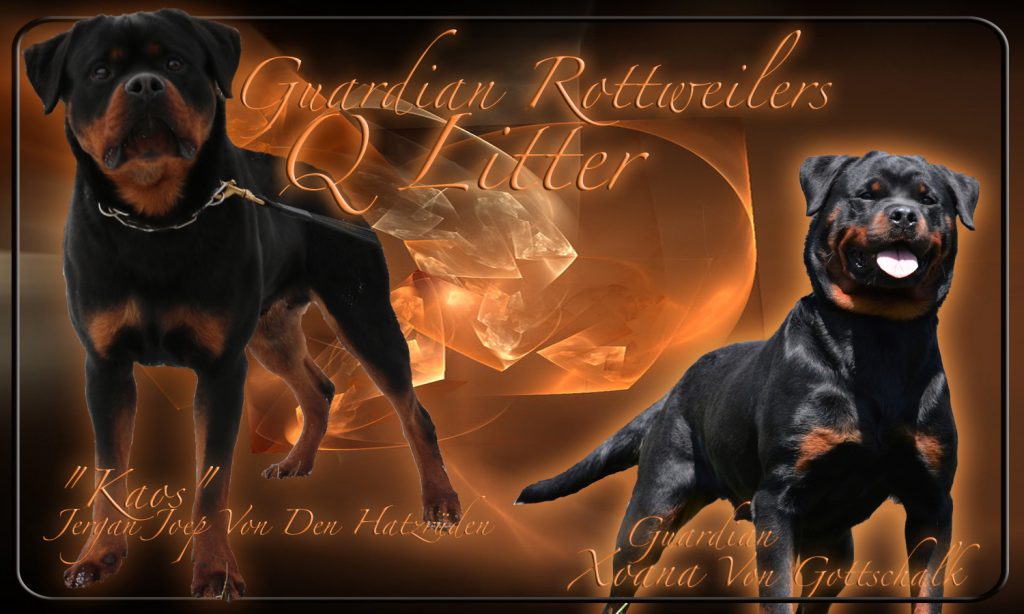 Guardian Xoana Von Gottschalk is the daughter of Crom di Alaricus Rex, who, along with being our only male to achieve the highly prestigious title of "FCI Champion of Reproduction" due to the number of show and working offspring he has sired, was also the last direct descendent of LEGENDARY Mambo von der Crossener Ranch!  Mambo is, without a doubt, one of, if not the most instantly recognizable German Rottweiler Studs of all time.  He is credited for pioneering the "extreme head type" along with being a working machine from a line of Germany's best working dogs!  Xoana's mother is none other than Whisky Se Ungo-Rot, daughter of another German great, Henry von den Hassberghöhen!  Xoana's conformation, character, type and bloodlines bred to one of our most amazing German Imports to date, "Kaos" Jergan Joep Von Den Hatzrüden!!  We are expecting some super working prospects, superior health, confident, drivey puppies with compact, athletic, well muscled frames.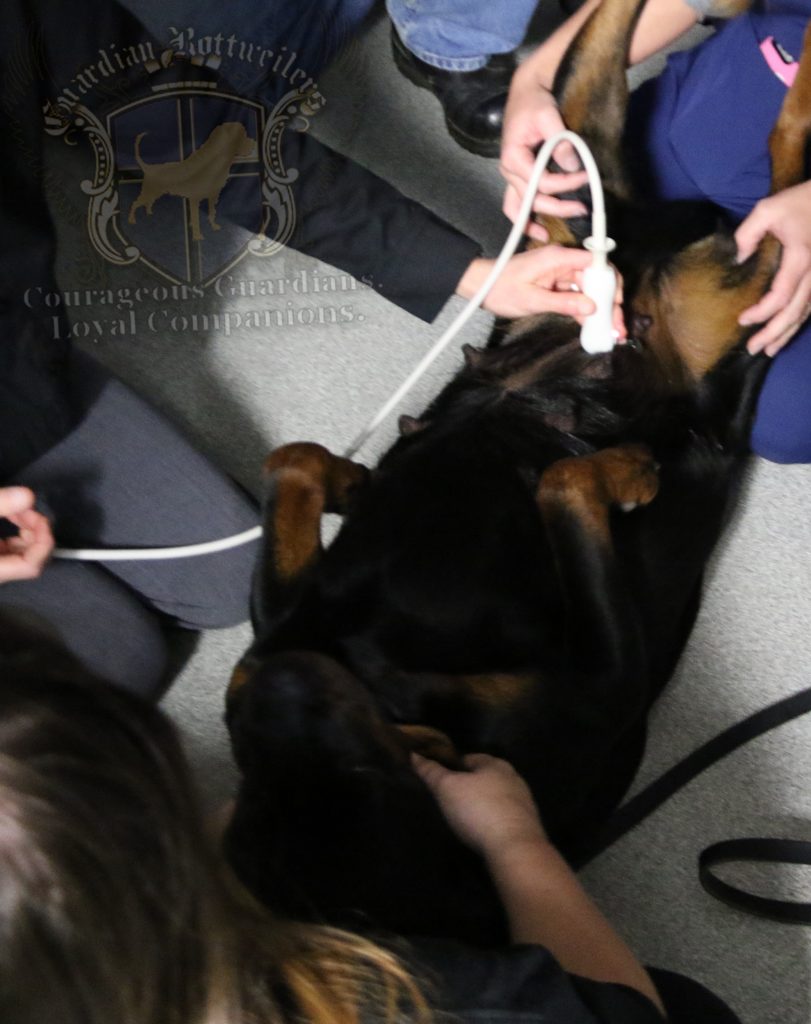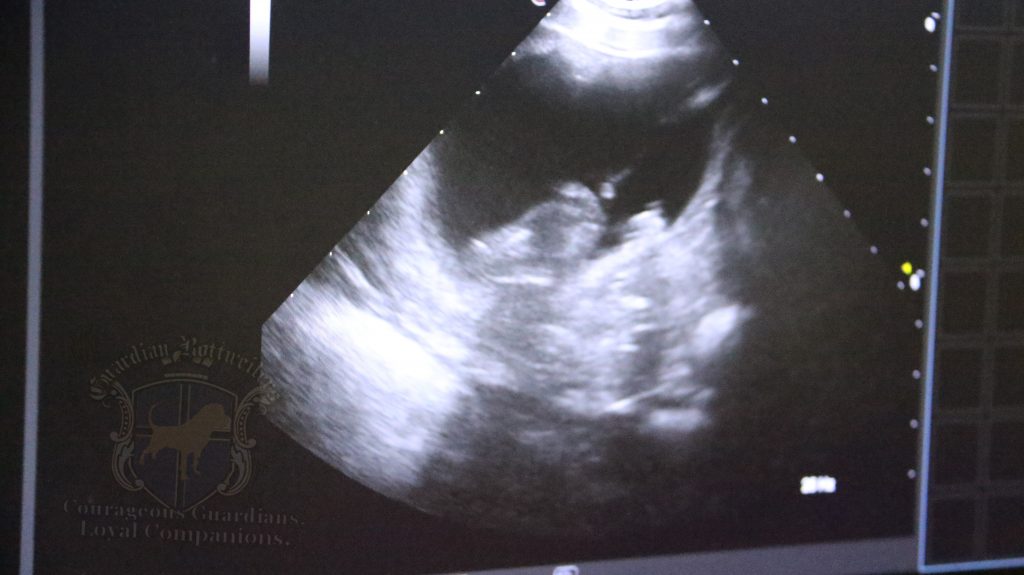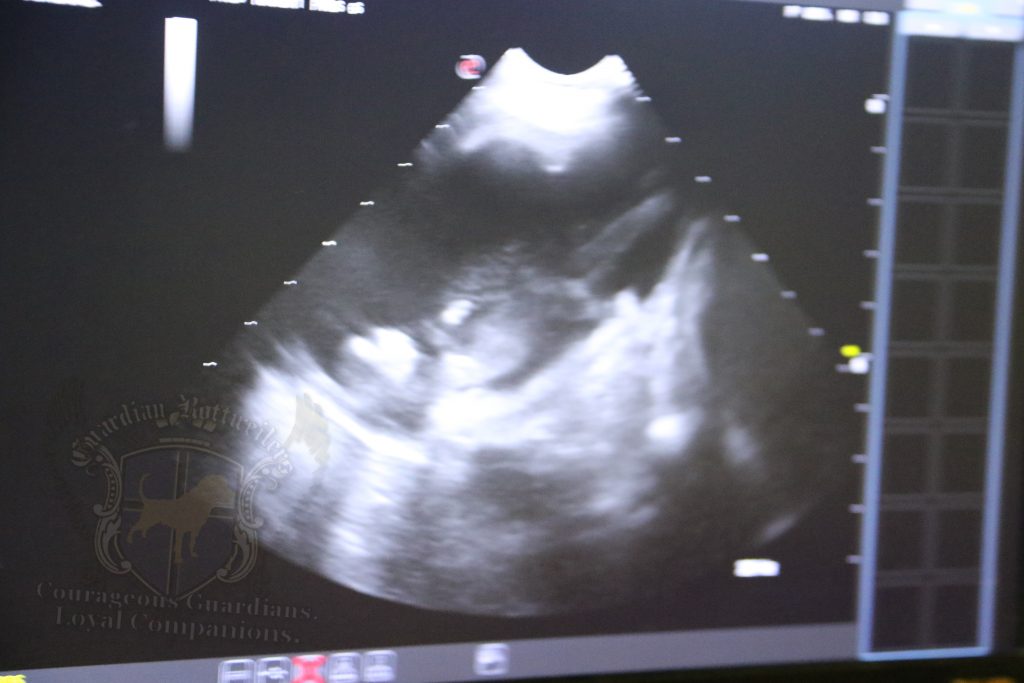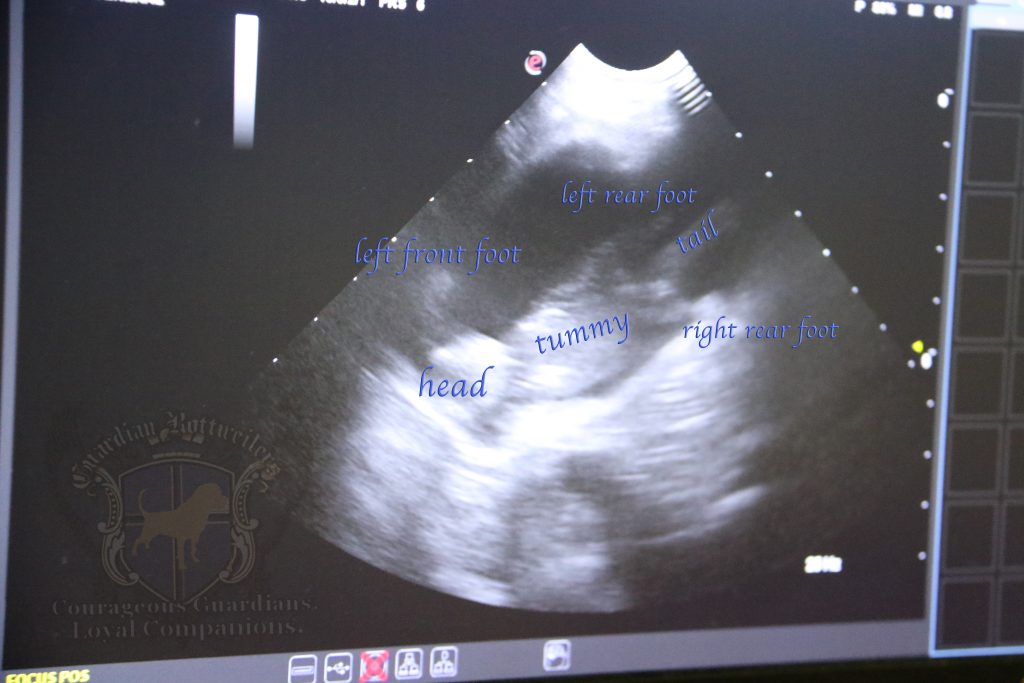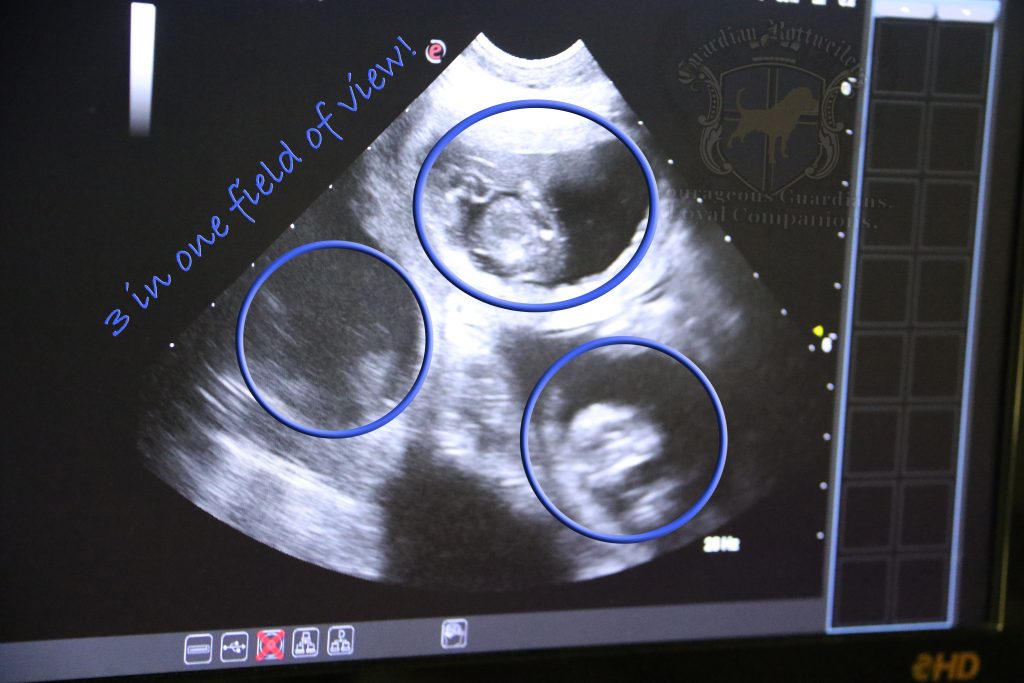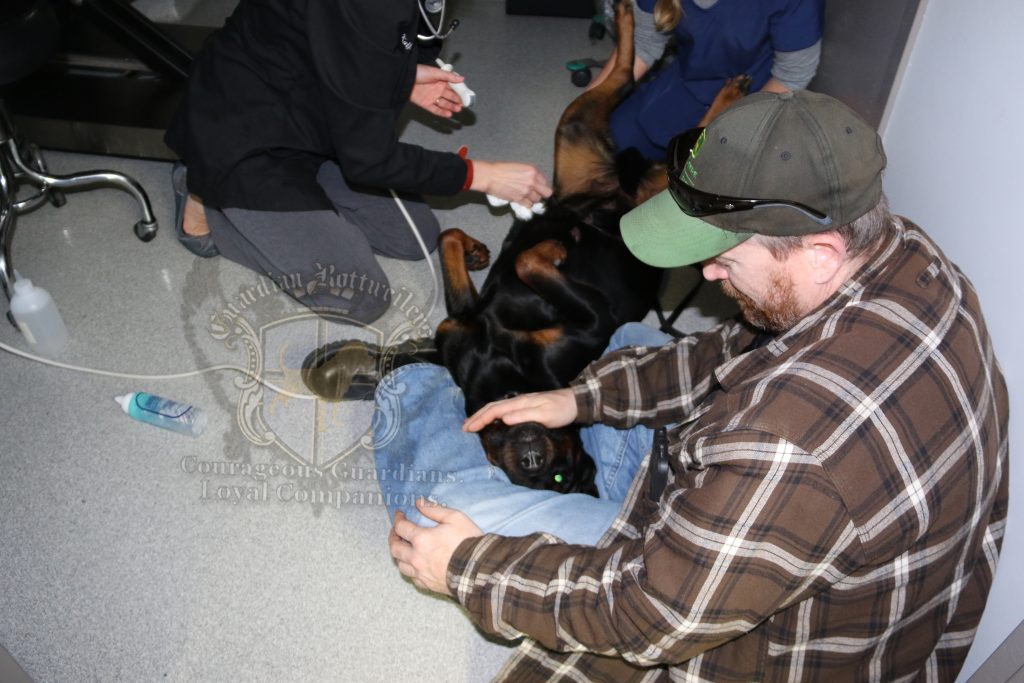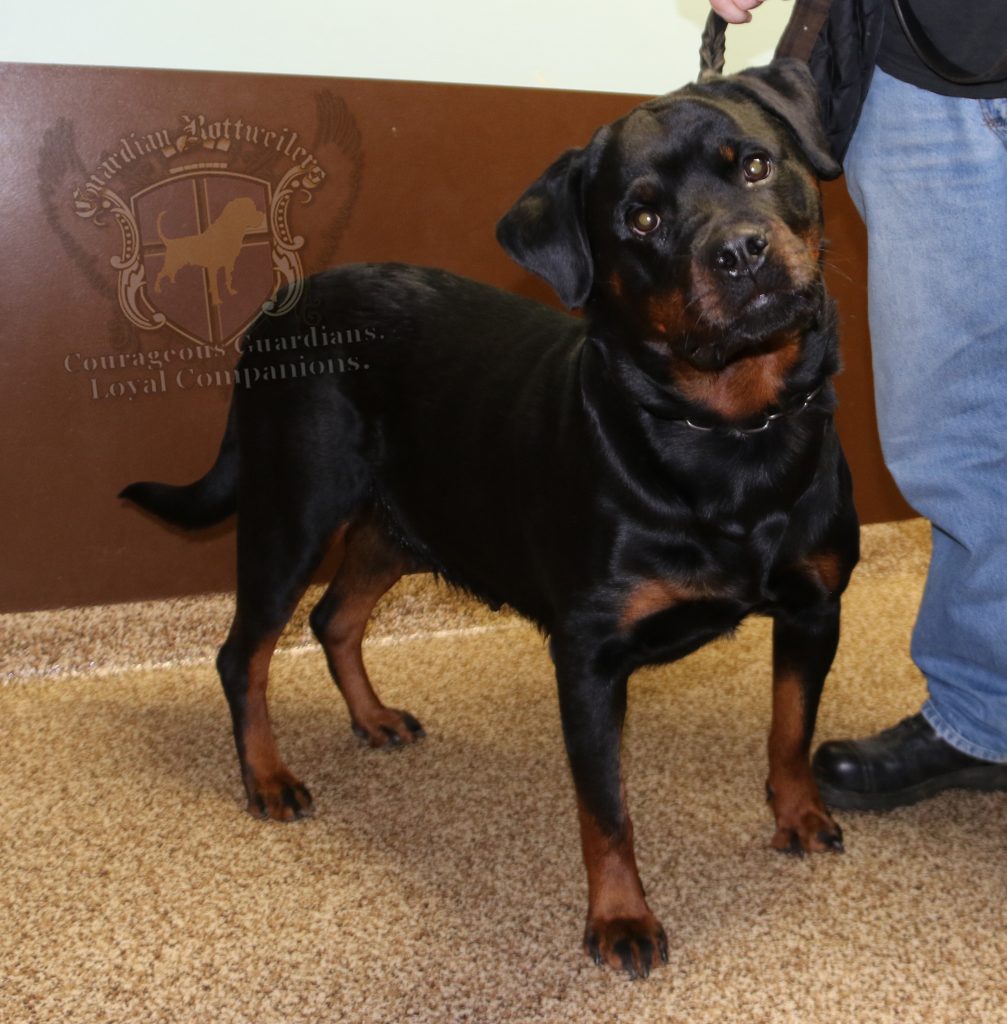 Xoana's Princes and Princesses at 24 days old!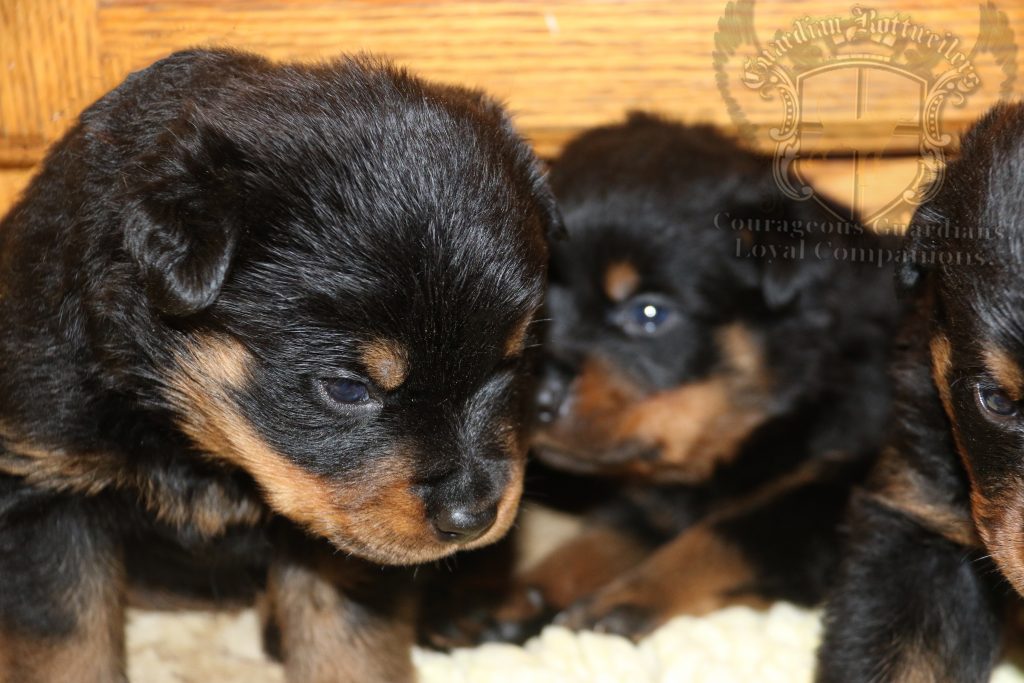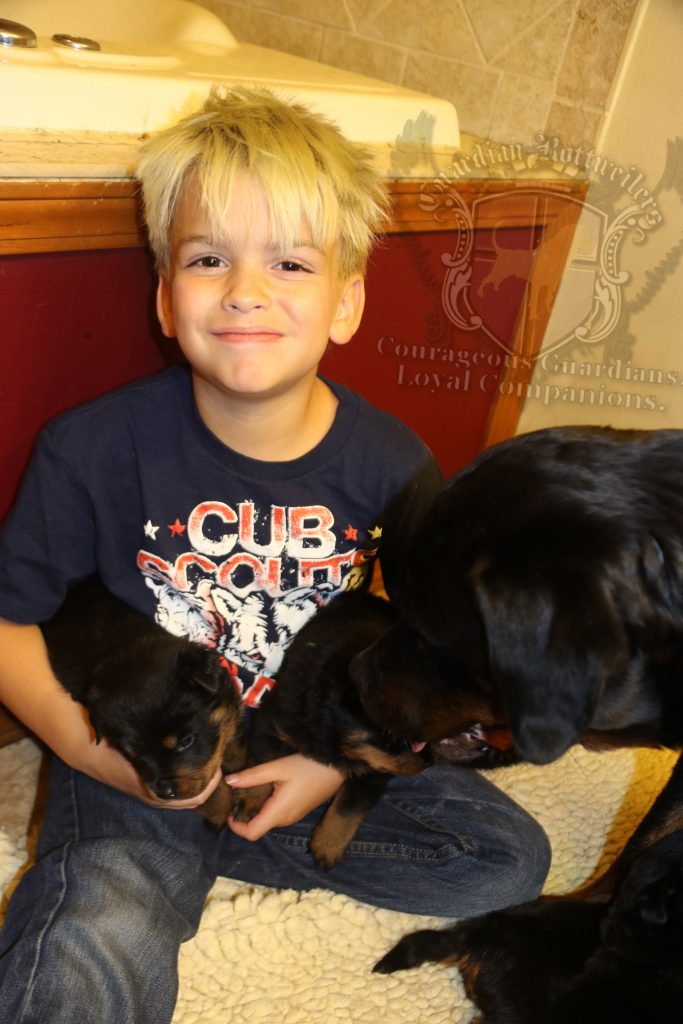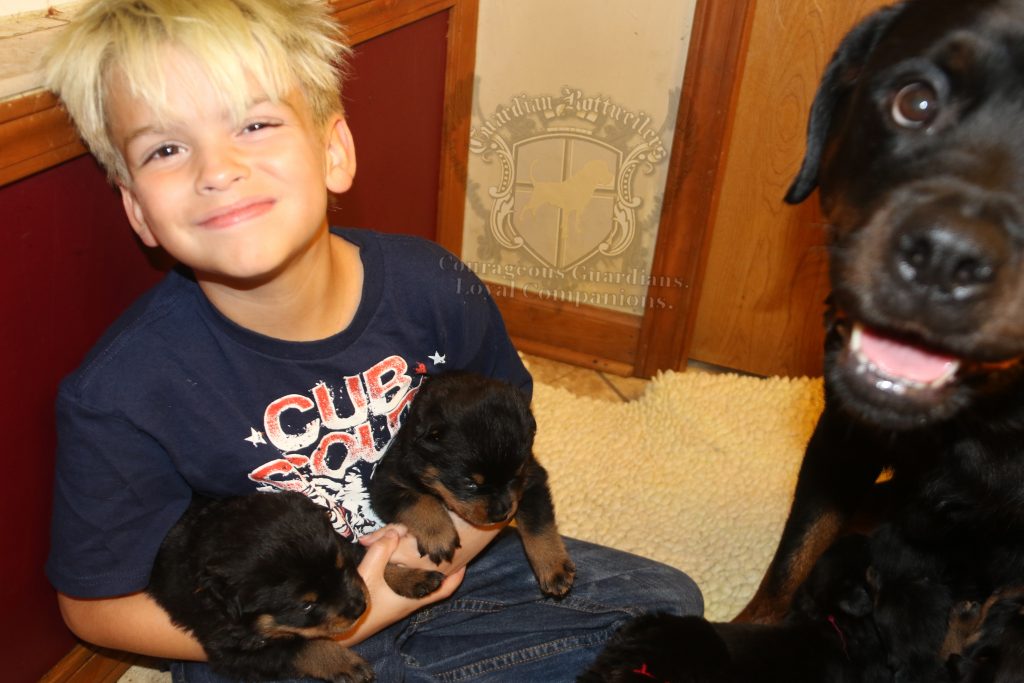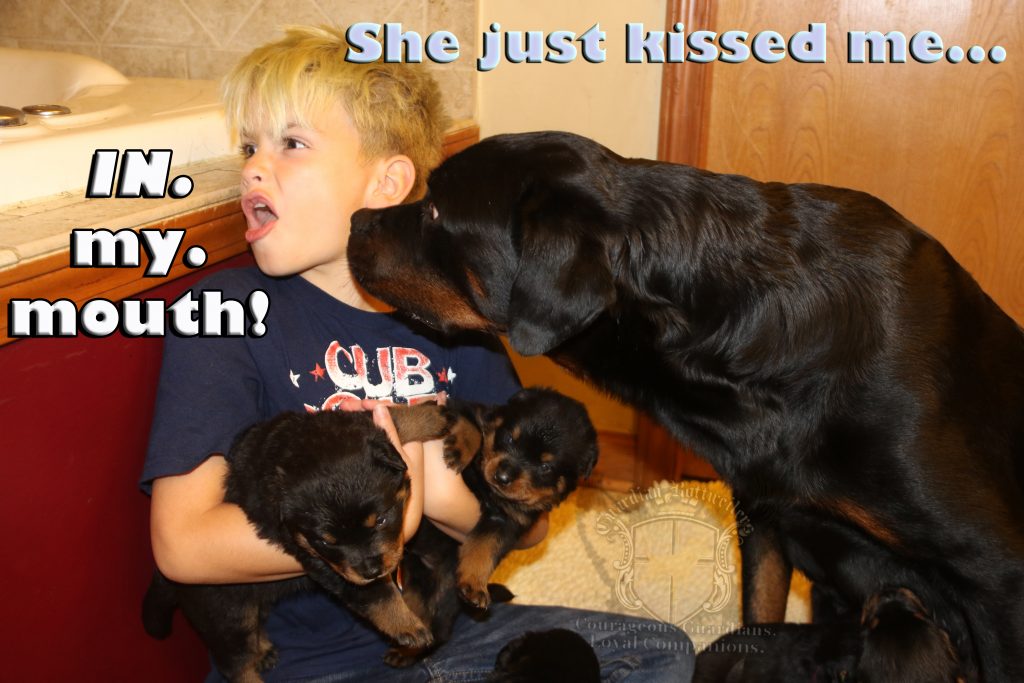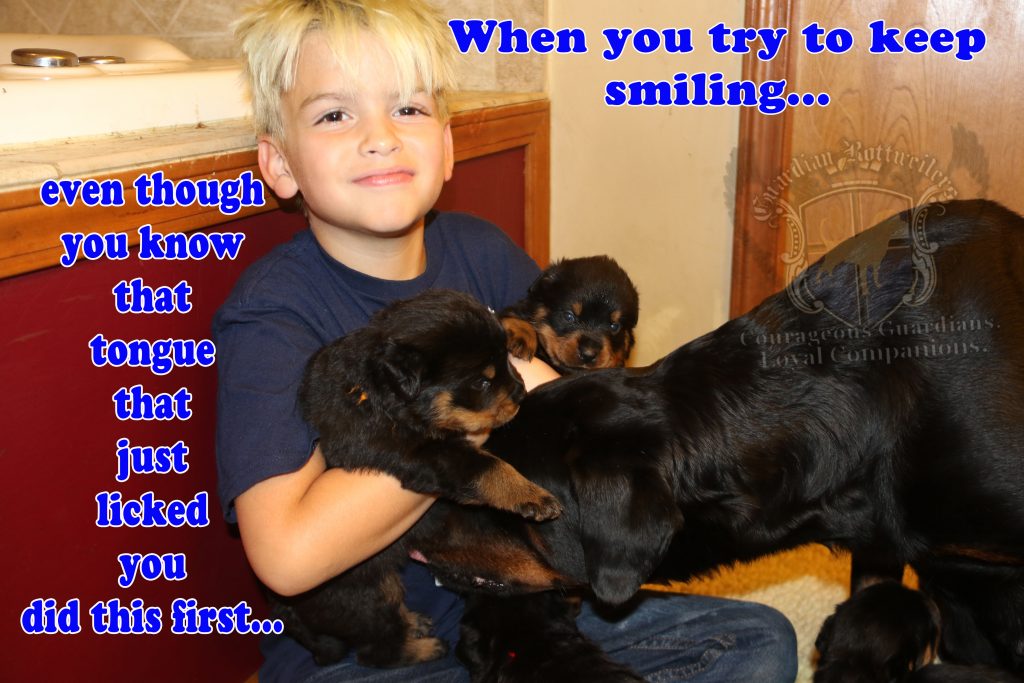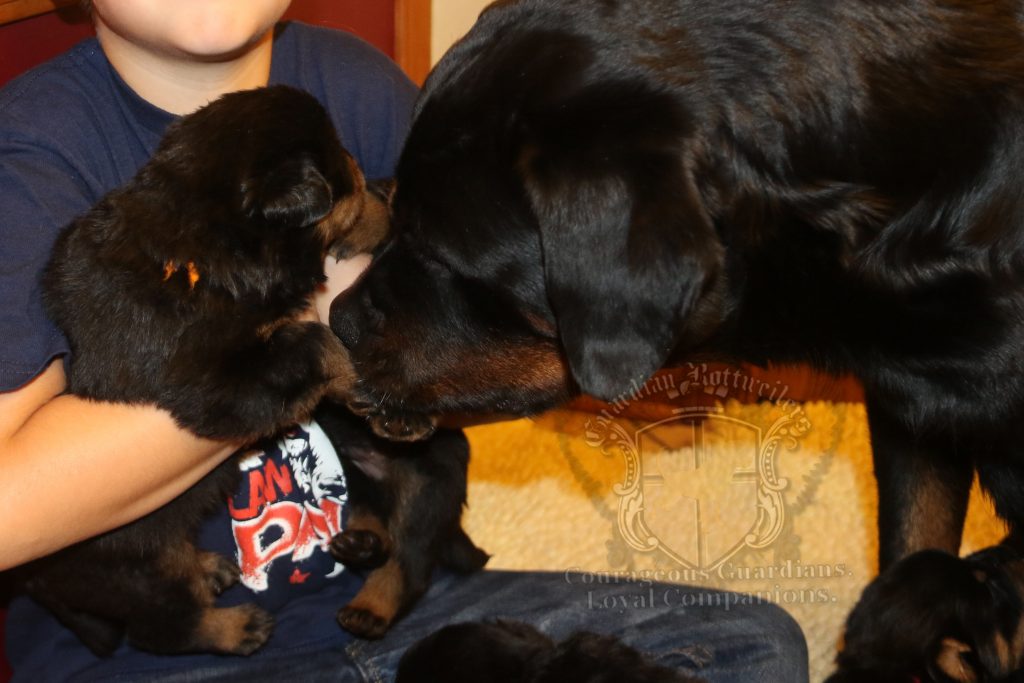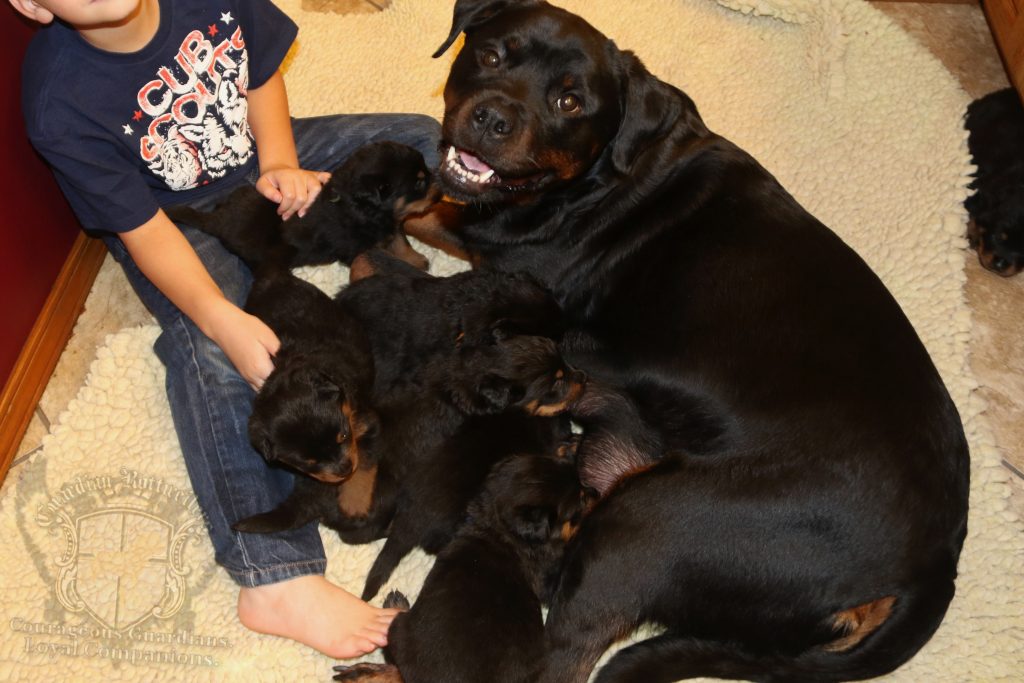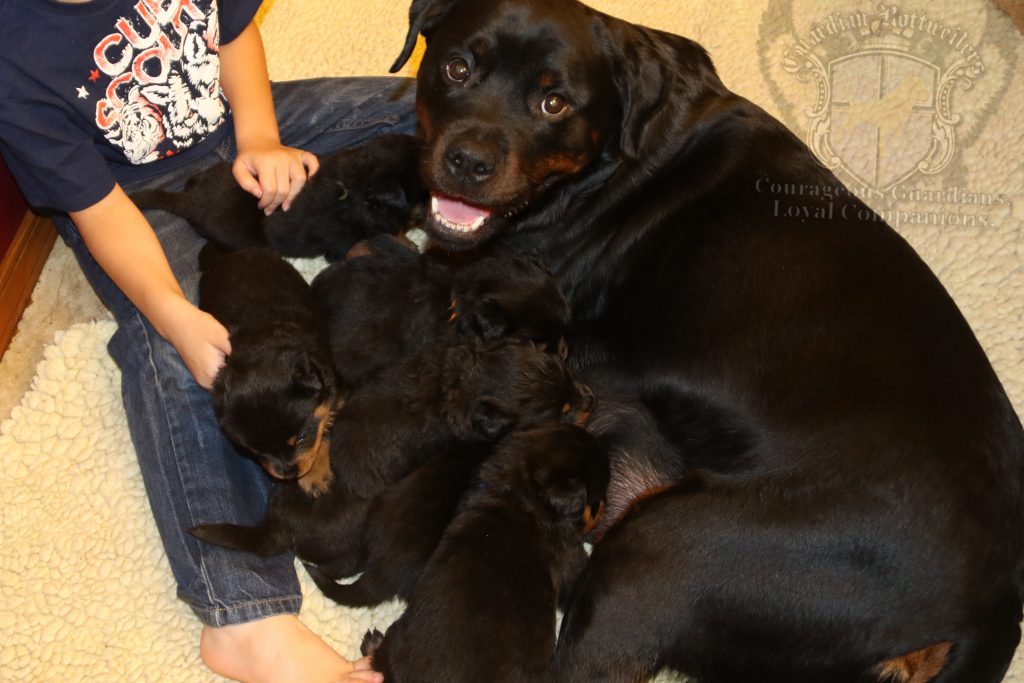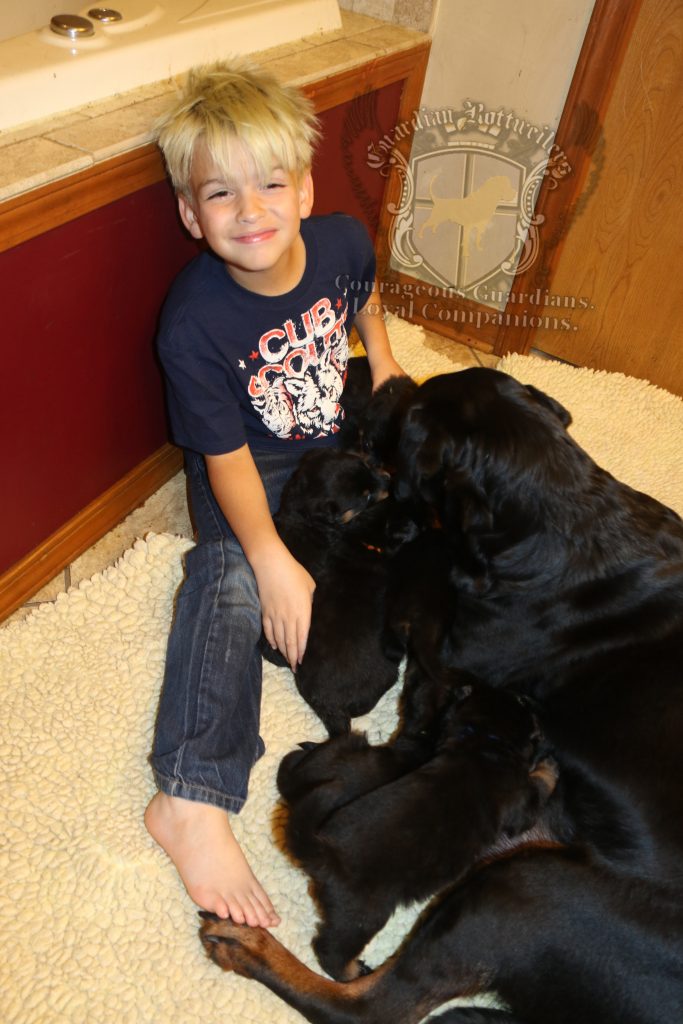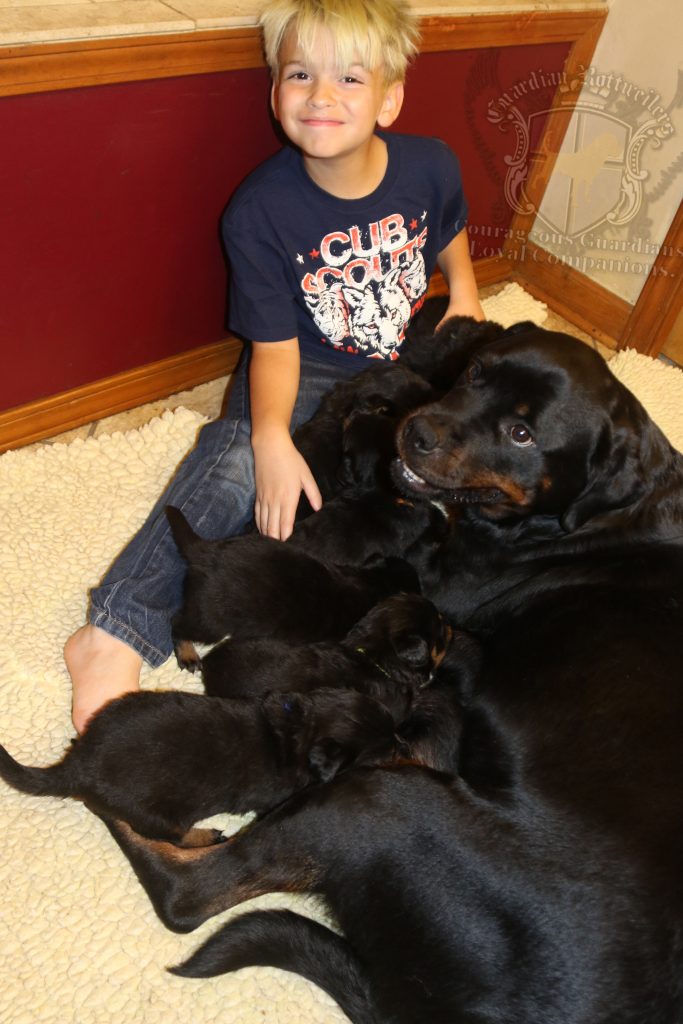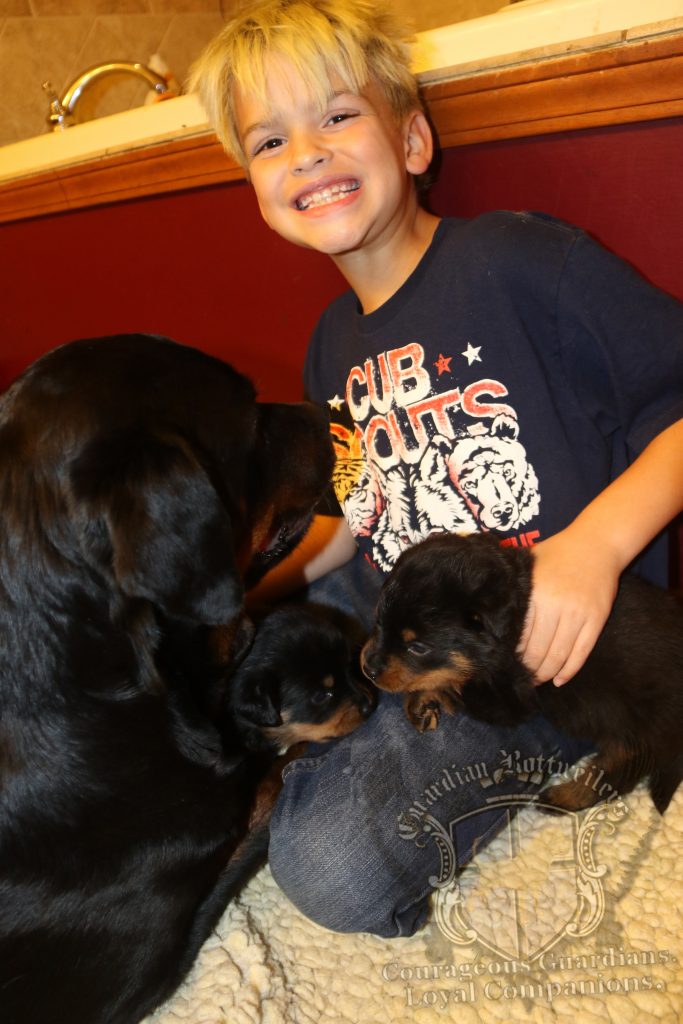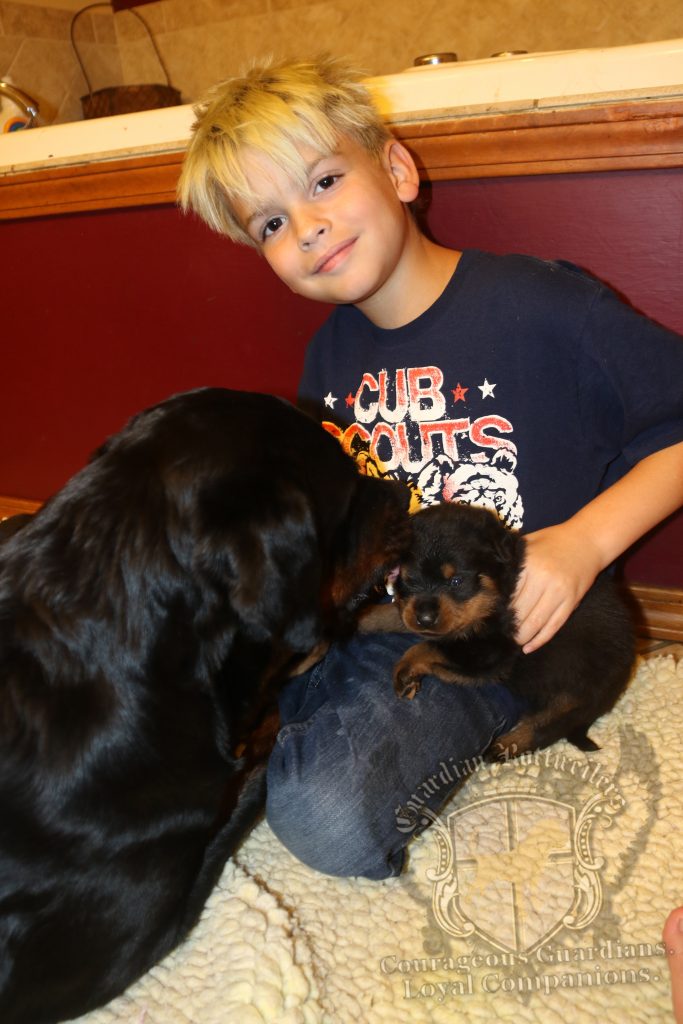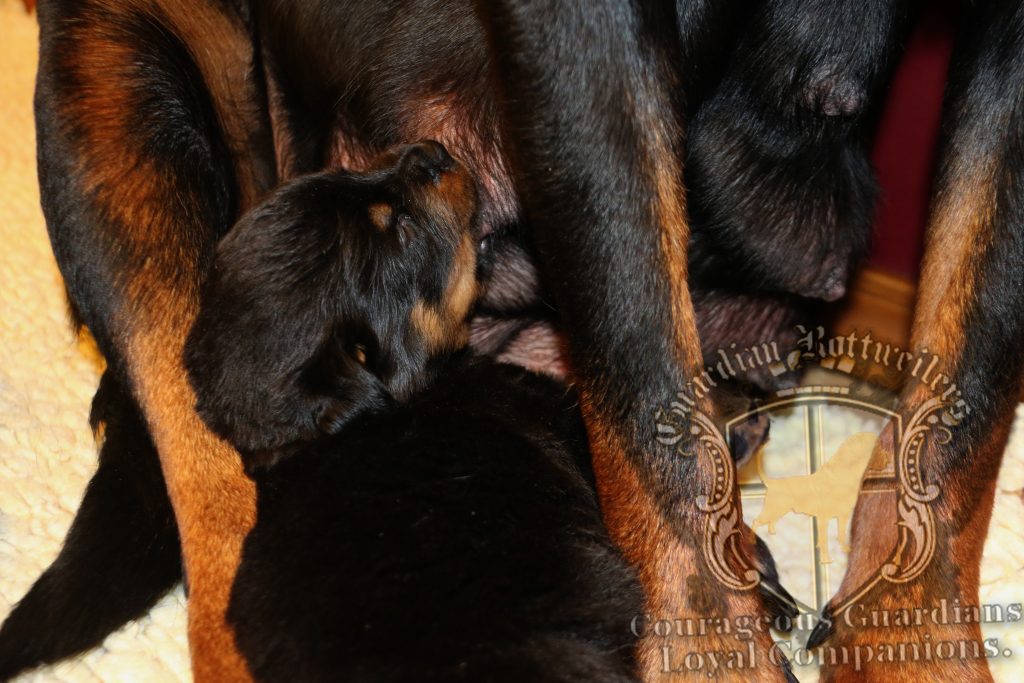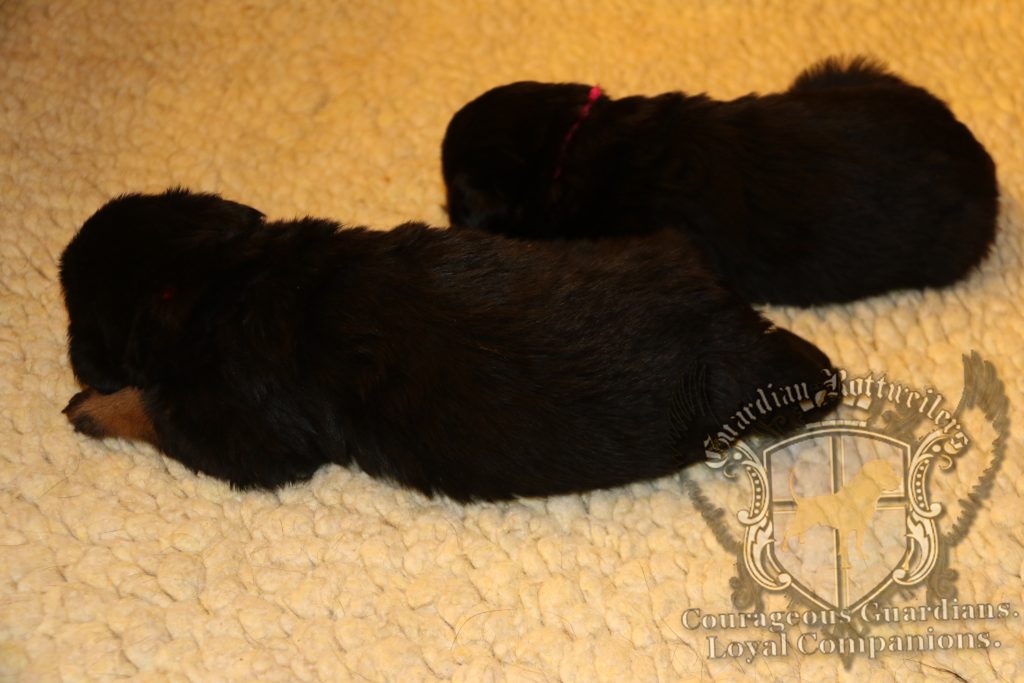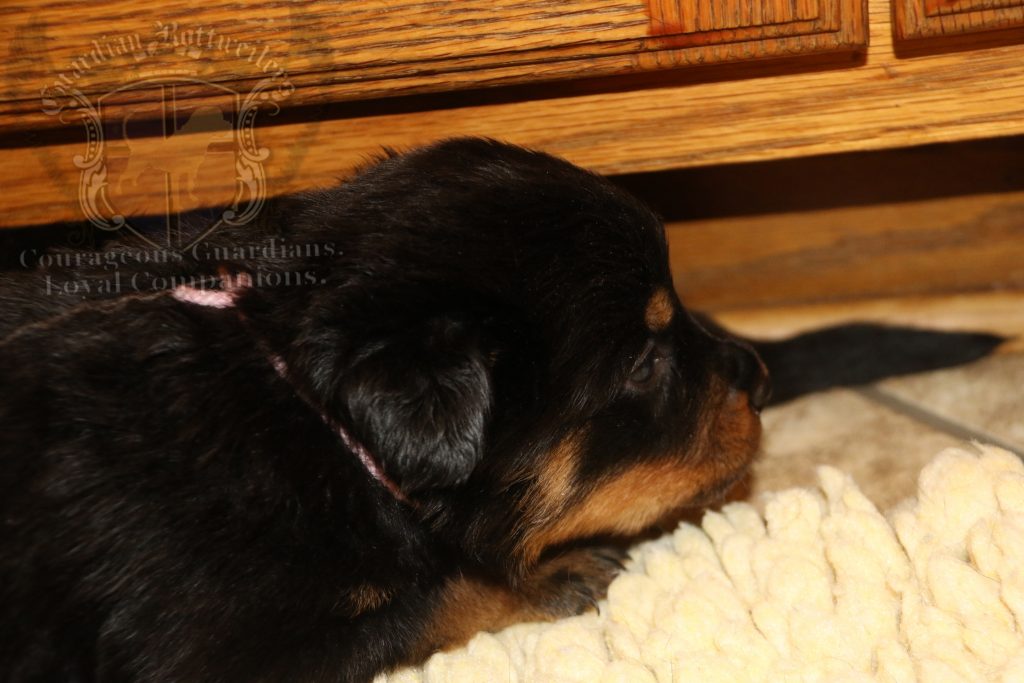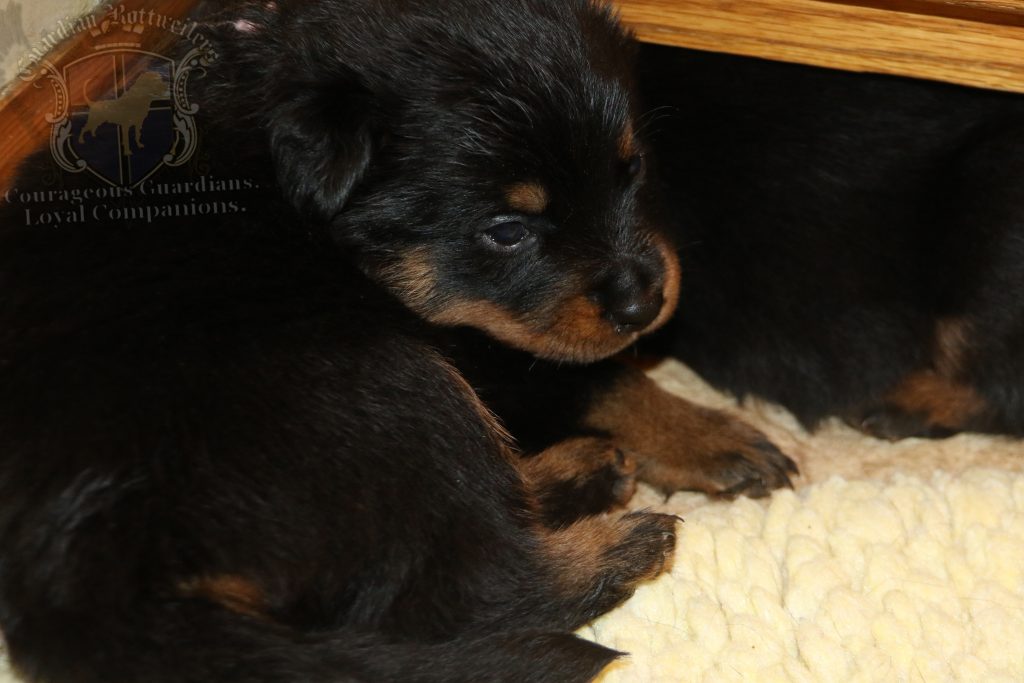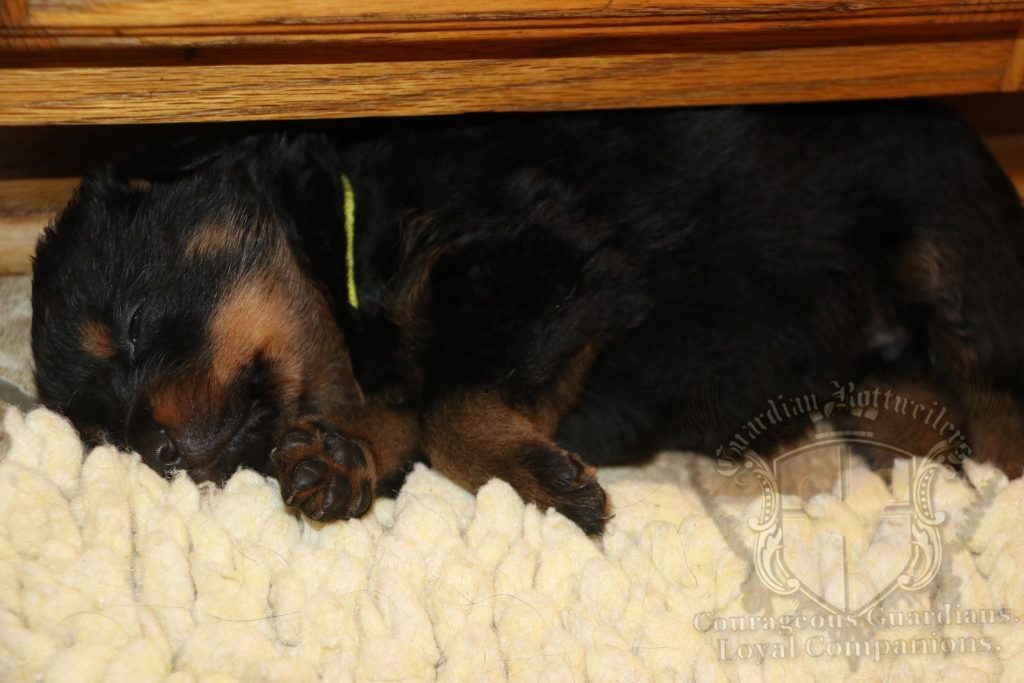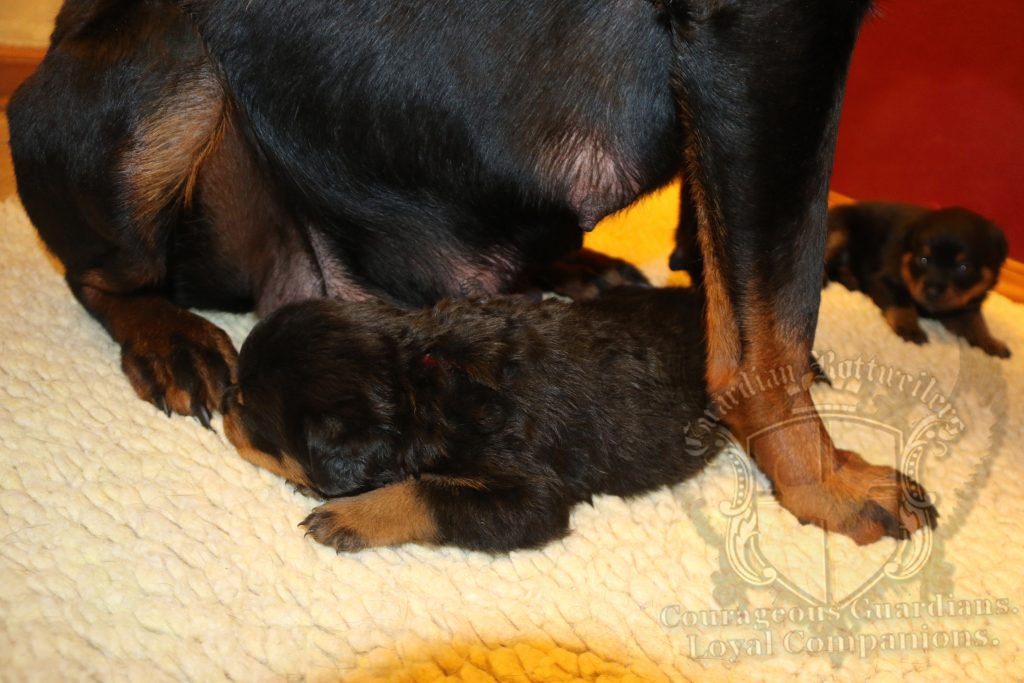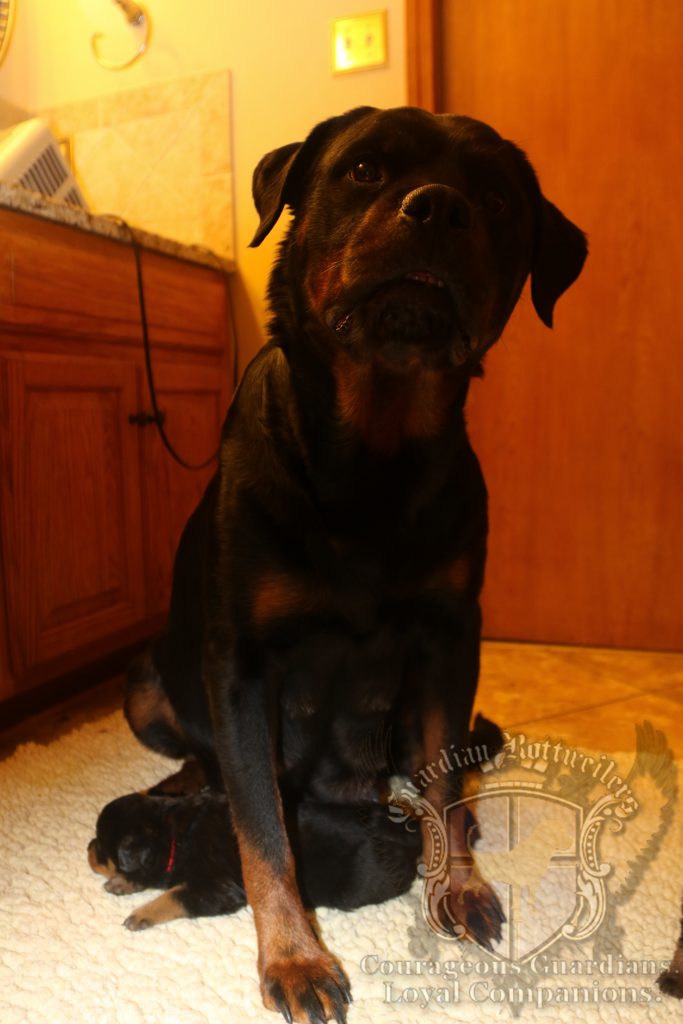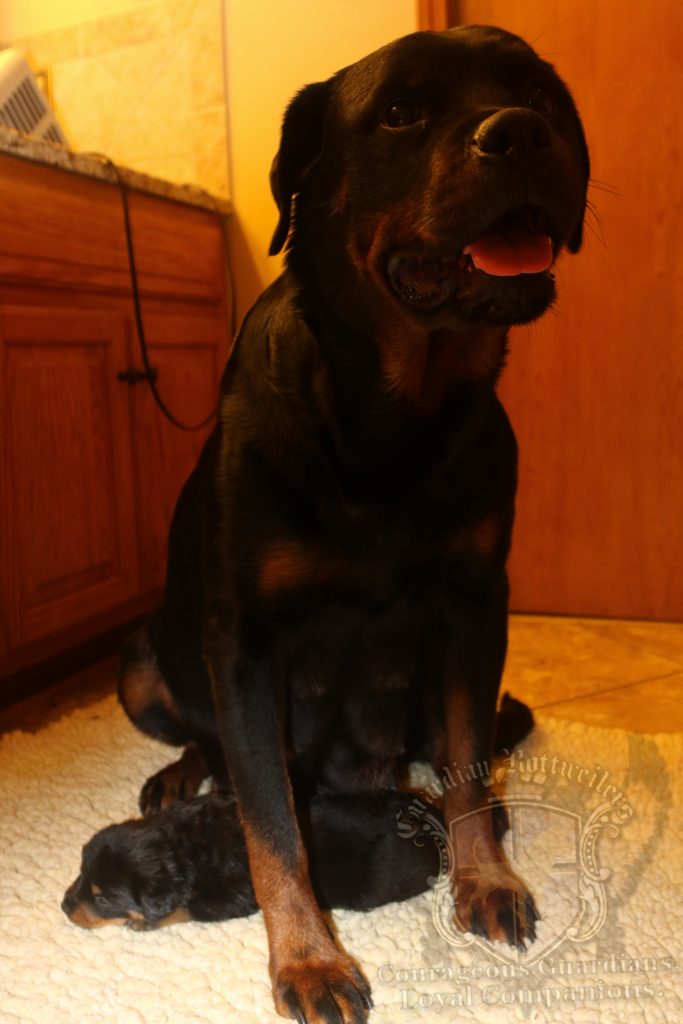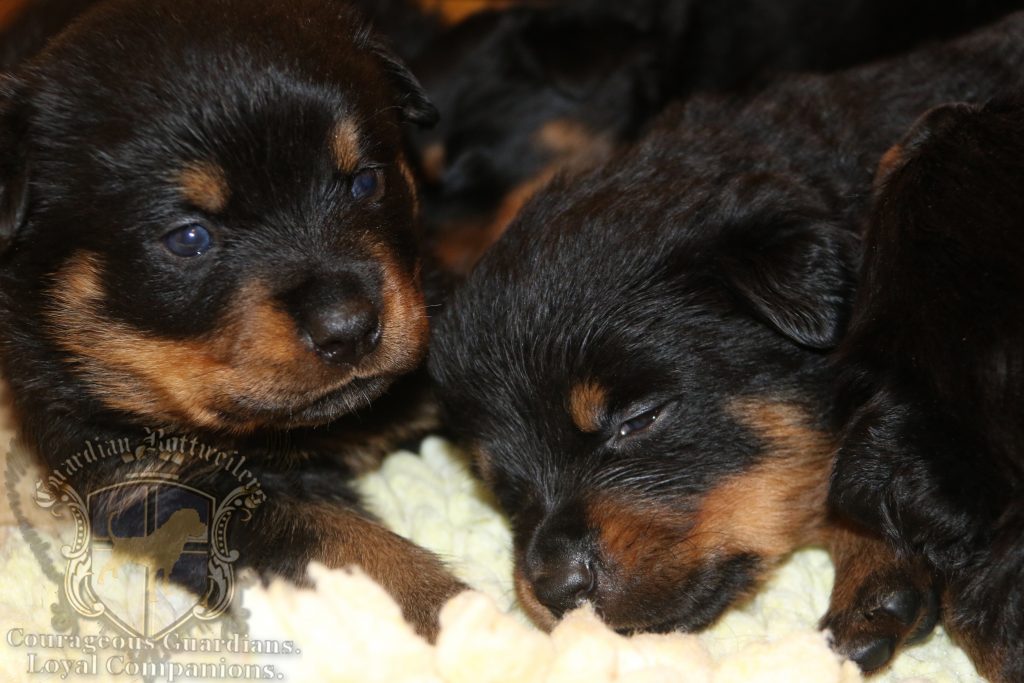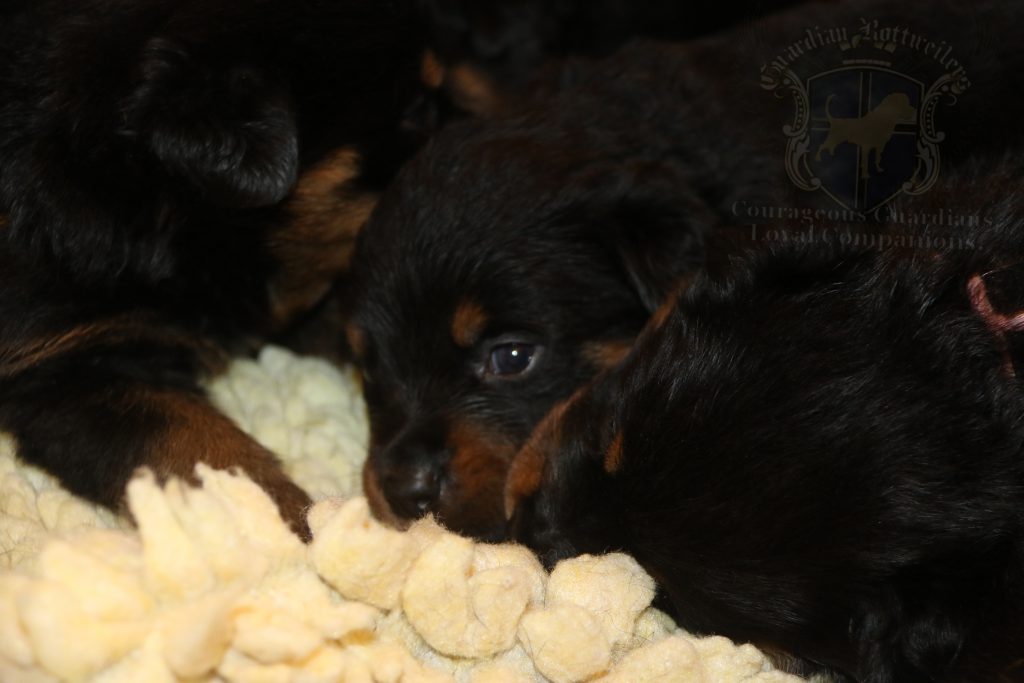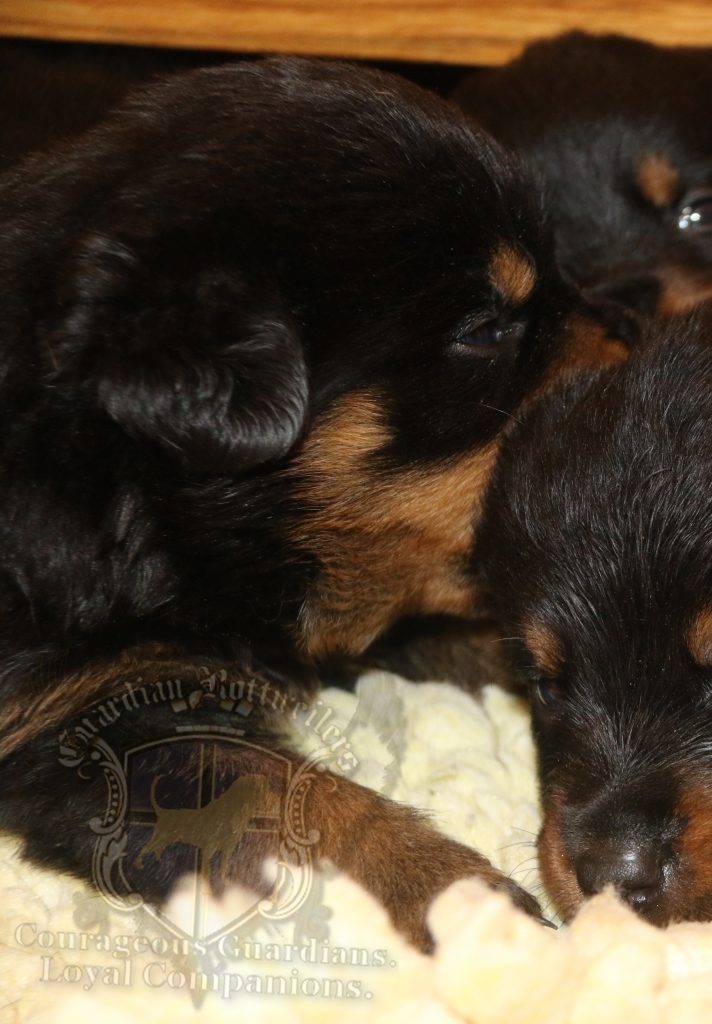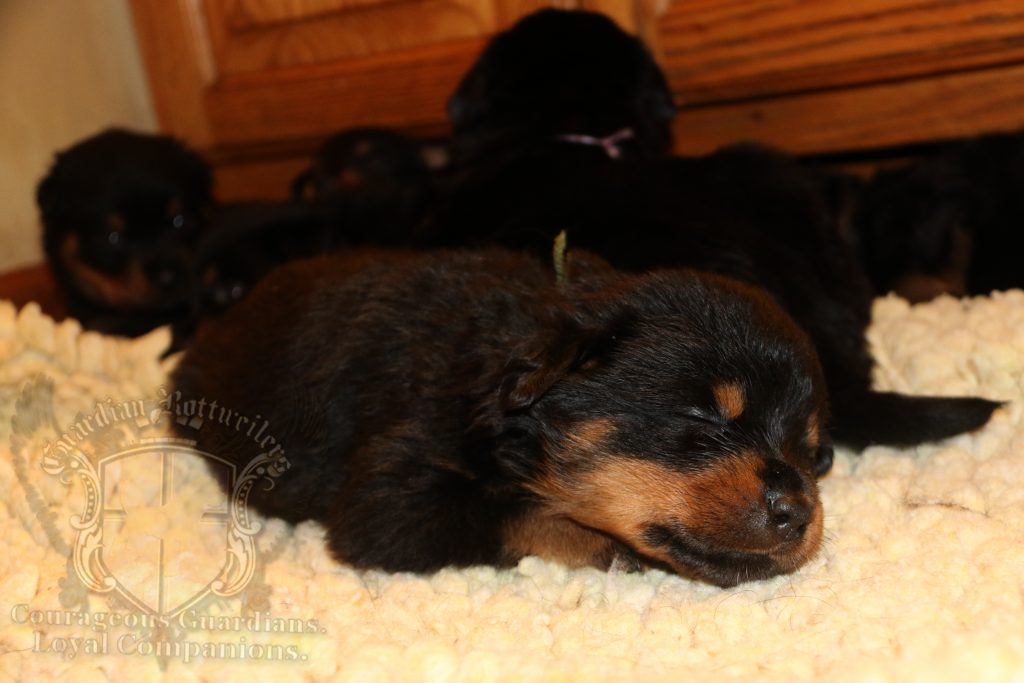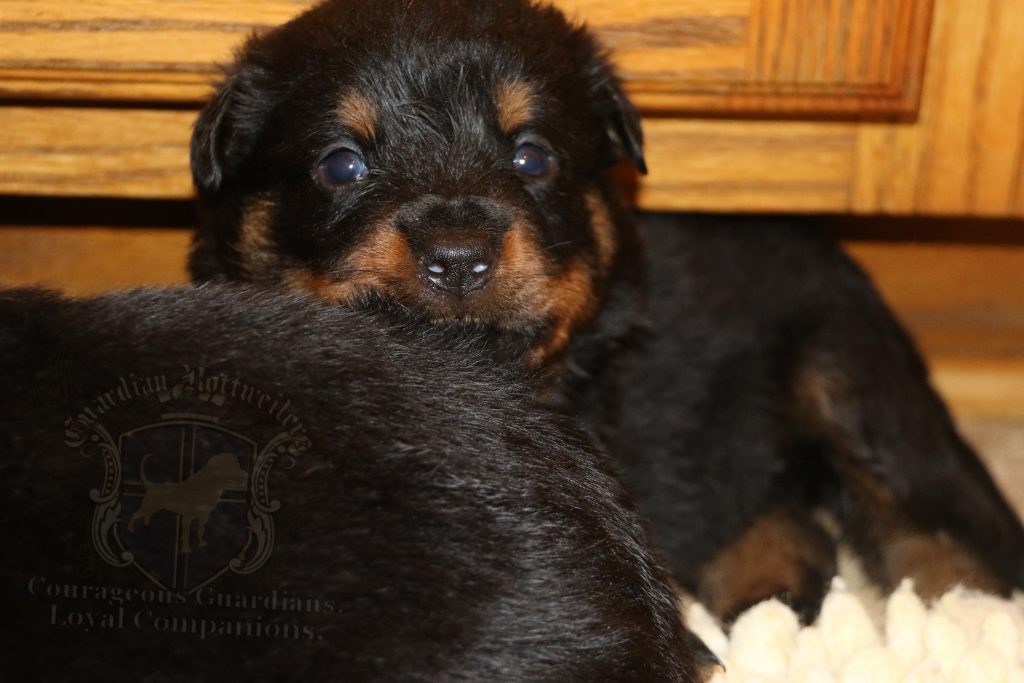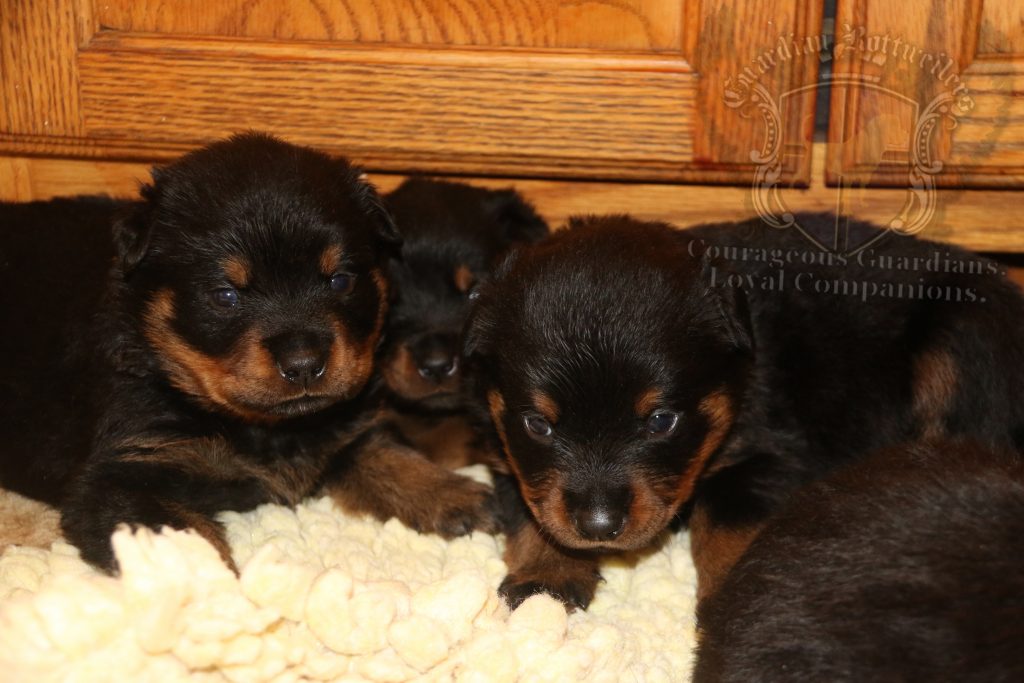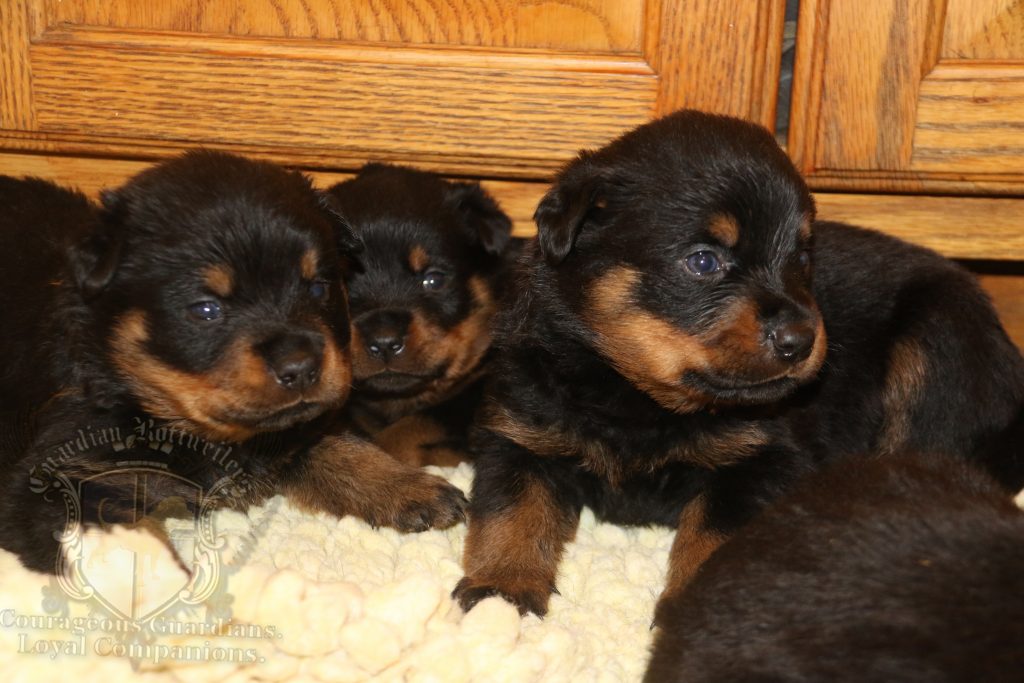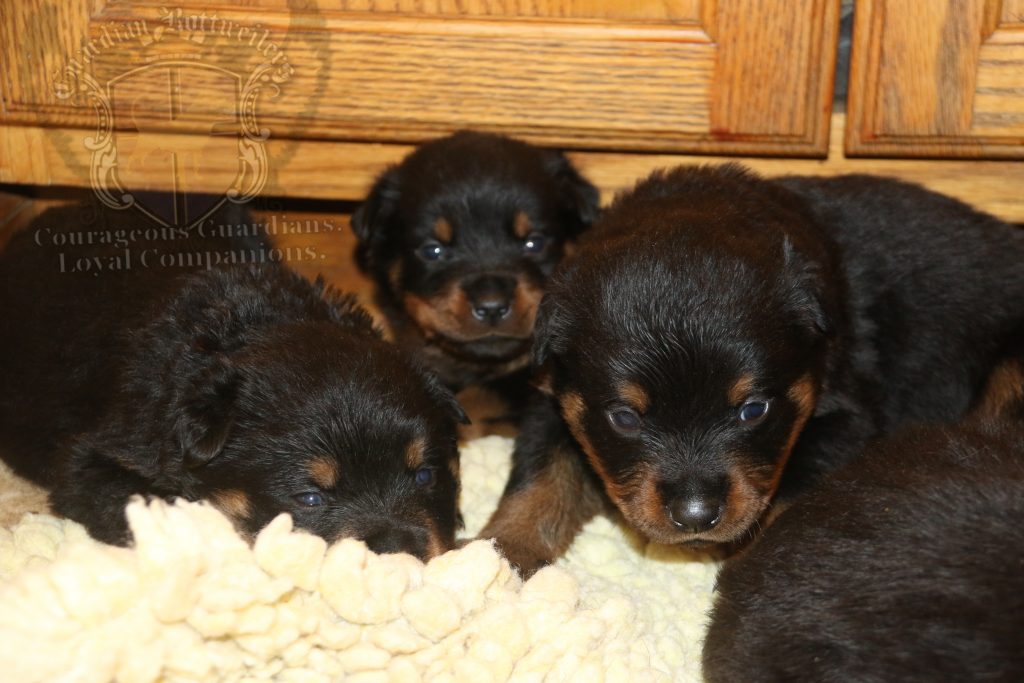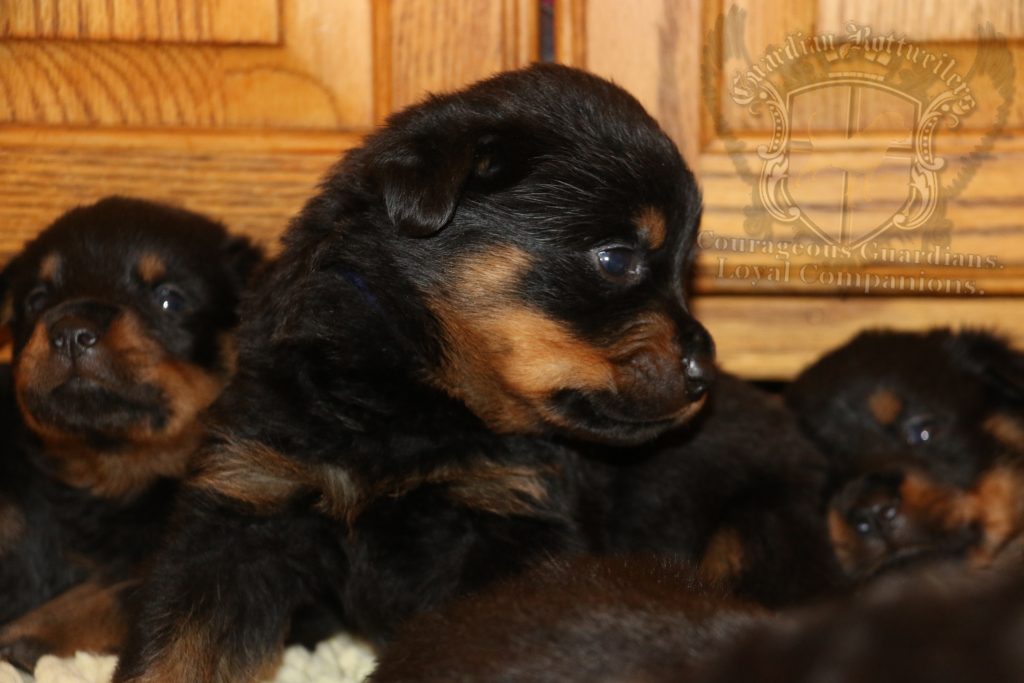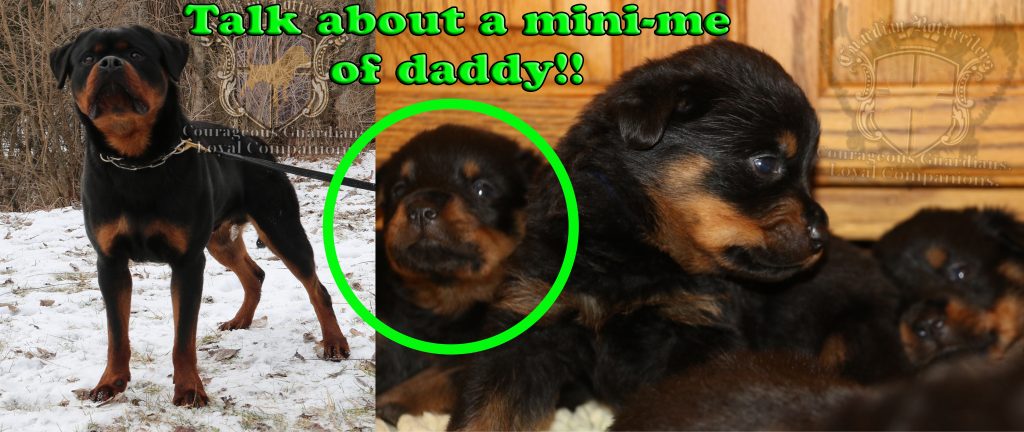 ---
"Talia" Guardian Taria Von Gottschalk
Good morning,
I just want to tell you just how much I love all my rotties. Ms Talia is all that I wanted and more. She is definitely my little shadow and loves to be by my side but I absolutely love it. She does play with the others and if anything, she is much more aggressive than I thought she would be. 
Her voice.. wow!! This little girl is a screamer, if she is in a crate or in the first couple of nights, she would cry to be held or when we put her behind a baby gate or in the playpen. She is by far the loudest of them all, ha ha.
She does seem to be cautious at first with some things like loud bangs and noises but she seems to be confident for the most part. She goes after the cats and other dogs with no fear and she doesn't quit. 
As long as there are puppy pads, Talia is really good about using them, same for Max. They have been much easier to train so far than Zeus and Trinity. 
I am taking some pics and videos as all the pups get older and I will put together a compilation and send to you so you can see how they all have grown, I love watching them grow up and to see their personalities evolve. 
Maximus is getting so big and so heavy. He is such a good boy, he loves cuddling and playing with everyone but I think Talia is a bit too much for him sometimes because she gets so aggressive and bites hard. Its funny how much they change in just a few weeks.
Zeus and Trinity are like young adults, they are so chill and Trinity has really calmed down quite a bit. They are still playful but its not constant like it used to be. They are both great with the babies but a little rough sometimes, although the puppy's are able to hold their own.
I just wanted to reach out to tell you how we are doing here and to thank you once again for all that you have done for us. I will keep in touch.
Melissa
---
Guardian Draka Von Gottschalk
Awe! I just caught them spooning! No chance of me missing a photo opportunity.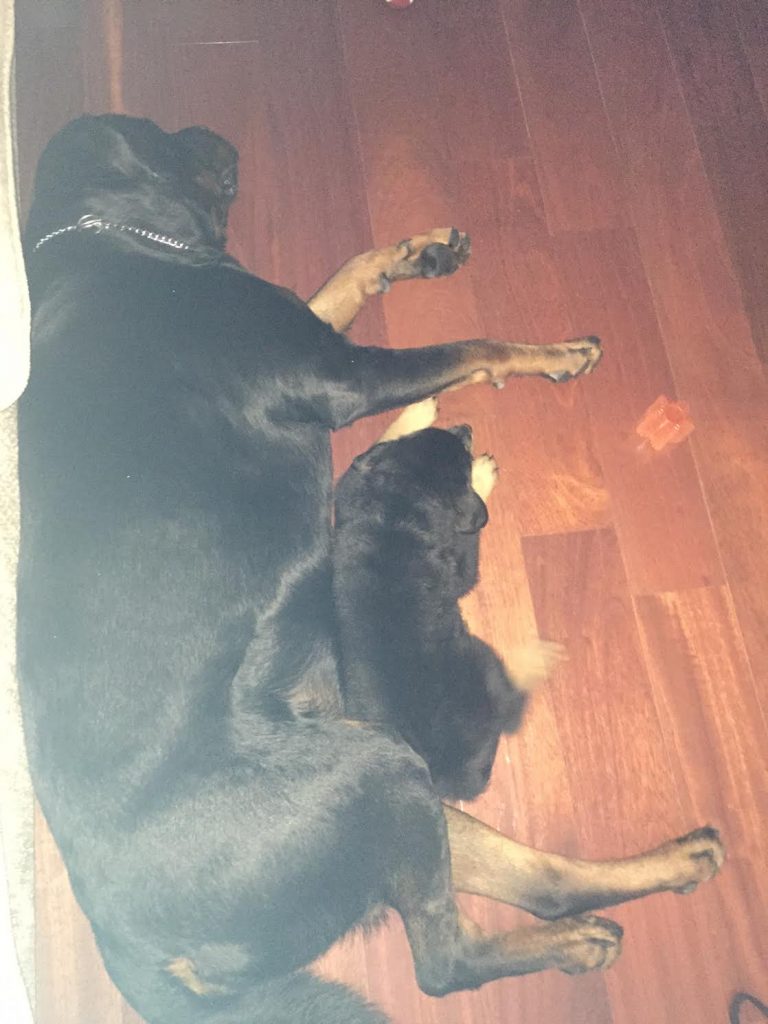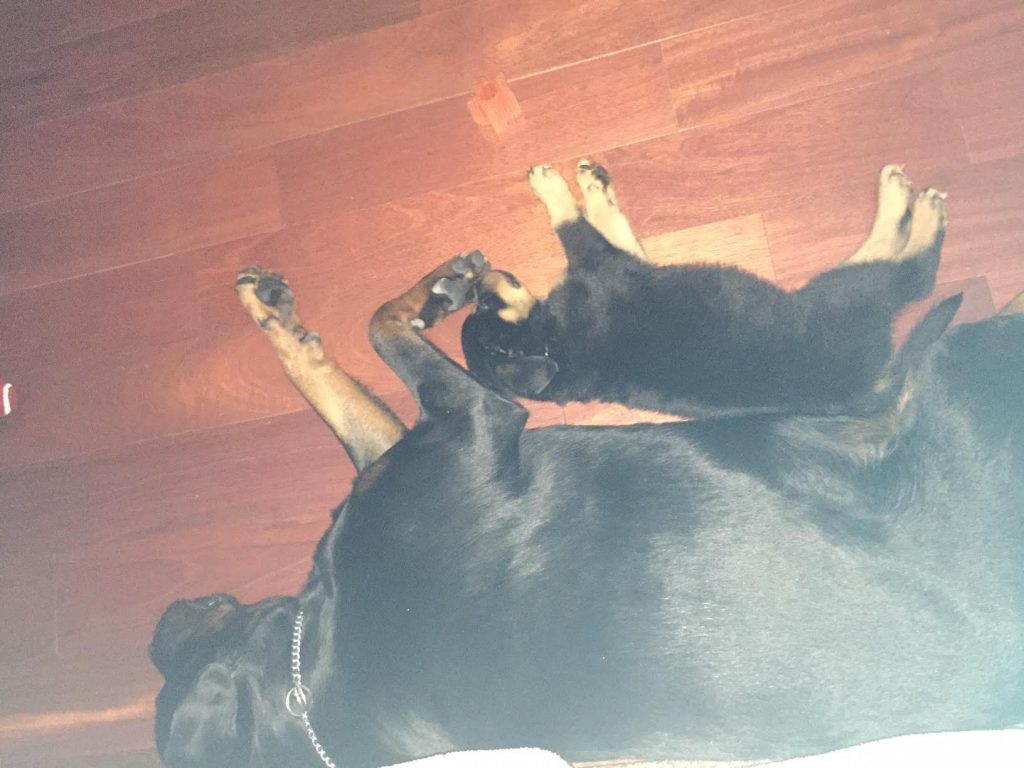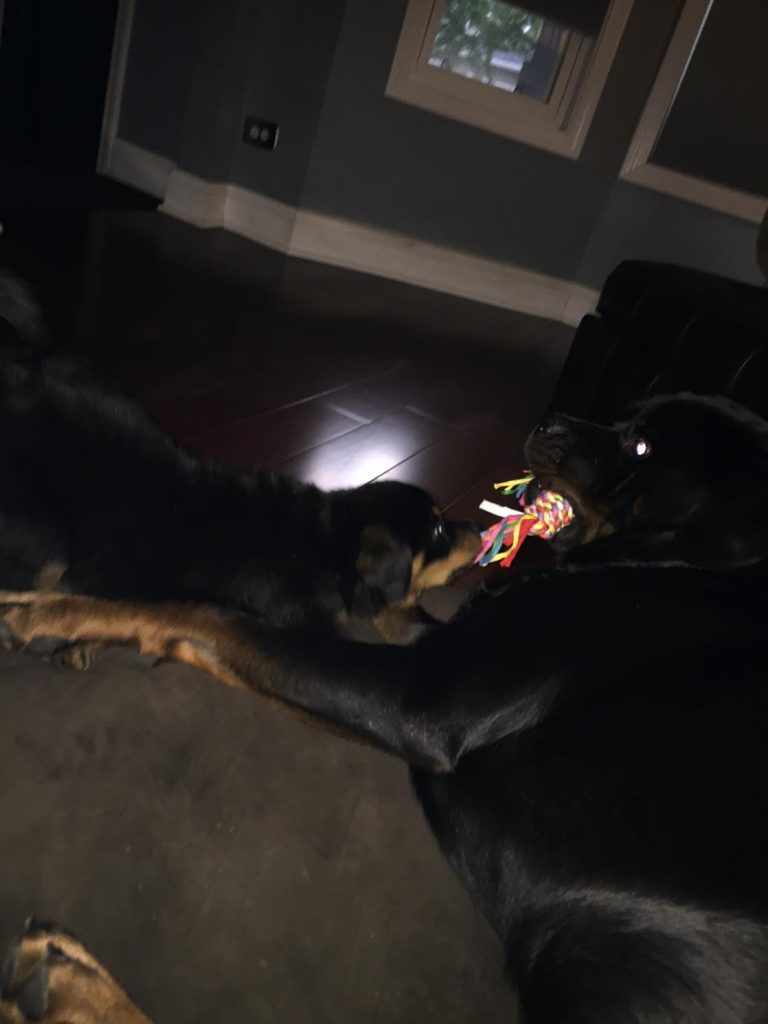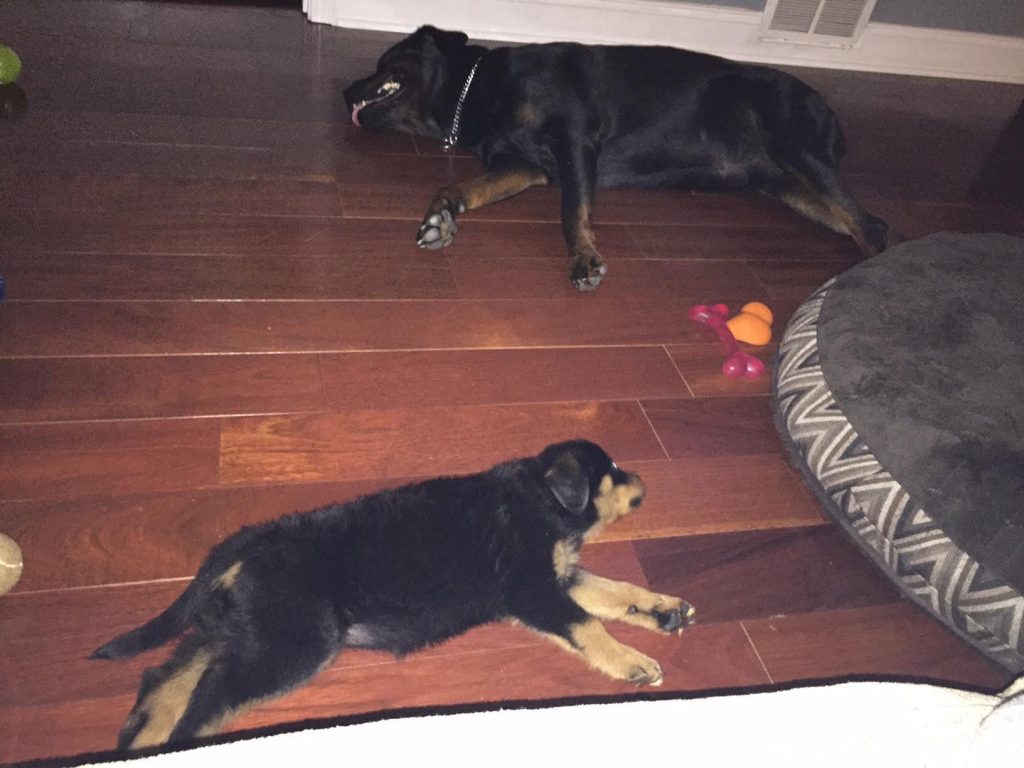 feel the love <3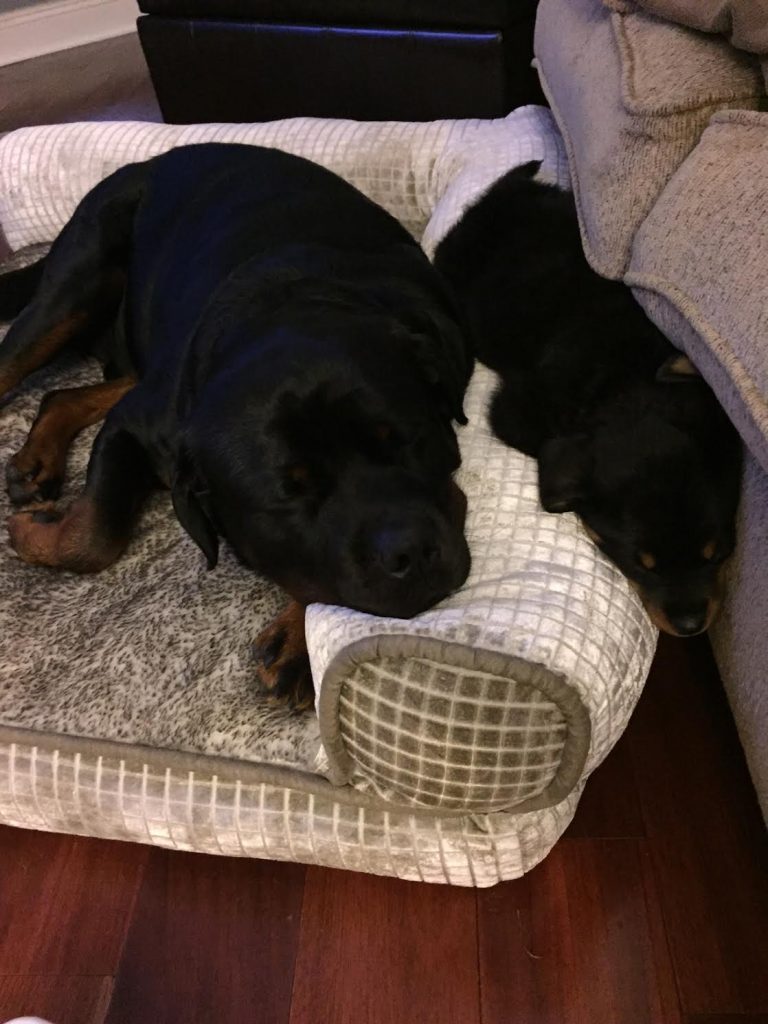 So our new little bundle of joy is now a little over 10 weeks old.  She and her big brother are getting along well.  Titus continues to be some what of big brother bully when it comes to his favorite toys, but he's been sharing with his little sister.  Sheba also went for her first round of shots, vets gave her a clean bill of healthJ
Thanks again for everything Alice!
Regards
Not a baby anymore, well sorta!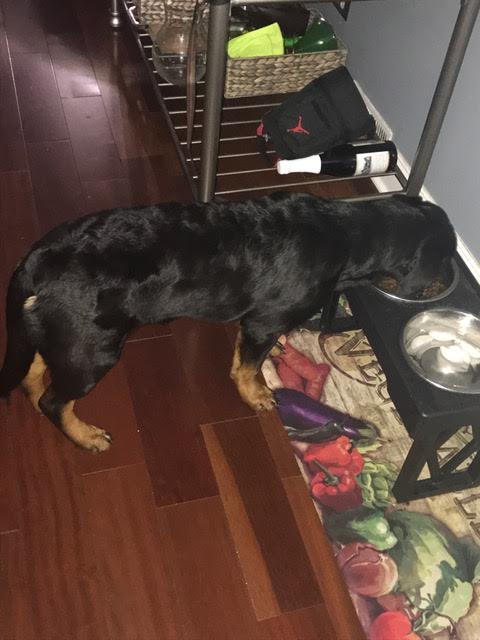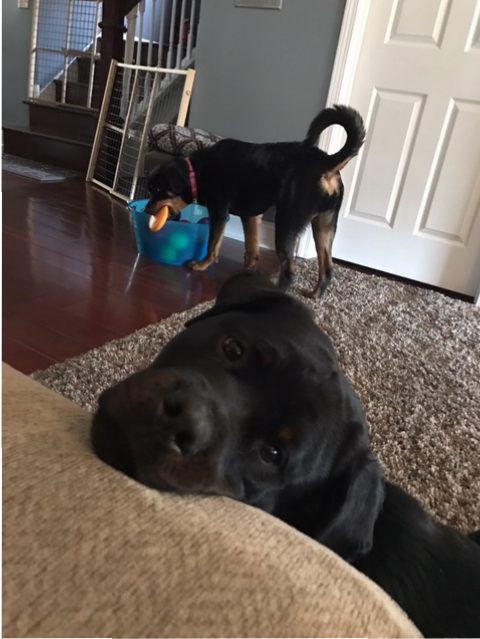 HI Alice,
Just wanted to reach out with a new pic.  Our young Sheba is 7 months old, she is enjoying lifeJ  Our big boy Titus will soon turn 4, my how time flies.  Hope all is well with you and yours.
Regards
They're always finding ways to make us smile 🙂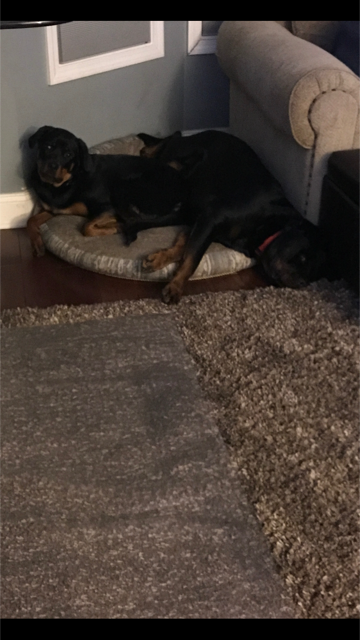 ---
Guardian Medivh Von Gottschalk
He is PERFECT!!!!! So loved already!!!! He seems perfectly happy, his poo is solid at this point and he's not lacking for a lap to crawl into. Thank you SO much, words cannot explain how much our hearts needed this little guy. Your husband was a dream amd I am so thankful to have met at least half of you two. 😉 Here are a couple snapshots of him from my phone.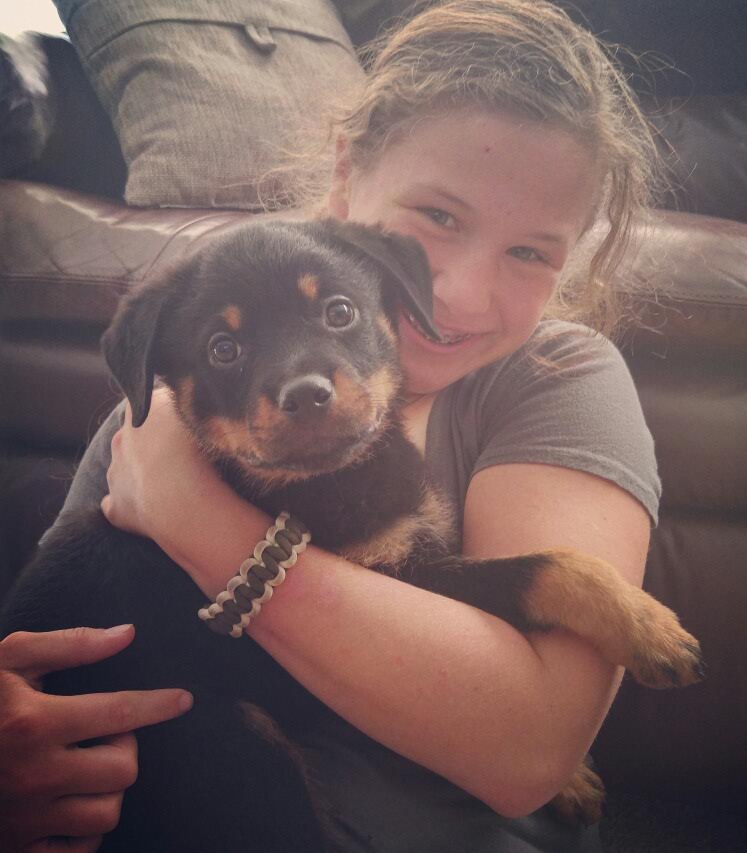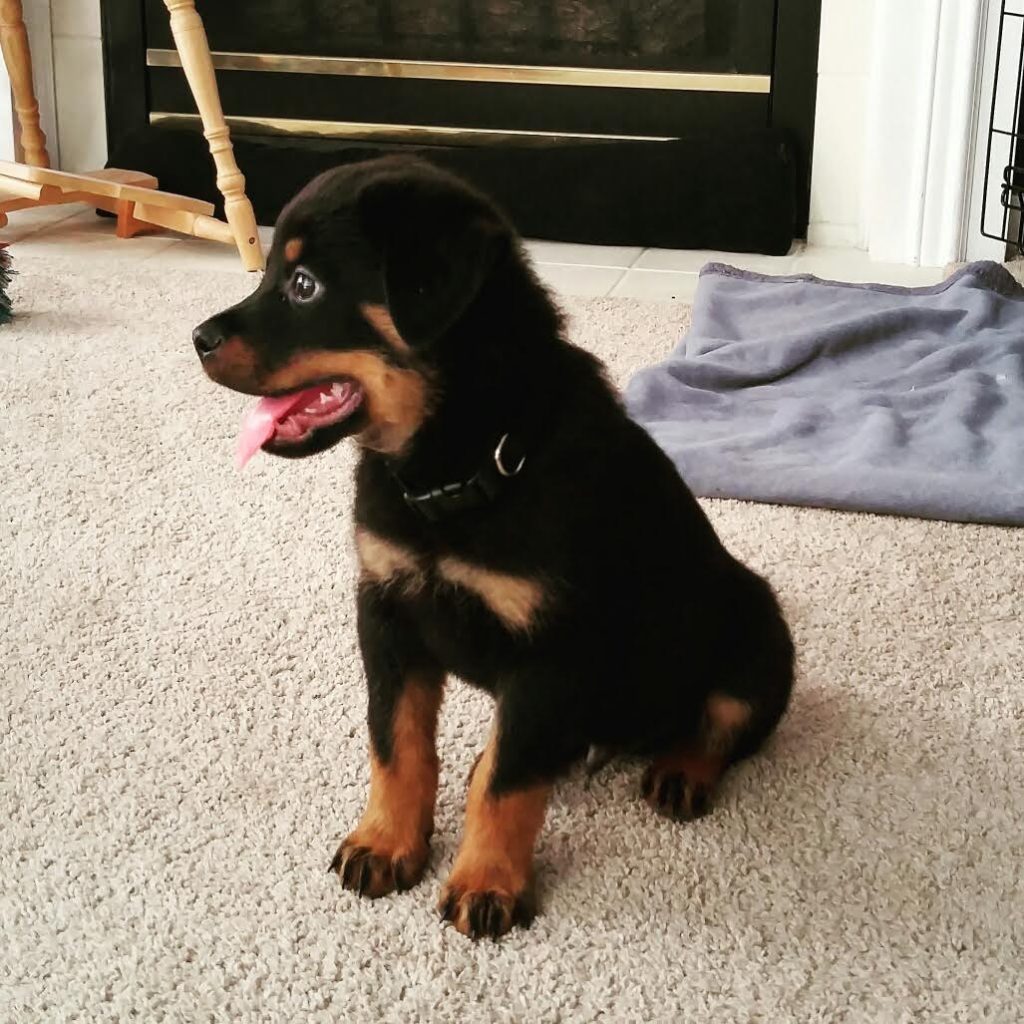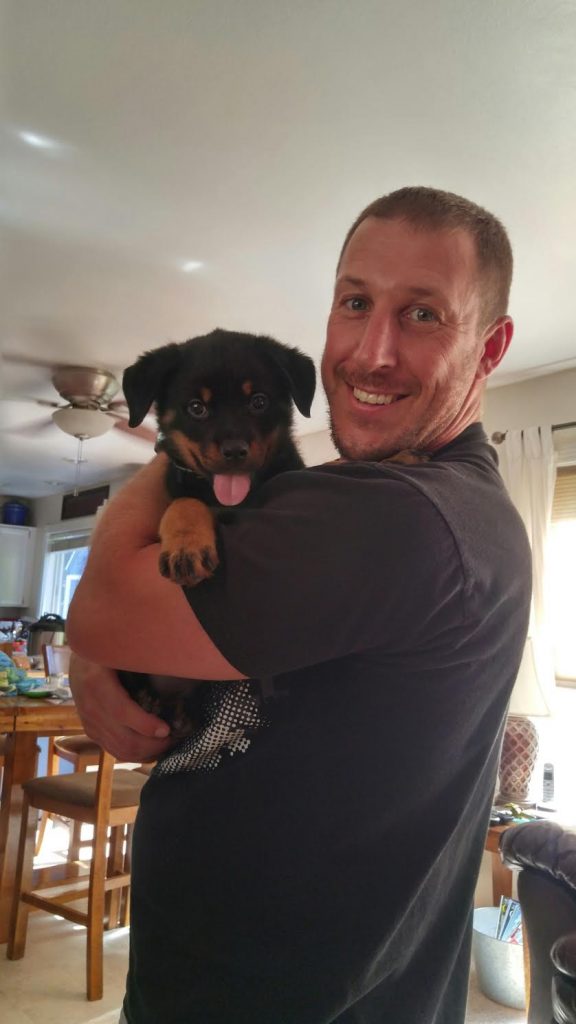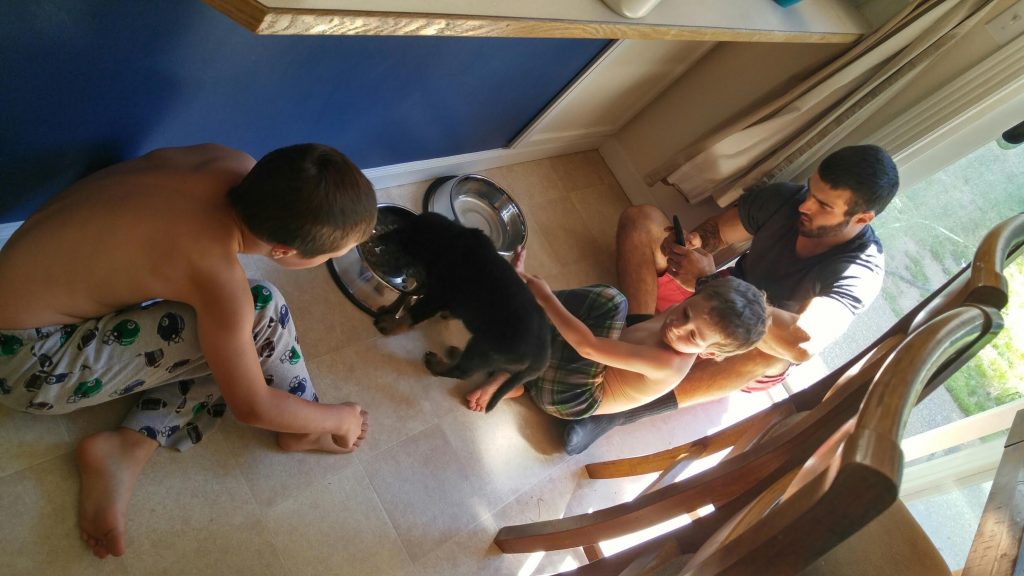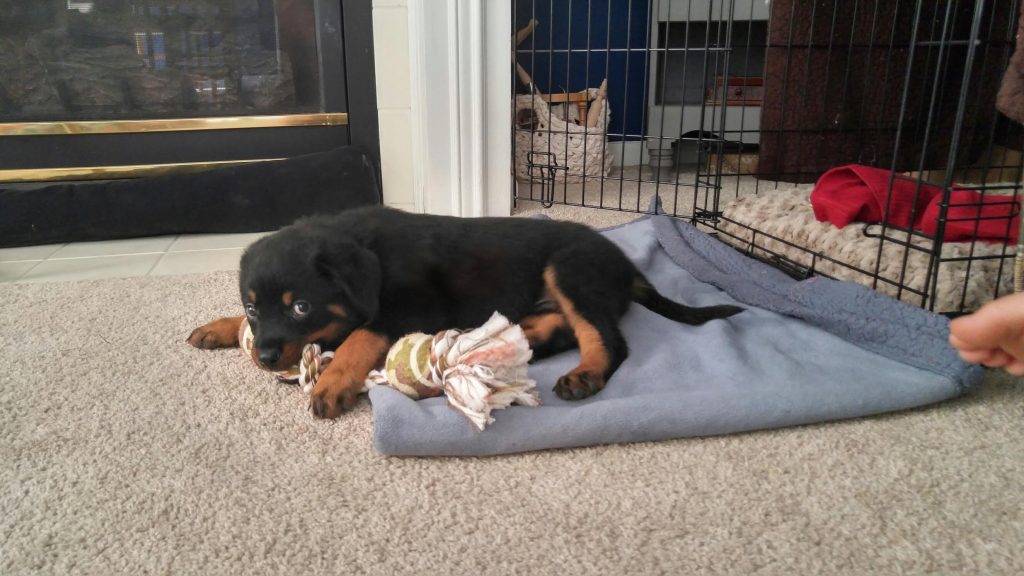 Hey there! I wanted to send a few pics of Finn's first week here! He is such a love, driven in the best possible way for our home, and is doing GREAT with training. He saw our Vet last Thursday (24 hours after we receivdd him) and he loomed great. He had and still has a small cough, but nothing that has overly concerned anyone, including the vet. He is loving all the animals we have around our property and trains to be with them multiple times throughout every day. 
Hope you have an amazing weekend! 
---
"Leo" Guardian Karos Von Gottschalk
Here are a couple pics of Leo(Karos), he is doing very well. He is super sweet and affectionate !!!!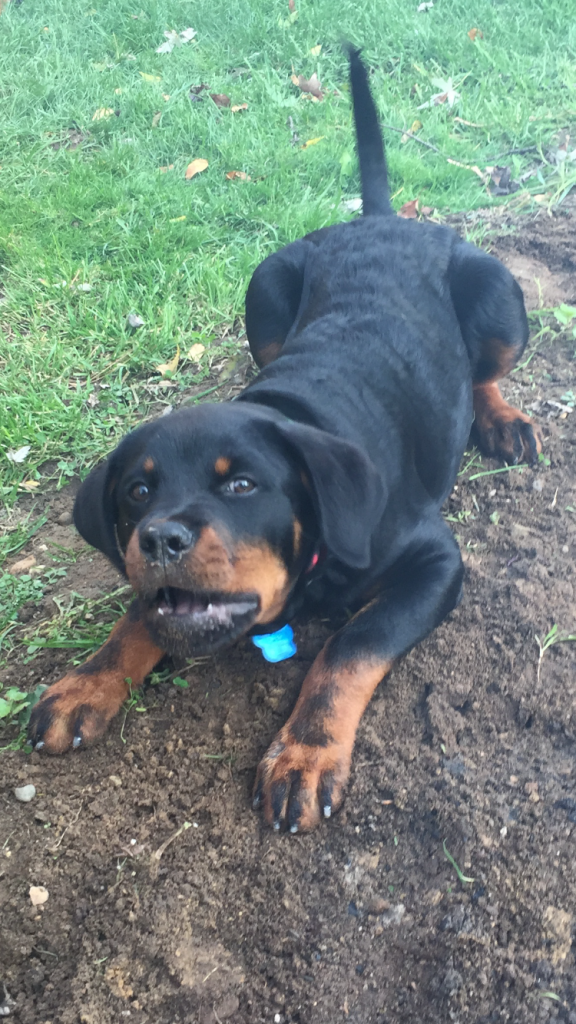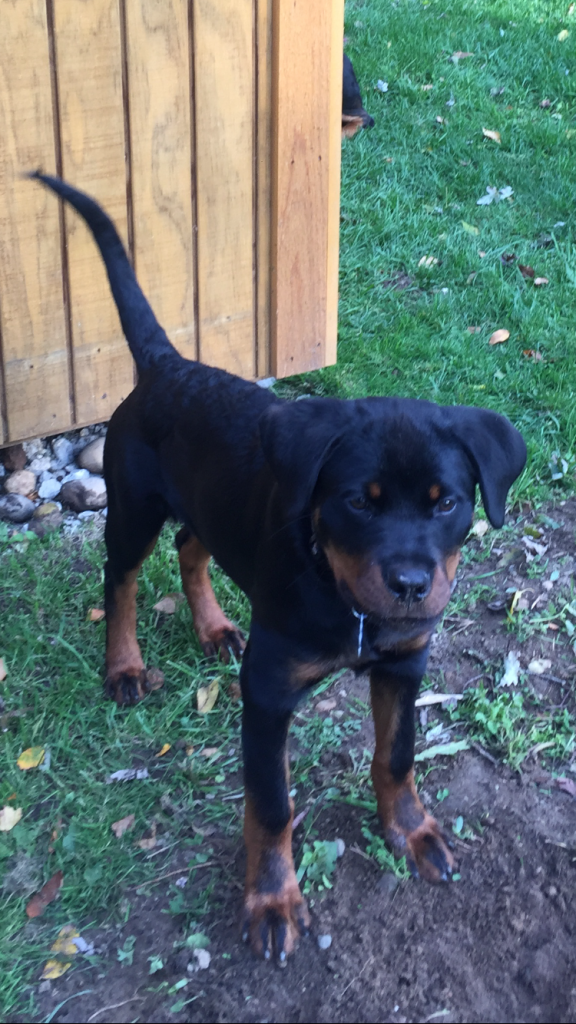 Hi Alice , hope all is well !!
Here is an updated pic of Karos(Leo). He is sure handful and character , lol.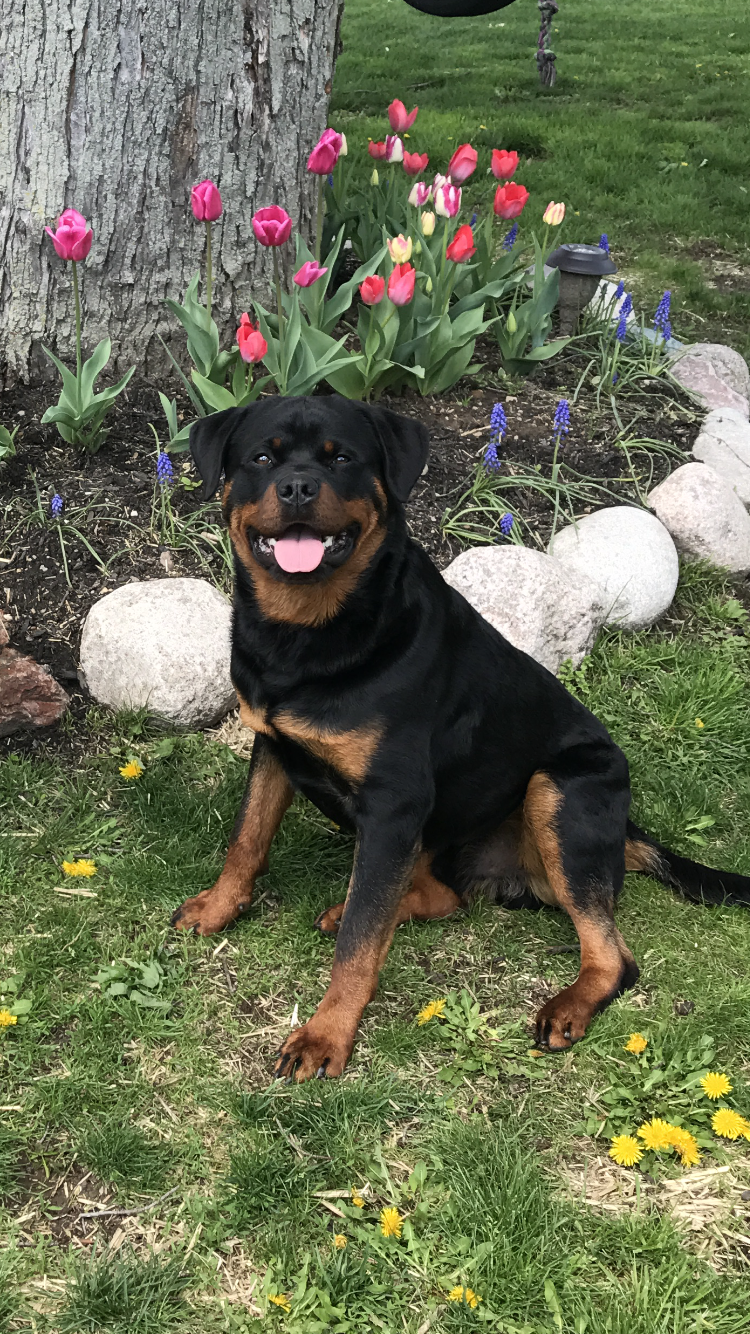 ---
Guardian Khadgar Von Gottschalk
Hello Alice,
Just want to give you an update. Things are going well. We graduate from puppy class on Thursday. He is so handsome and everyone compliments him. He is doing well and is loved. I hope all is well.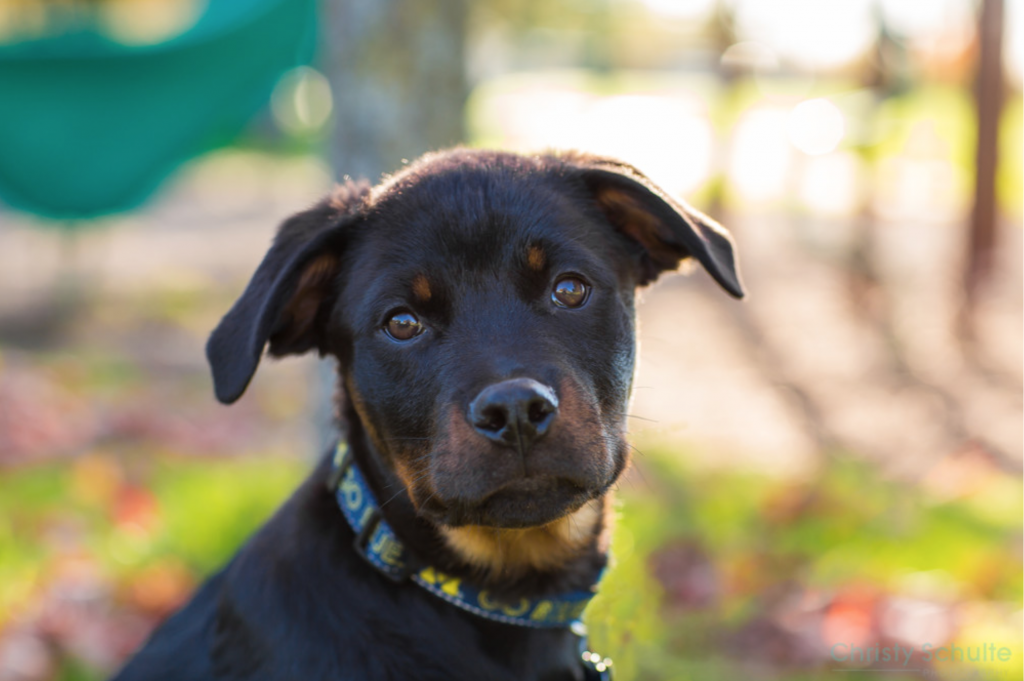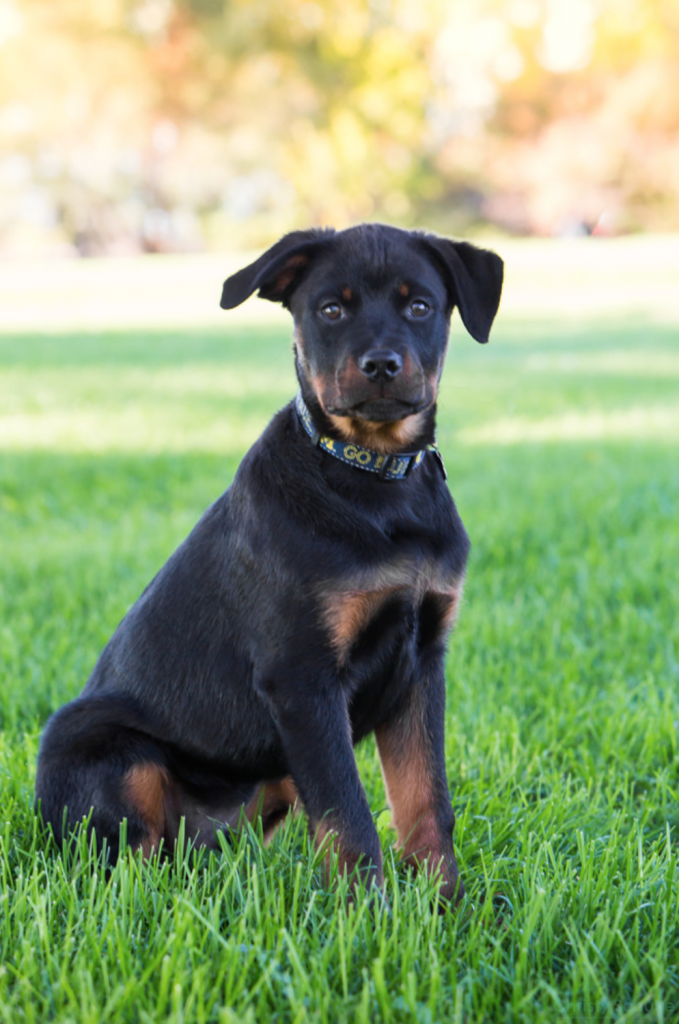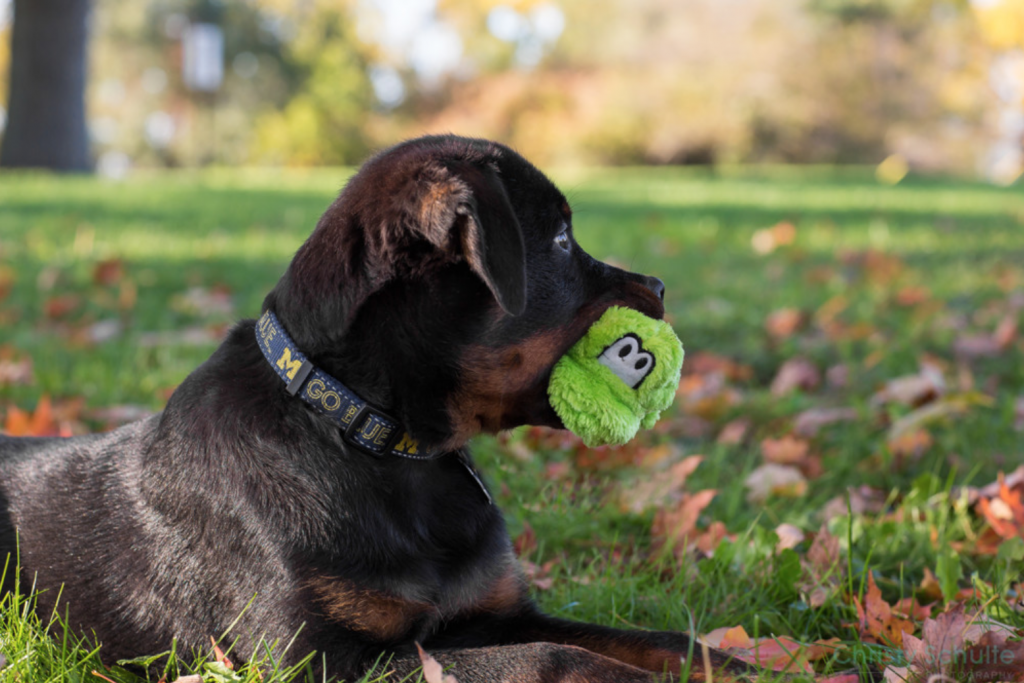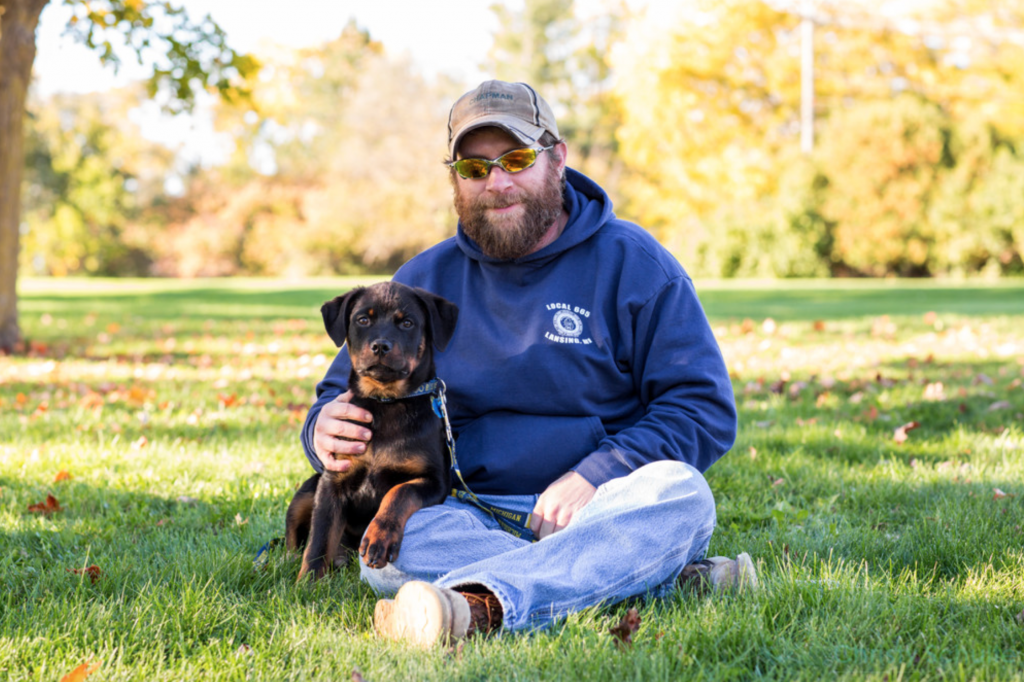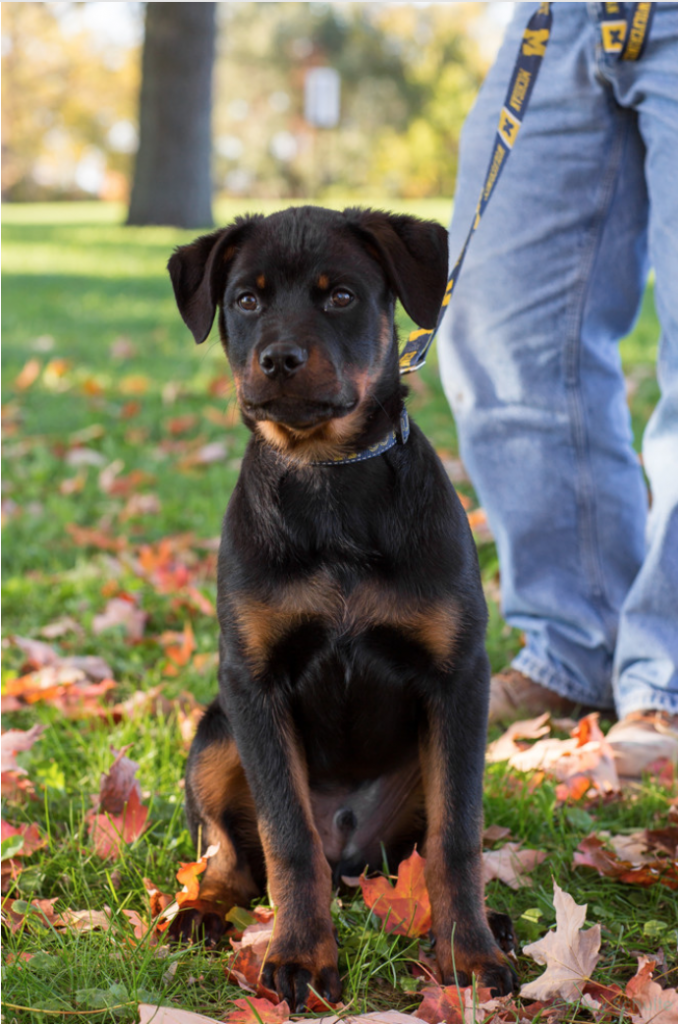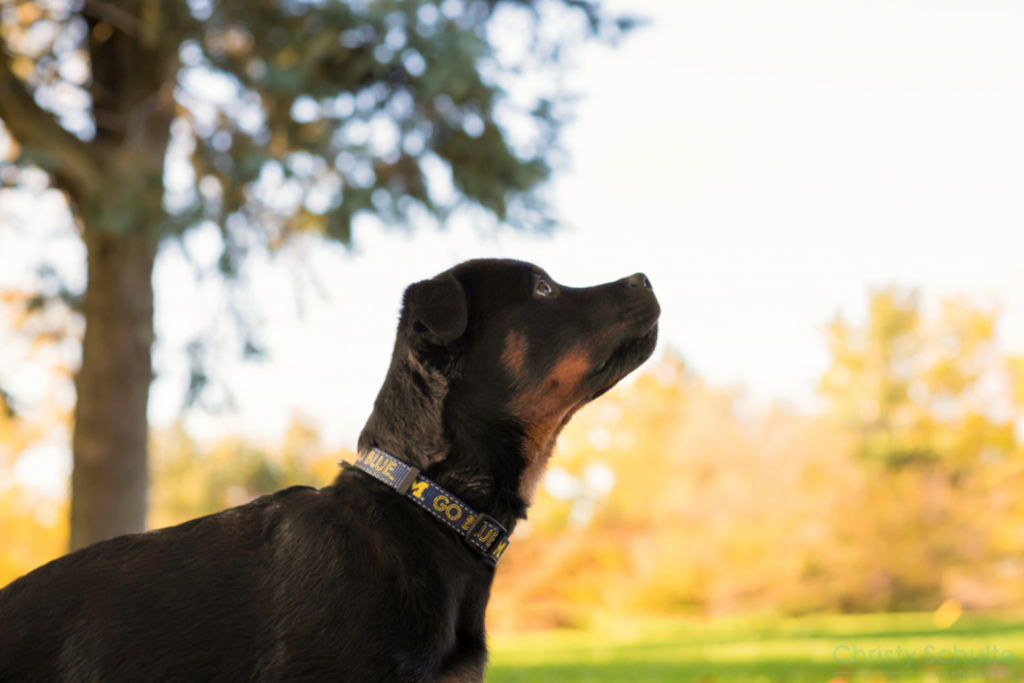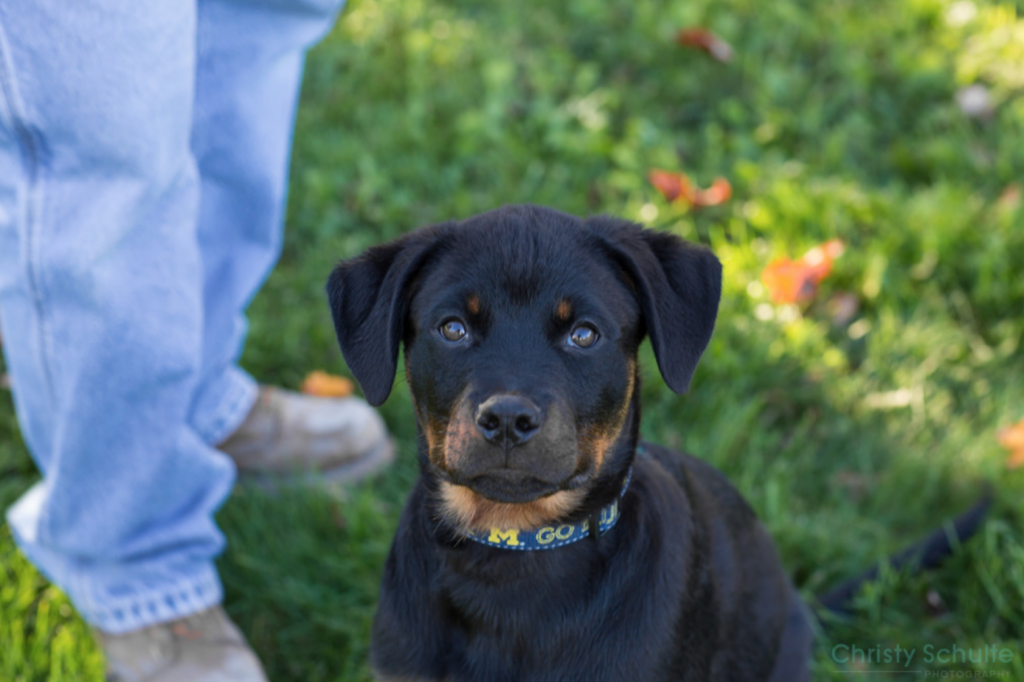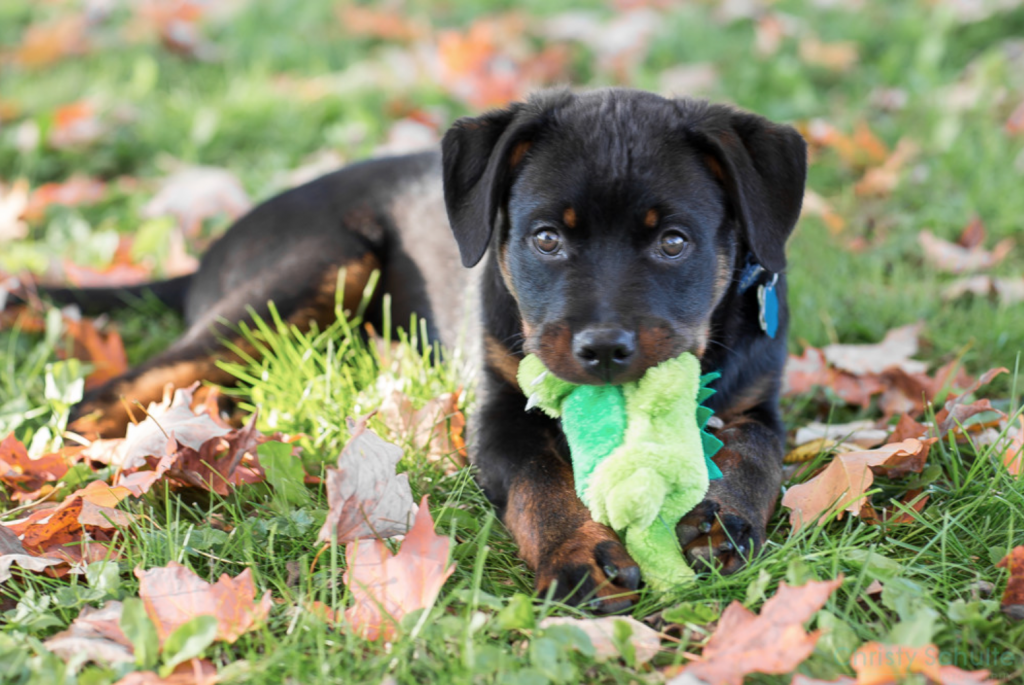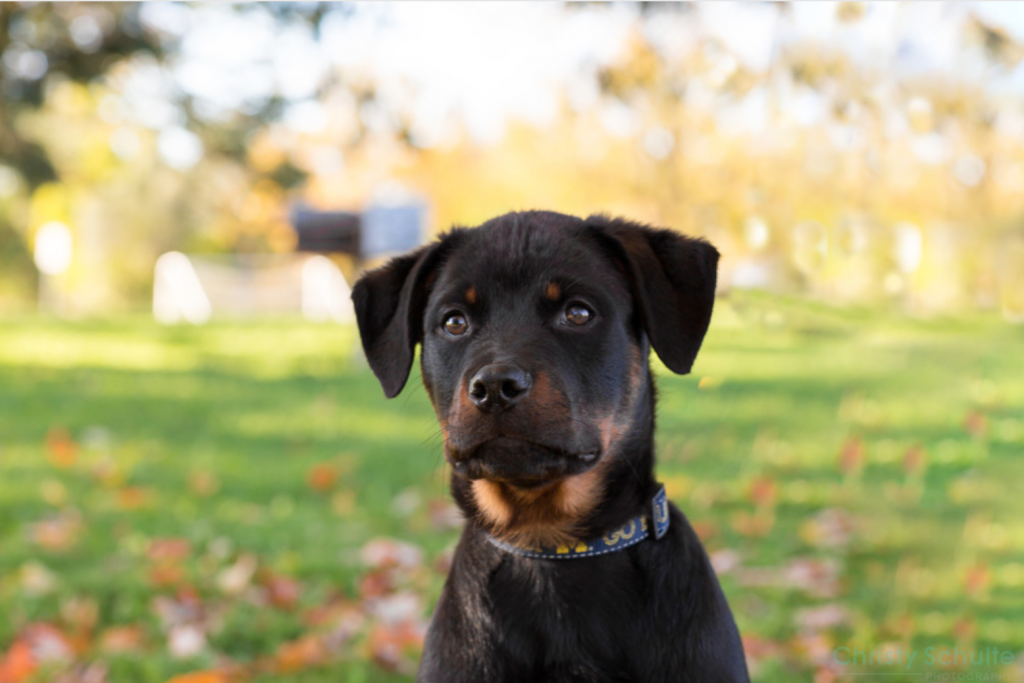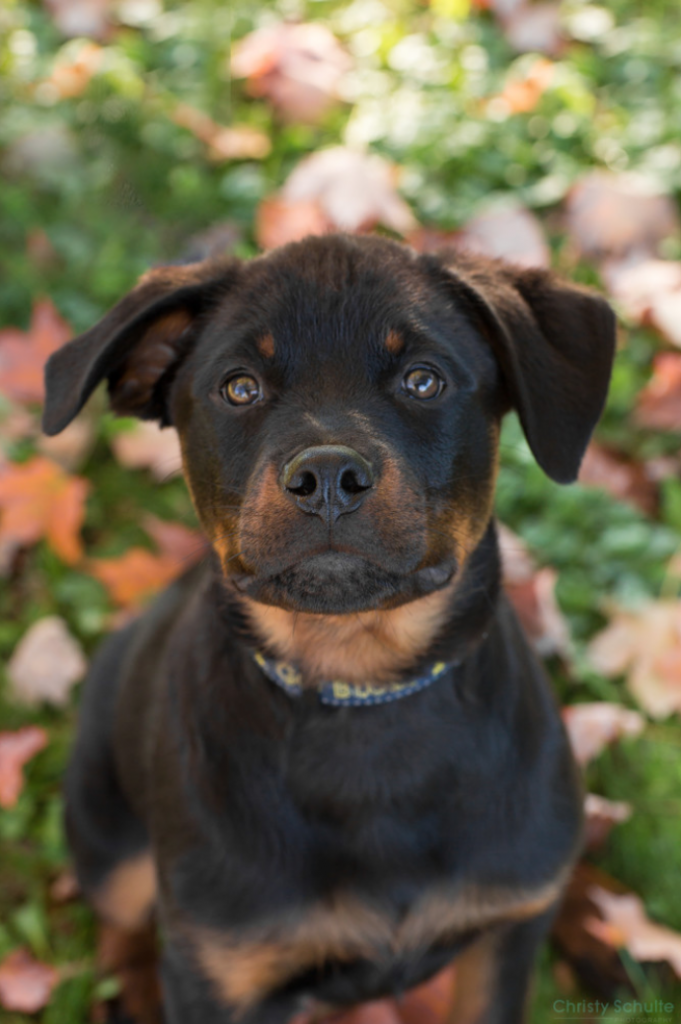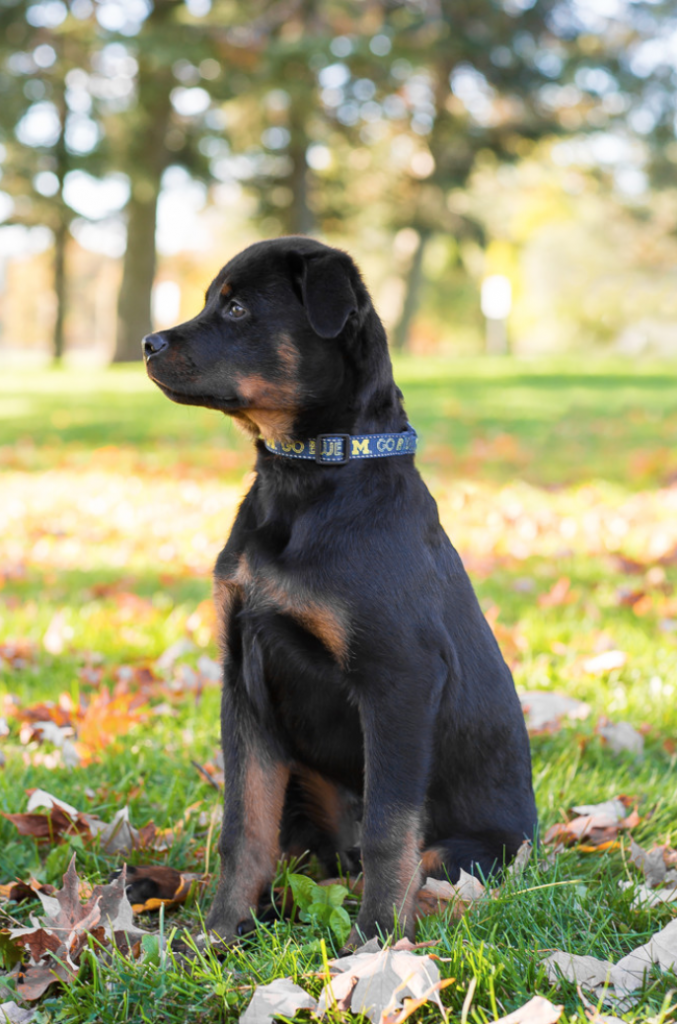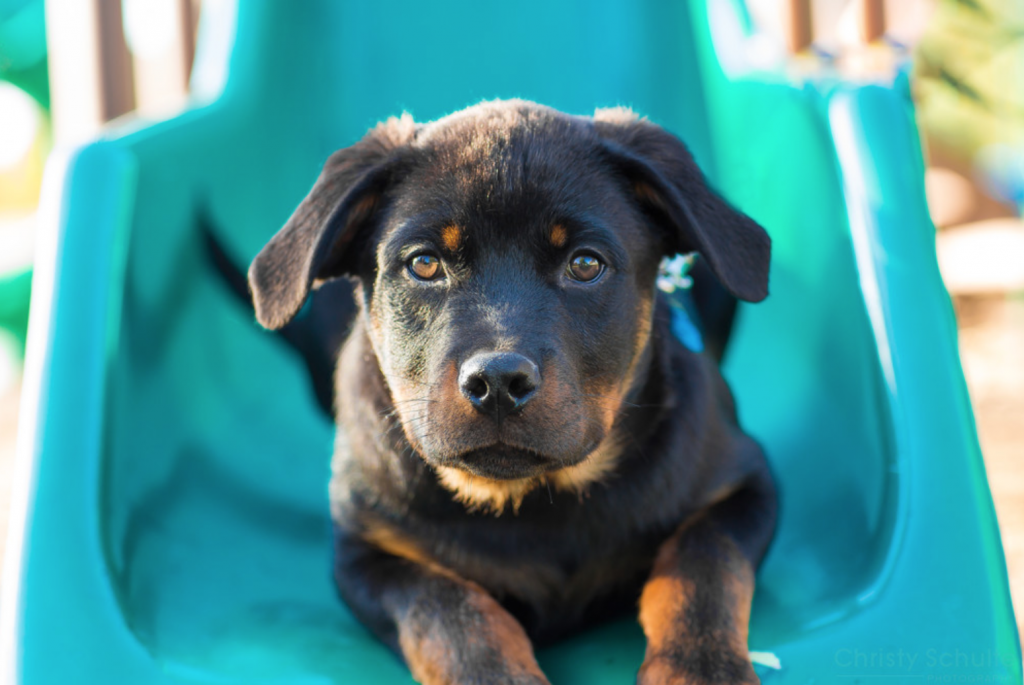 ---
"Lily" Guardian Garona Von Gottschalk
As u can see she has adapted WELL here! She is rotten to the core. Doing good potty training and learning our schedule too.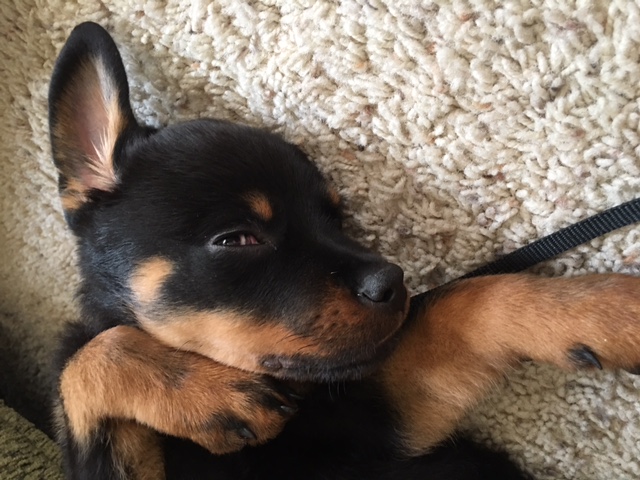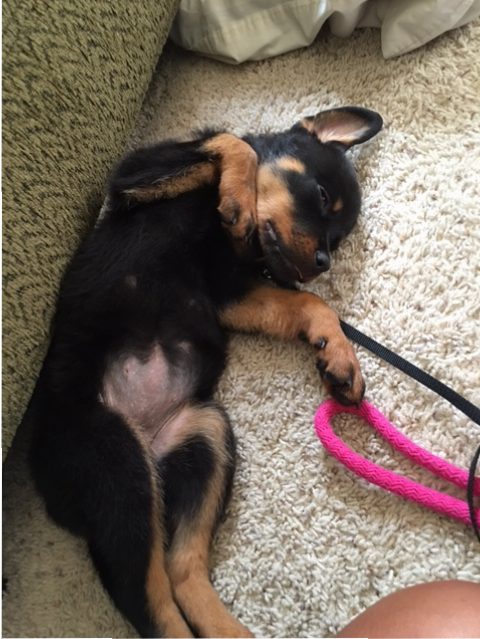 Hi how are you doing? Things have been going great here with Lilly. She finished puppy Kindergarten this past weekend and will start the next level in two weeks. She had her Spay surgery today and is now resting. She weighs 31.8 pounds as of today. She is a sweetheart and loves everyone. She gets lots of attention when we go out for walks or to the pet supply stores.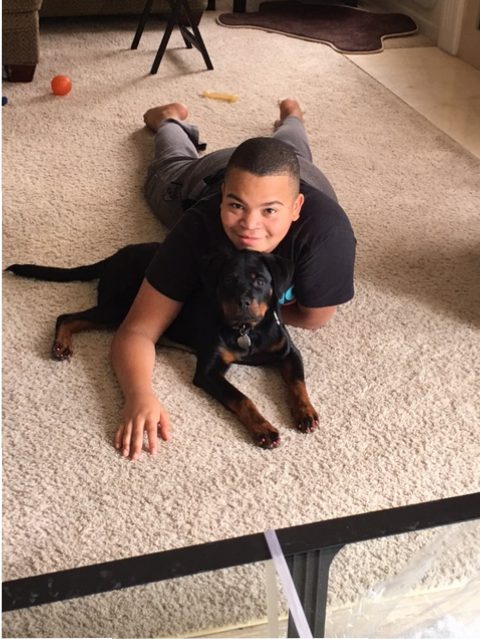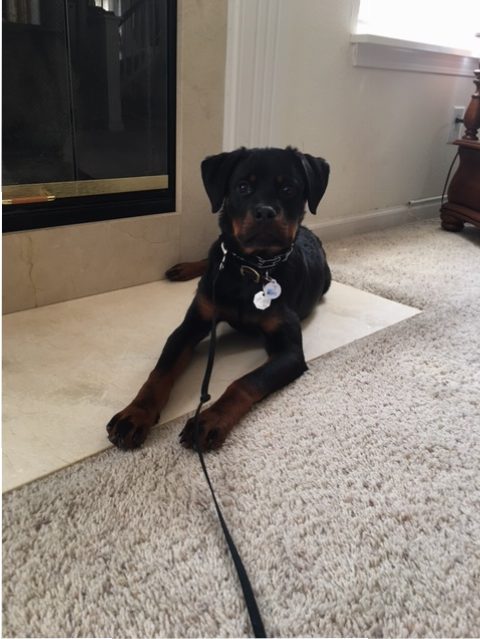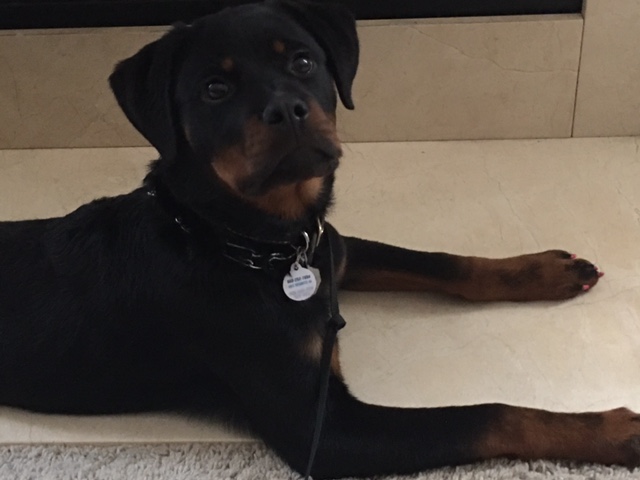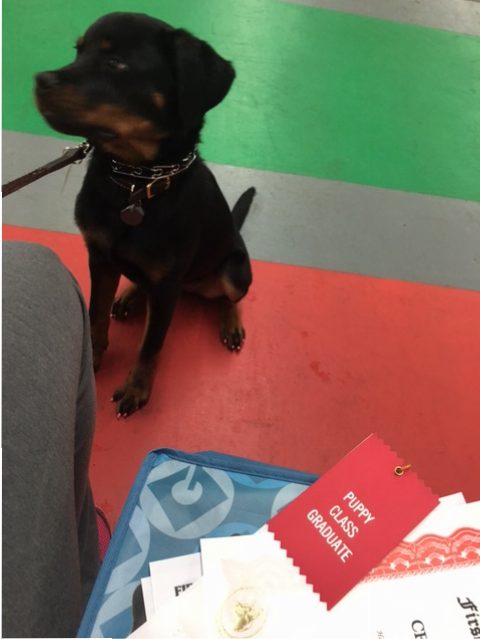 ---
Guardian Lothar Von Gottschalk
Alice;
Just dropping you a line to wish you well. I know you were at the Pentagon on 9/11. That was a day that forever changed our way of life. I hope that on the 15th anniversary of that dark day that you are well and at peace. Thank you again for your service, andpGod bless you and all who were in harms' way on that day.
Sincerely,
Craig Kahle
P.S. Lothar continues to amaze us daily. He is progressing nicely, learned to walk on leash in one day, knows his name and comes when called. He also plays hide and seek in the yard. I will find a place out of his line of sight while he is focused on something,call him, and he will come find me. He is one smart little Rottie!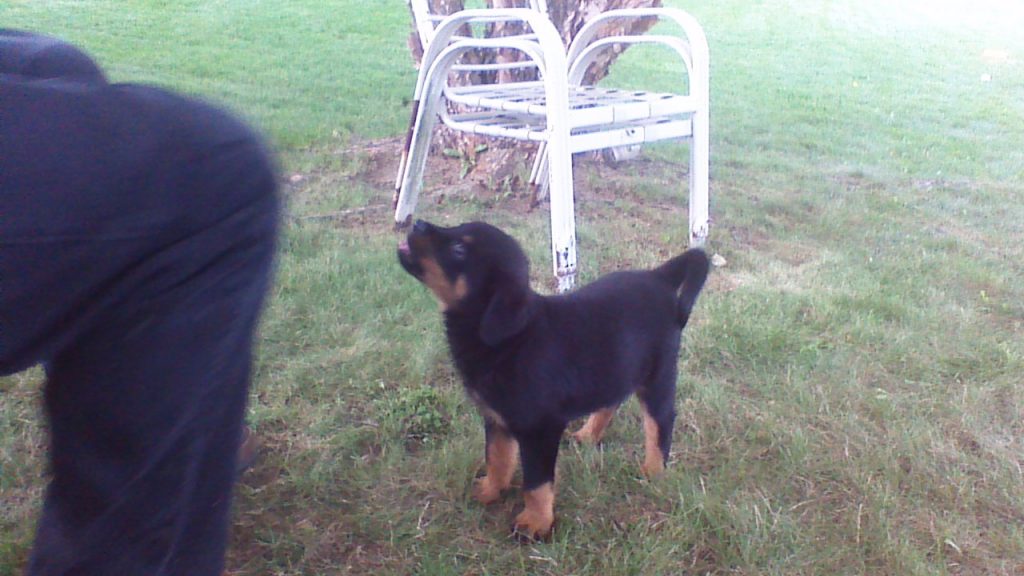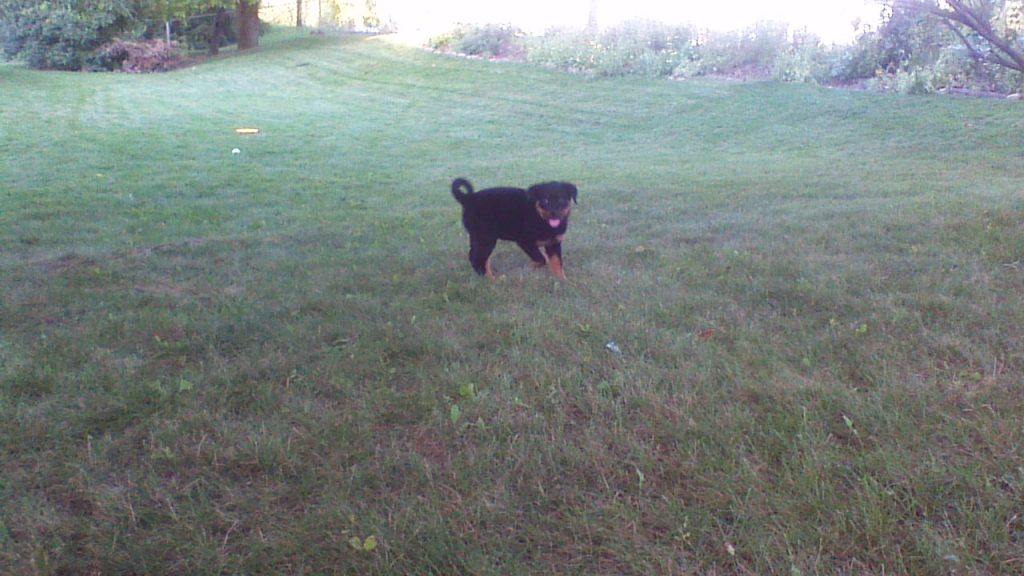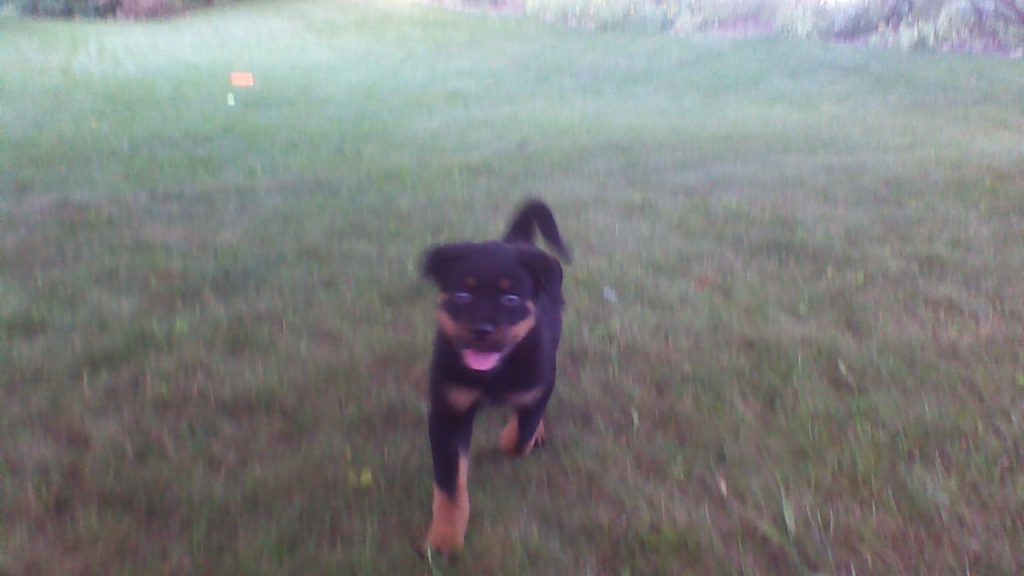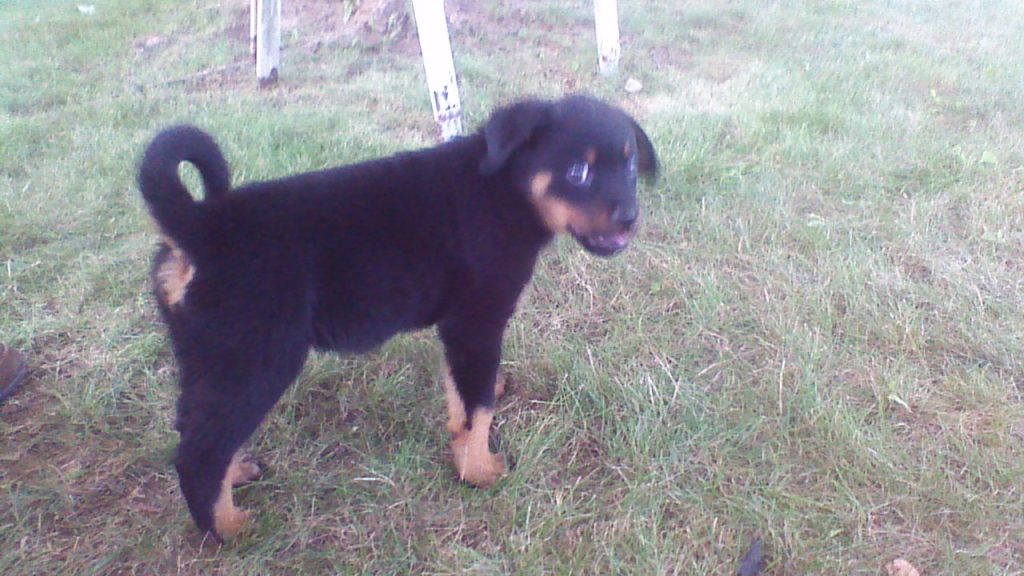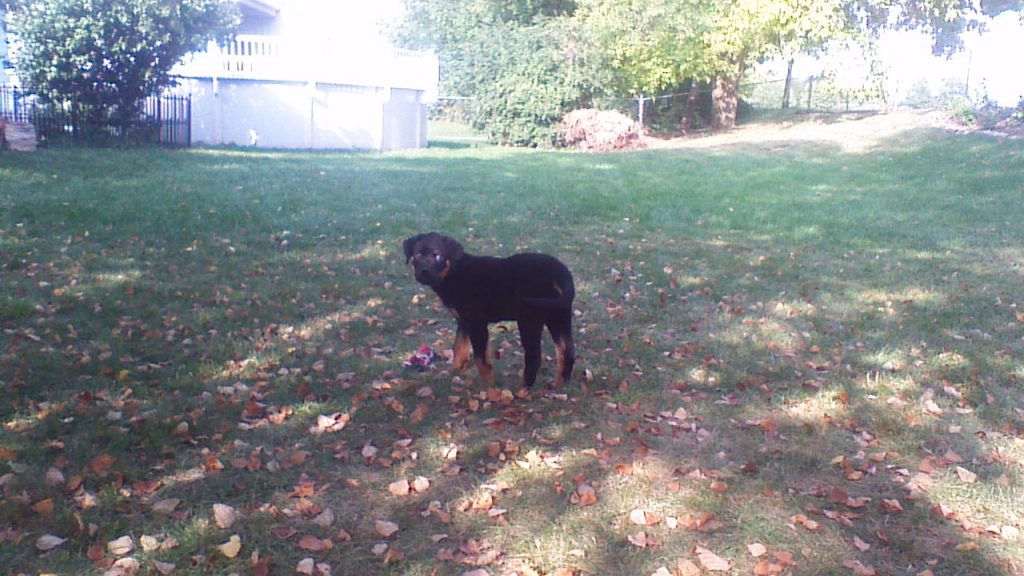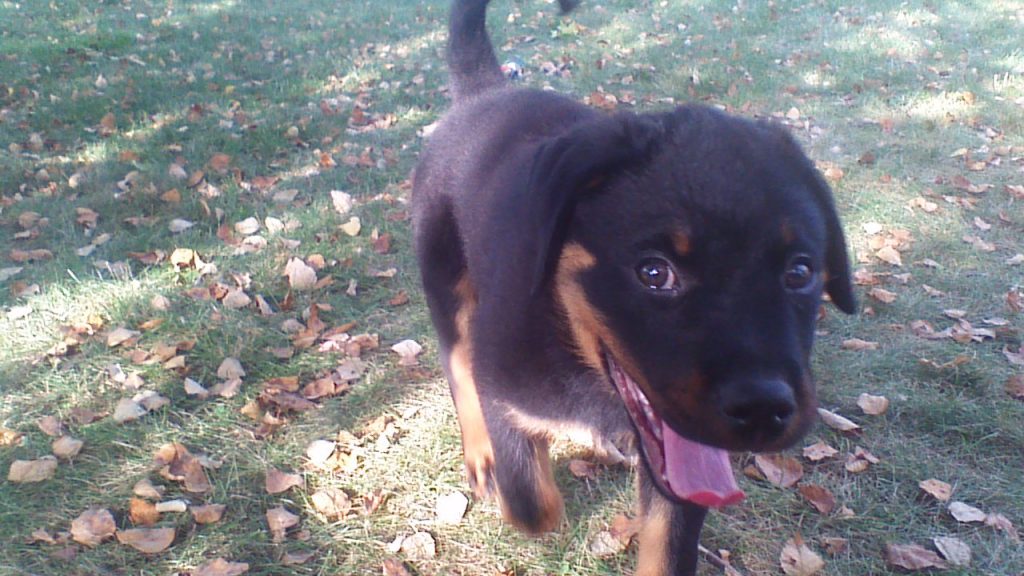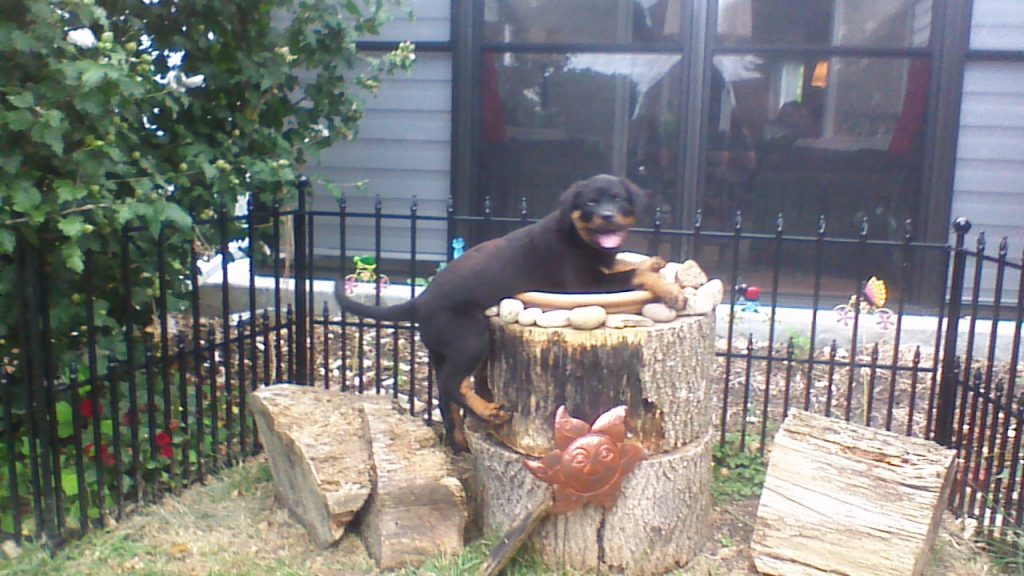 Alice;
Here are some photos of Lothar from the past month. He was just to the vet for a checkup on Monday the 19th. He is up to 26 pounds already. Dr. Draper says his growth rate is OK, he is not growing too fast. He continues to amaze us – he has figured out how to use the ice dispenser in our refrigerator. Good thing it has a lockout setting LOL. Similar to the Rottie on your you tube channel, except he doesn't need to respond to a command. He has also figured out our birdbath is useful as a Rottie swimming hole as well as  birdbath. Second e-mail to follow with more photos.
Have  a blessed day.
Here are a few more photos of Lothar for his page. These were taken as bursts of photos while he reacted to the sound of the camera.
Alice;
I am sending you a pictute of Lothar on his fifth birthday. We are very pleased with the way he turned out as he grew up. He is one handsome boy!
I hope all is well with you and your family. We are all well here and the state has finally eased all the restrictions for Covid. We have been busy with family, we became great-grandparents in March of 2019, and just found out this week that we will be blessed with a second great-grandchild in early 2022.
I have a question for you. We will be looking for another Rottie in the future. Our situation here hasn't really changed since we got Lothar, the only change is an upgrade to our fenced in yard. The 4 foot chain link fence has been replaced with a 6 foot privacy fence. Since we have Lothar, what is the procedure for getting on the wait list again when we are ready for a new pup? I realize we will need to send another buyers' form and deposit, will we need to do another interview as well? I don't know how soon we will want the new pup, probably about a year from now. Please advise.
(Visited 26 times, 1 visits today)