Guardian Rottweilers X LITTER
Sire: Sango Se Ungo-Rot
Dam: Maxy Se Ungo-Rot
  X 

Candidate for International Ch.               Maxy Se Ungo-Rot
Sango Se Ungo-Rot                               Born: 31 Mar
JR 716387 Rw                                         JR 715771 Rw
Born: 19 Sep 2007                                 AKC# WS34077601
HD +/-; ED +/-                                        CHIP#6880060000210956
MACEDONIA CH '09                            HD +/-; ED +/-
SERBIAN CH '10                                    ADULT CH. BULGARIA
6x YOUNG WINNER;                           ADULT CH. SERBIA
6x CAC; RCACIB; CACIB                     IPO-1
3x BOB                                                       RCACIB
4x JBOB                                                     5x CAC
Guardian Xara Von Gottschalk and "Lexi" Guardian Xena Von Gottschalk
Good Evening Alice!

As always I can see you are busy busy busy producing amazing puppies!  Ohhhh how I'd love one of the new boys from Dunjo & Whiskey, but I'm going to wait just a wee bit longer before I get another youngster!   So Xara's bleeding/swollen vulva is still a mystery :S  All blood work and UA come back negative for an infection and she's just super happy go lucky so I'm thinking its a false heat as you suggested it might be but the other vets I've consulted want to say its a pyo :S   My gut feeling tells me it isn't, I might bite the bullet and get a xray of her abdomen this week, although if it is indeed a pyo its an open pyo so the picture probably wouldn't tell me anything….do I just buck up and spay her now? (and then get myself on the waiting list for a little boy from some fabulous breeding you are planning???? oh decisions decisions!…I encourage any and all advice you may have!!!)
I honestly don't know how you do it, first the girls come into their first season (and then Xara does whatever she's doing LOL) and then the little stray kitty that squished
her kittens comes into brazen hussy crooning yowling heat!  These females and their darn hormones!!!  LOL  I tell ya boys are so much easier!  "Brie" (the kitty) has her spay appointment for next Wednesday fortunately!  I think she's Coco's sister…she's a more petite kitty with that long soft hair that Coco has and she did appear about a week before Coco only Brie was afraid and too smart for the trap so it took me months of bribery to coax her to let me pet her until I was able to grab her by the scruff and bring her in (in all her super pregnancy!  ugh)  She's starting to come out of her shell and boss my much larger cats around, she has claimed the dogs' couch because the dogs currently aren't permitted in the "cat" room …Hercules thinks kitties might be yummy i fear!   So here's this little kitty sprawled out on a 91 inch sofa all to herself!n  Talk about cattitude!
I hope all is well out in Indiana!  Do you still have all your "foster/rescue" dogs that are on
your site?  How's Enigma doing?  Did the trainer friend you sent him to decide to keep him?  and how about that beautiful pair Minos and Malia?? ohhh how tempting those two are!  You must be relieved that spring is showing its arrival and warmer days are coming ahead…I know I am (once I get all the horses shed out that is :S)  I want to send you an open invite, if you and any number of your crew (dogs, children, husband) are headed out towards NJ please come stay with me!  I have plenty of room for you all!  Even if you want to make a little vacation when the weather gets warmer you can stay at the beach house (even Diesel and Serenity are welcome there, they can't go on the beach itself between Memorial Day and Labor Day tho 🙁  but its a nice little island to walk around and relax).  Who knows, if I can get a horse to fit in your minivan I will send one home with you  LOL
Alll my best to you and yours!  (I've attached a few pictures of the girls with Hercules my foster dog, Xara is the imp on top of the picnic table :S )  
So I've been asking all these questions about my foster kids and haven't updated you on our imps! Yesterday we went to a dog park for Walk n Wags dog walk to benefit the local animal orphanage. I had to let my girls run in the fenced dog area for a good hour before we actually did the walk…so many dogs all around they simply want to dislocate my arms from the shoulder! But once we released some energy (and sweet Lexi got molested by a young enormous Newfie…sister Xara kept running over to save Lexi) we started the walk with our pocket pittie friend Savannah (who is the AWA's 2011 mascot). We passed several vendors along the way and one was selling antlers so I purchased 2 large antlers for the girls…well they took to them like white on rice! A photographer came over and started snapping pics of them left and right and the vendor asked if he could use them for advertising the antlers! I can't even begin to tell you how many compliments I got on our beautiful girls. Although I had one man ask me if they were mixed with shepard! I was dumbfounded…"well the tail looks Shepard to me"……my reply "god gave them a tail, who am I to take that away" grrrrr. Of course the majority of the people there are all supporters of rescues and they applauded their tails.
I'm watching them all play out in the yard right now…Xara who is the strongest, fastest, most stubborn, smartest, bravest and most independent is laying down while chubby-butt Lexi has a chunk of Xara's neck and her collar in her mouth and she's dragging Xara across the lawn….obviously this doesn't hurt even tho it certainly looks painful…Xara is totally just laying there like a limp rag :S. Goofy girls…and Nina is standing over them looking like whatcha doin fight back! I tell my mom each day the latest tales of their antics and she says "whatever they get into (or whatever Xara steals) these are the sweetest most affectionate puppies, your breeder certainly knows how to breed for love"…. And I couldn't agree more! They're such a joy! (but I have to tell you my mom thinks Lexi is the prettier one….personally I think Xara is the prettier one because she's got better definition…Lexi is softer looking (and a wee chubby).
We all simply love them! Hugs n kisses!!!! 

Hi Alice just a super quickie, my friend sent me a real short video of Xara & Lexi chasing one of their doggy friends "Moxie" around the picnic table yesterday…thought you'd enjoy it…but warning the video is sideways!!!   (tilt your head or monitor!)  Moxie is the one with the red harness, Xara has a red collar and Lexi has a black collar (Lexi is the one that climbs on the table at the end)
Here's a couple pics I just took of the nitwits….don't mind Xara's nails (they will be trimmed this weekend!) but seriously what's with the grey-ing muzzles!?!?
As you will also notice the only way I could get them to sit still was by dangling a treat above their noses
(and yes, Lexi is a bit "plump"…she has never been as athletic as Xara, always the first to lay down always cutting the chase game to the shortest route
she takes after me with that LOL)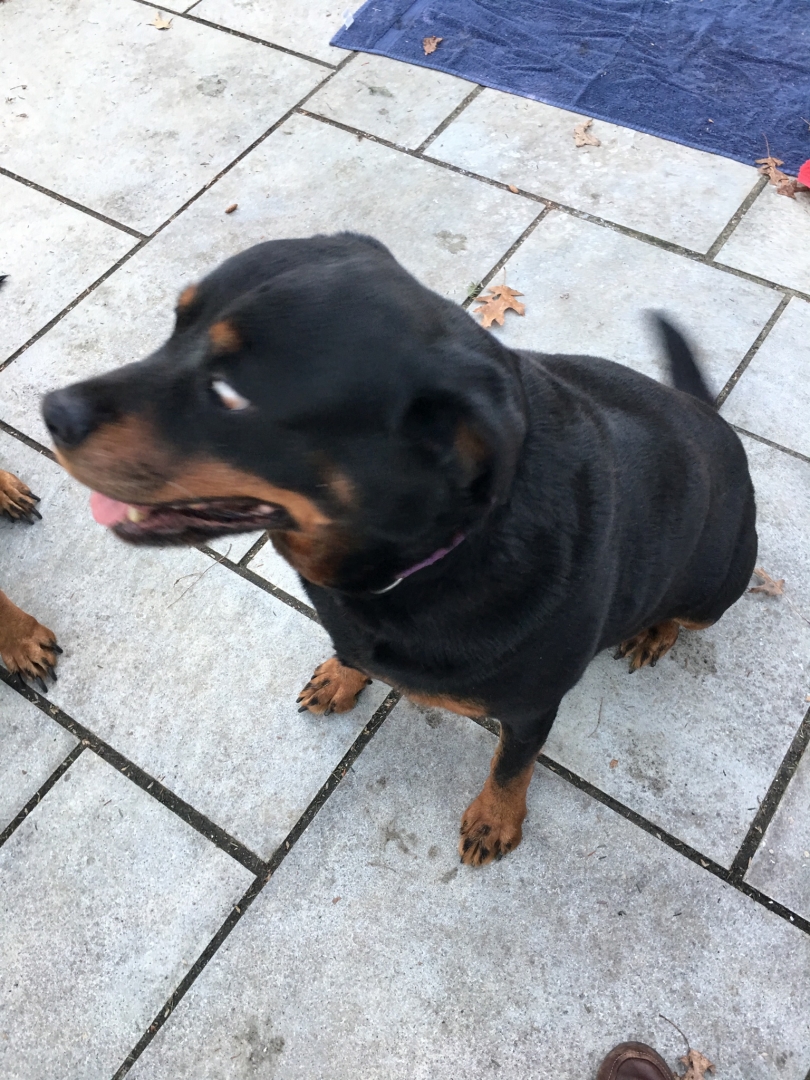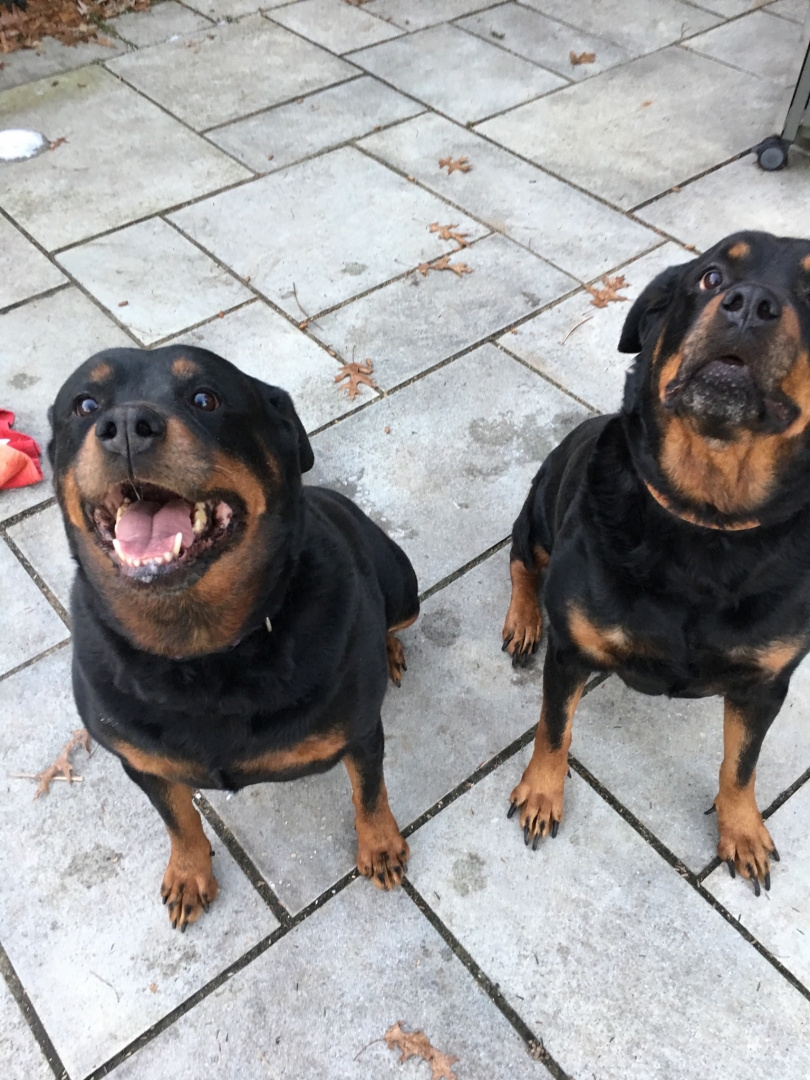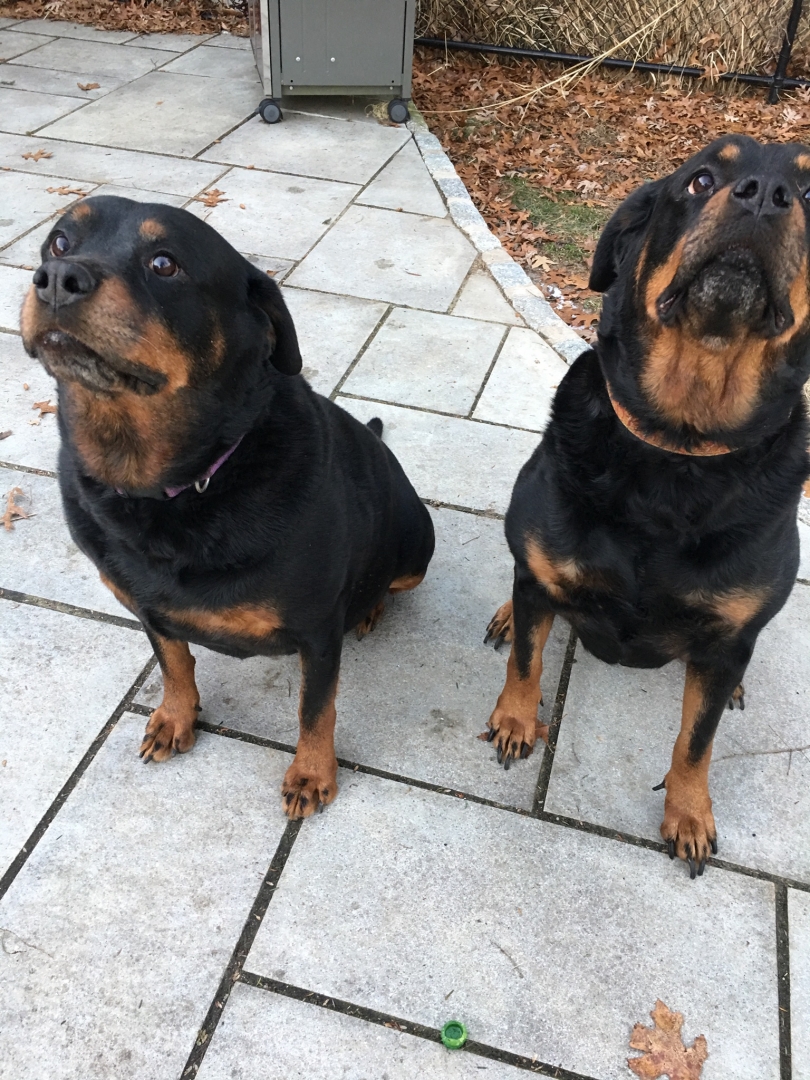 "Harley" Guardian Xtreme Von Gottschalk
Hi Alice, here is " Harley " Extreme Von Gottschalk.
As you can tell he loves the grand kids. He is now just over 13 months old. Thanks again.
Gilbert, Dretta, the kids and Harley.
This is Harley Extreme Von Gottschalk  watching TV with our granddaughter. She is 7 and he will be 6 this June.  They are best buddies. 
This 120 guy does whatever she says. 
Gilbert & Dretta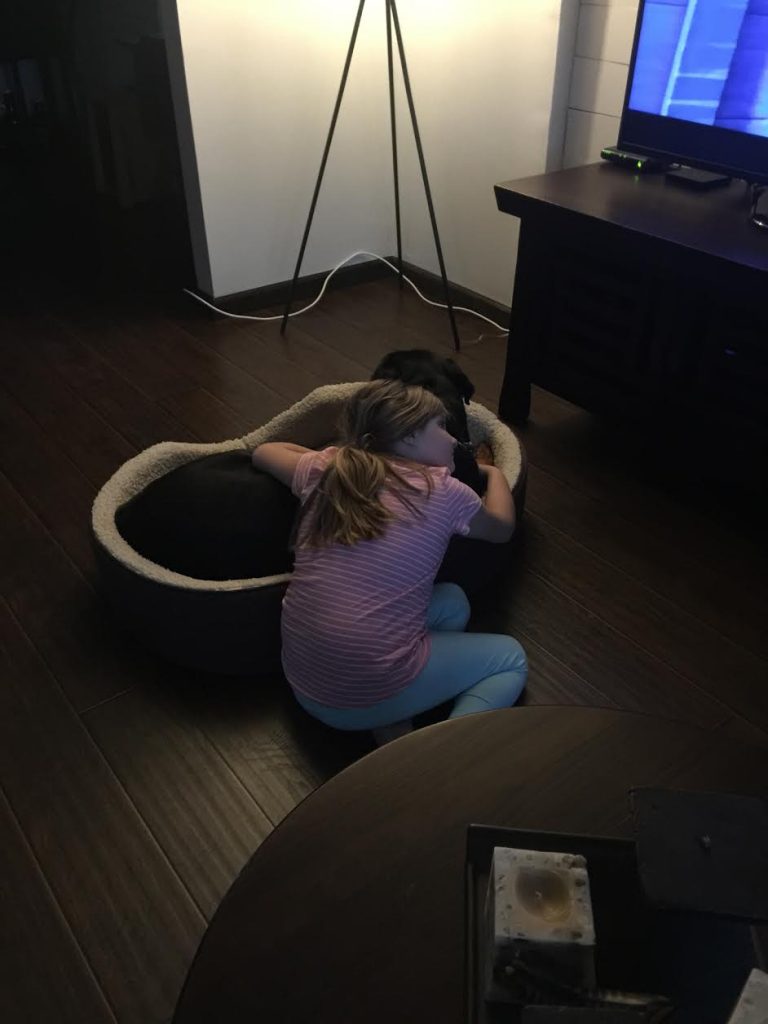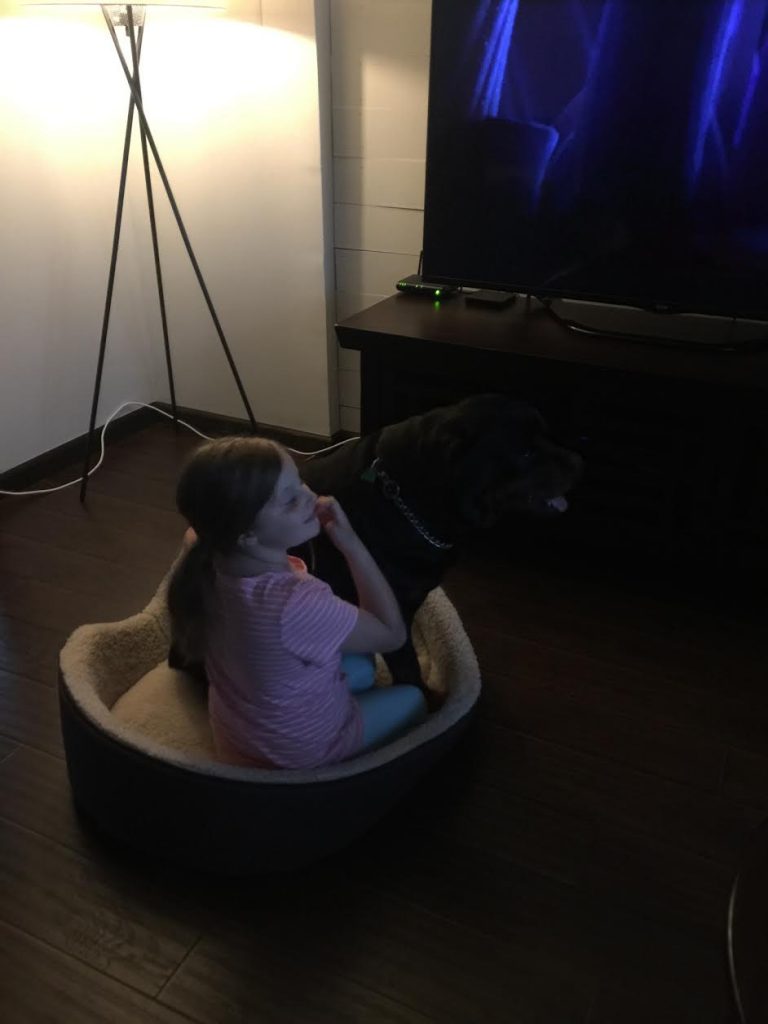 Hey Alice,
This is Gilbert Elliott we have Harley he's turning 8 this June.
He started drinking a lot of water and urinating more all the sudden.  He's had a few accidents in the house. The vet has diagnosed him with being diabetic.  We have started him on insulin shots twice a day per the Vets instructions.
Do you have any pointers on dealing with this. Thanks Alice.
He is GORGEOUS! <3  WOW!!  Hard to believe it has been 8 years!!  Where does time go??  I am so sorry to hear about his diagnosis 🙁  But I am grateful, given his age, that is it something that will hopefully be manageable rather than something terminal.  I have never had a dog that is diabetic, however my husband is, so I am familiar with diabetes.  I know that their systems (cardiovascular, respiratory, digestive, etc.) are not so different from ours and that they can get anything we can, but unfortunately, I do not have any experience with diabetes in dogs, so I would definitely default to anything your vet recommends.  If you do not mind me asking, what dog food is he on and has he been on.  I did some research as soon as I read this email so that I would have a little bit of knowledge before responding to it.  It appears, just like with people, diet can impact the diagnosis and treatment.  If the vet has not already switched him to a food that will help manage this, I would ask him.  I also know that, with my husband, he has to worry about things like kidney and liver function.  I am sure your vet already did a full chem panel and urinalysis, but if not I would definitely ask if that would be recommended in his case as well as how often he should have them repeated to make sure his body is coping correctly.  I do not know what else to suggest, but please do keep me updated and if there is anything you can share, I would greatly appreciate it as I would love the opportunity to learn more as well as share the information with his siblings.  
I will keep you all in my prayers and please give him a ton of extra love from all of us.
God Bless,
Alice
(Visited 38 times, 1 visits today)