Guardian Rottweilers T LITTER
Sire: "Ocho" Guardian Warrick Von Gottschalk
Dam: Guardian Xoana Von Gottschalk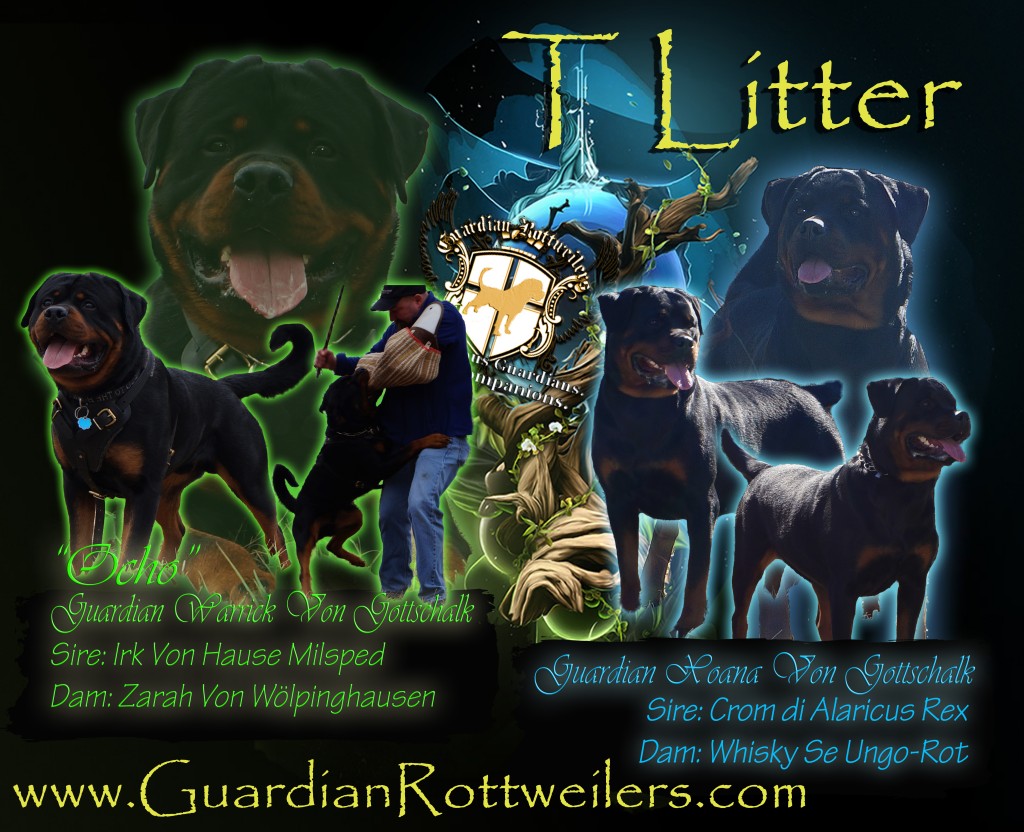 (CLICK ON PEDIGREE TO ENLARGE)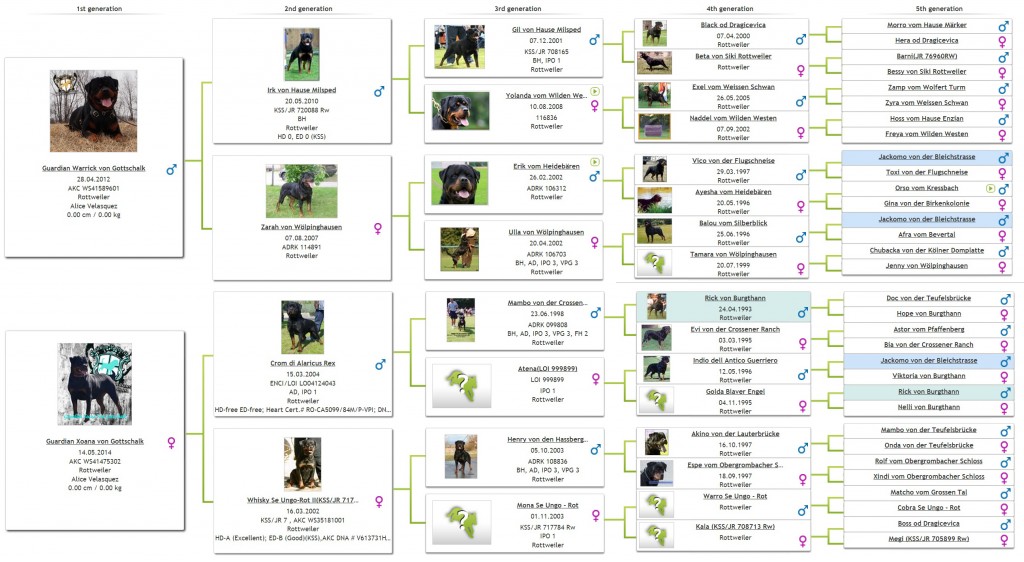 I cannot put into words how excited I am for this breeding!!  2 of our young Rott-stars and some of my most favorite Old School German working bloodlines!  Xoana has been such a superstar from the very beginning!  Xoana, handled and trained by my expert Junior Handler, Liliana, was in her first dog show at the very young age of 16 weeks exactly!  She not only trophied even though she was youngest one there and competing against pups 2x her size, but she was singled out by the judge (Australian Judge Mick Svaljek) as his favorite pup in the entire competition!  He said that our little Xoana had tons of attitude and when even the adults were too hot and tired (it was a VERY hot August day in Tennessee) Xoana was still eager to work!  Xoana has maintained that 'never give up' attitude and just has an eternally optimistic disposition!  She LIVES to work!  She is such an incredibly intelligent female constantly watching you and looking for any clue as to what she can do to please you.  Liliana has done nearly all of Xoana's training and handling and you can see Liliana's enthusiastic, encouraging approach just shining in young Xoana.  Xoana is a confident female and just such a gorgeous girl inside and out.  Her pedigree is remarkable!  Her sire, Champion CROM di Alaricus Rex IPO 1, Adult Champion of Macedonia '09, Champion of Bulgaria, 6x CAC, 2x RCACIB, Multi V-Rated, is a direct descendent of the Legendary DT-VDH Champion, Multi CAC/CACIB, ES '02, SCHWZ.KS '02, O-KS '02 Mambo von der Crossener Ranch, SchH III, IPO III, ZtP (05.00), AD, BH, FH II!  Crom was FCI Champion of Reproduction and Xoana makes it easy to see how he earned this prestigious title!  Crom, was, is and always will be my heart.  He was my teddy bear and my lion all rolled into one of the most gorgeous dogs I have ever laid my eyes on.  He was just absolute perfection in conformation and such a beautiful mover.  He had this deep, raspy bark that made your heart stop when you were on the field training with him, and that same intense dark beauty would then melt you completely when he snuggled up under your chin for one of his famous bear hugs.  Xoana's mom is one of my favoritest females and comes from very hard to find Old School German bloodlines.  Champion Whisky Se Ungo-Rot– Youth champion of Serbia, Adult Champion of Bulgaria, IPO1, Paracinsieger- V1, 3x Yougendsiegerina, 4x CAC-is sired by none other than ADRK German Stud International VDH Champion Henry von den Hassberghöhen  SchH/VPG III AD BH IPO III!
The sire of this litter boasts an equally amazing pedigree!  "Ocho" Guardian Warrick Von Gottschalk seams almost destined to have paired with Xoana!  They attended their first dog show together and both brought home 2 trophies!  Ocho is a large, powerfully built strong working male.  He is a hard dog with very high confidence and great drive.  Ocho has not only been smashing in on the show front, but he is a BEAST on the field!  Ocho showed so much promise as a working male that we splurged and sent him to our favorite German trainer, Hans Schiltkamp!  This is going to be an exciting summer for Ocho and he will have an awesome opportunity to not only train with one of the best trainers, but compete in Germany with some of the most elite working dogs world wide!  Ocho's mother, Champion Zarah Von Wölpinghausen– Champion of Macedonia, Champion of Moldova, Champion of Montenegro, Champion of Georgia, Champion of Azarbaijan, 10x CAC, Multi V1, is a strong, Pink Papered ADRK female that I imported from Germany.  I had her bred to Champion Irk Von Hause Mislped– Serbian J. Champion, Adult Champion of Serbia, BH, IPO1.  Irk is a beautiful Serbian male with a MASSIVE head and heavy bone.  He is sired by one of my favorite Serbian males, International Champion Gil Von Hause Milsped– Champion of Serbia, Champion of Croatia, Champion of Boznia, Champion of Hungry, Balkan Sieger, Romania Club Sieger 33x CAC, 12x CACIB, 15x BOB, 2x BOG, 2x R.BOG, 1x R. BIS, IPO1.

---
"Daisy" Guardian Trust Von Gottschalk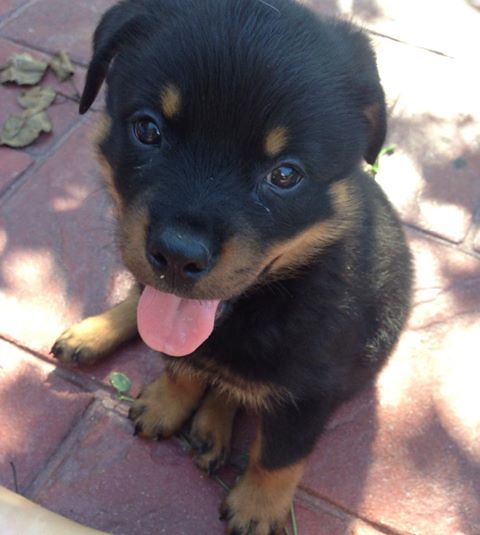 had to send this one.  Please share it with your daughter.  This puppy is amazing.  Very driven, quick to learn, and happy.  Cried last night but Kevin took good care of her.  

Hi Alice,
Trust is doing really well in her new home and of course we love her. She is very smart!! Thanks again for everything. Here are some photos.
Below is at the airport.                                             With our chihuahua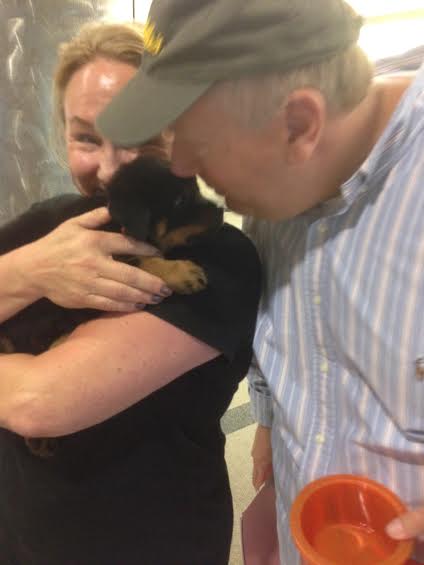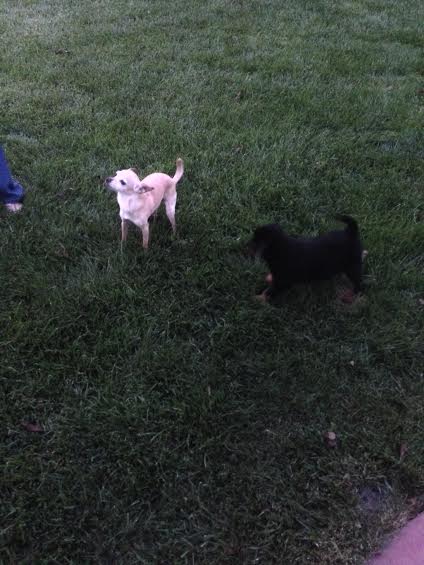 With some neighbor boys                              At our neighborhood park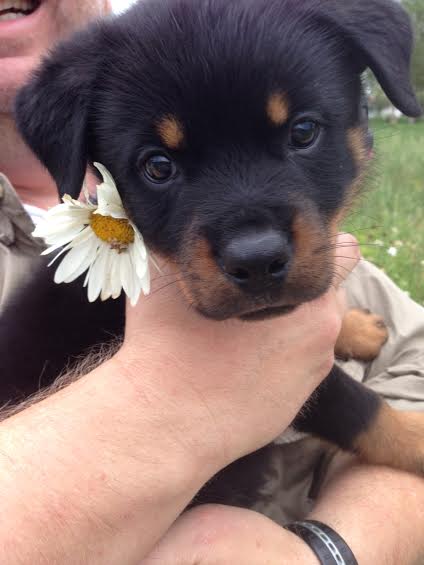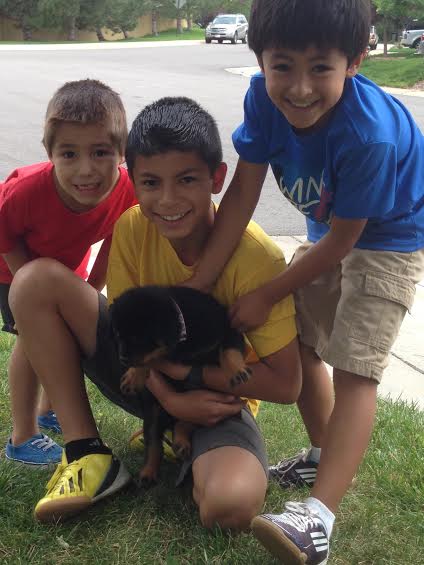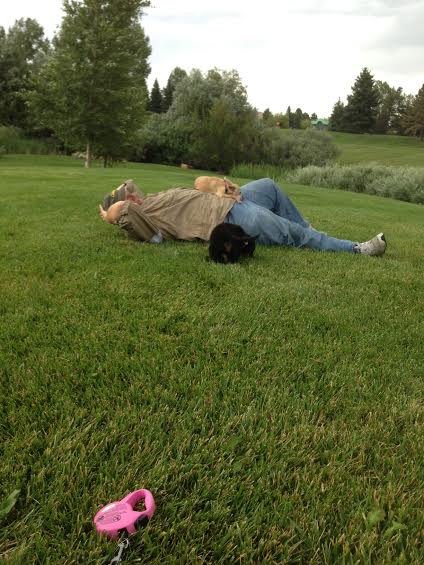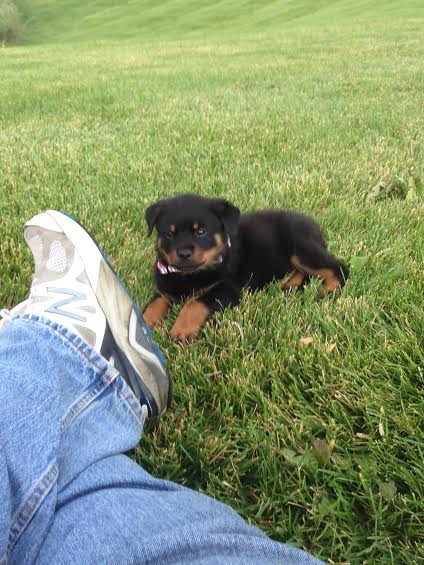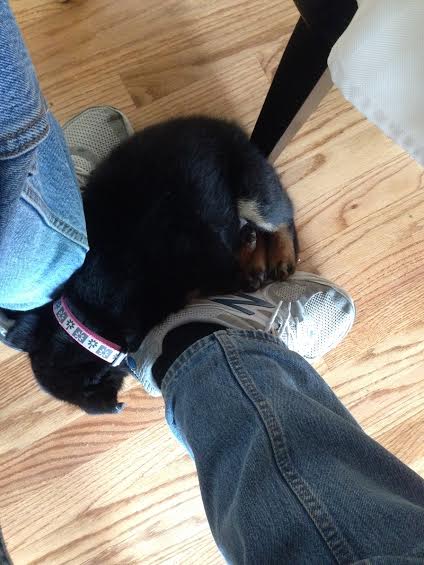 Reading the Sunday paper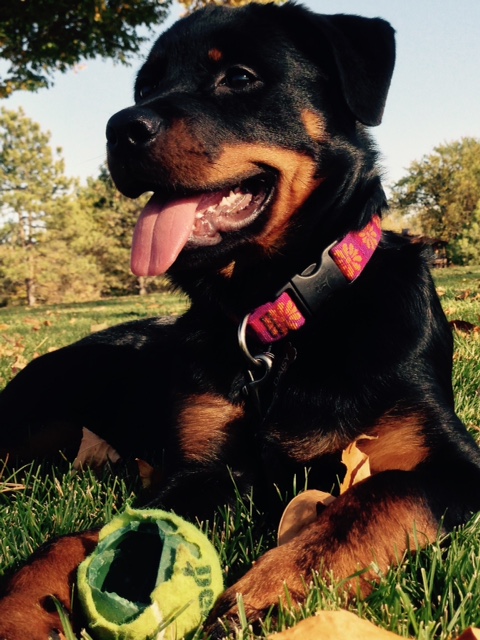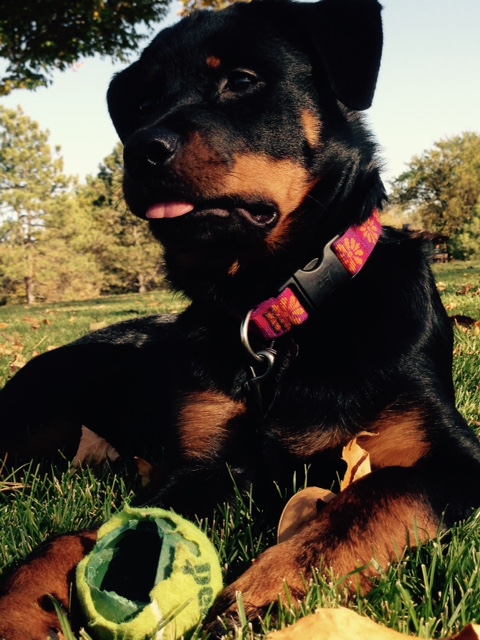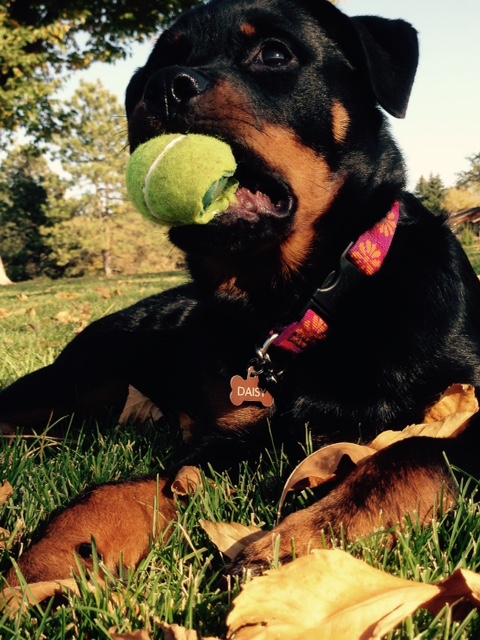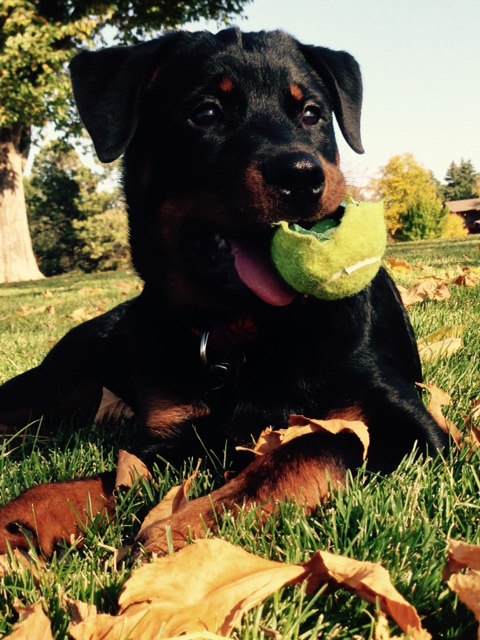 *Super important to know that I NEVER recommend leaving a Rottweiler unattended with a tennis ball.  First, even whole, they present a choking hazard as they are the perfect size to drop back in the throat and completely cut off the airway.  Secondly, because they are so easy to destroy, it is too easy for chunks of the ball to get ripped off and swallowed.  This can cause an intestinal blockage and which become life threatening.  As with any toy, once the pet starts to destroy the toy, throw it away. (and Daisy's dad knows this- that was not her tennis ball, but one she found at the park and then looked so cute with it in her mouth that he had to take a couple of pics 😉 )
I know that you are very busy and stressed so I thought you might enjoy this photo of Daisy from this last weekend.  I follow you on Facebook, and the work on the house looks GREAT!  Great job by the whole family!!
Daisies and Columbines (Columbines are the state flower of Colorado)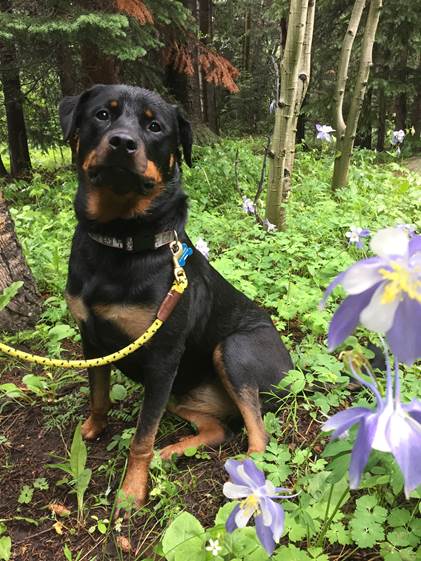 Daisy's TPLO on her right leg is this Wednesday.  She is doing really well so far, and I am looking forward to getting on the road to complete recovery.
Take care and God bless,
Kevin
Thanks for your phone call and advice this week regarding getting a letter from my Dr. stating that I need Daisy as a service/therapy dog (for my apt. search following my divorce).  I saw my Dr. this week and she is going t write up a letter for me after she does some research for the wording on the web.  I was as persuasive as I could what I am looking for, and the Dr. was very supportive.  We'll she want she says.
Here are some recent pics of Daisy I promised.
As a bonus, Daisy passed her AKC Canine Good Citizen Evaluation today!  This was extra special as Daisy took the test "cold" today with no prior preparation.  Usually, you have to take a 6 week course ($150) at our Humane Society prior to taking the test.  I was confident Daisy would pass, so the trainers at the Humane Society let us try the test without the class (given our circumstances). Daisy passed handily!!  This certification may also help us in our apartment search.  Can't hurt, right?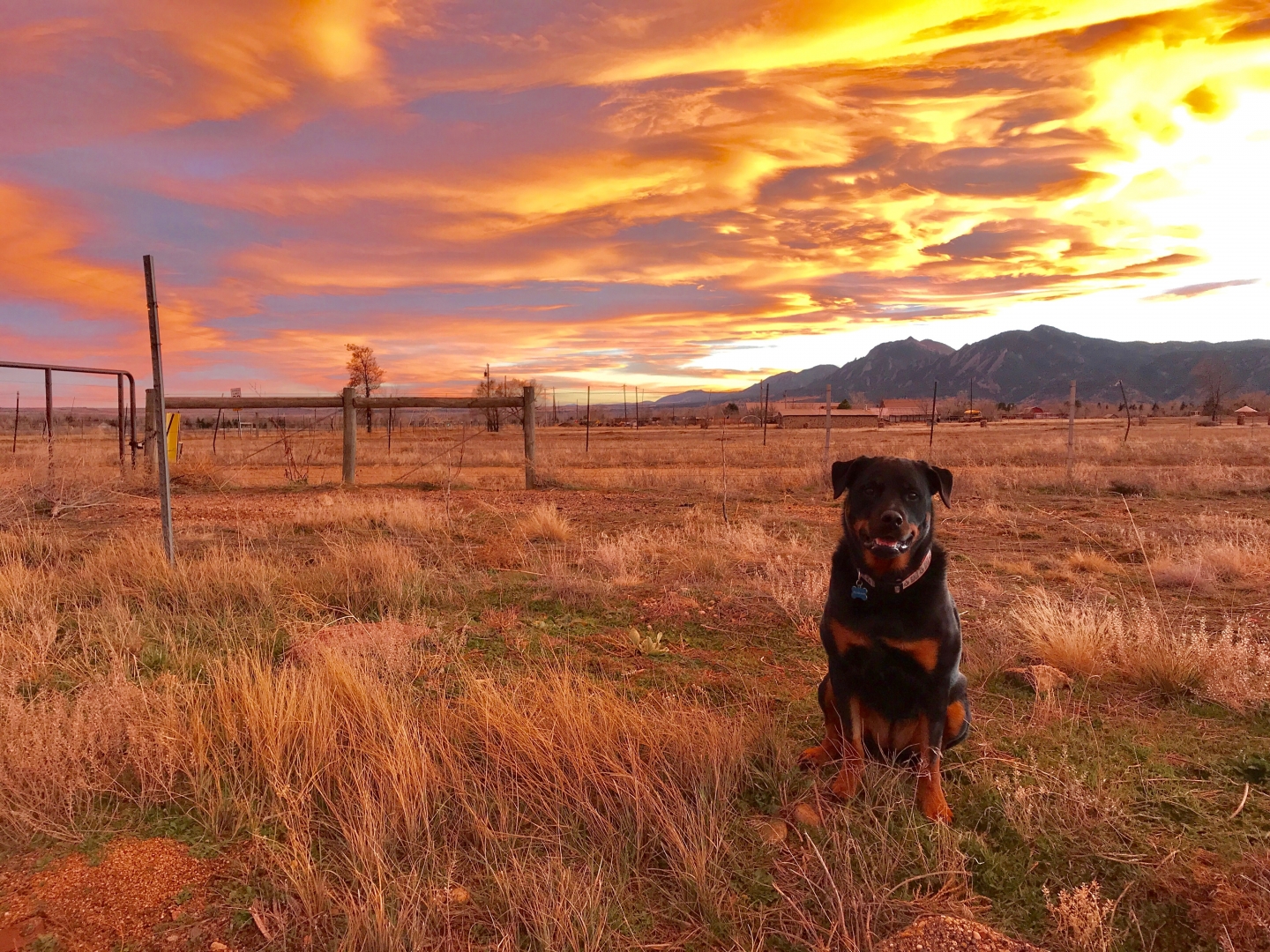 Hi Alice,
Greeting from Boulder, CO.  Hope you are doing well.  Just wanted to send you this recent photo of Daisy (Trust).
Some dogs have such a ruff life 🙂
Kevin Ash
---
"Ava" Guardian Tonka Von Gottschalk
Hi Alice,
I just send you this little note to thank you for bringing this little spit fire into my life. LOL.. Boy when she see's something or hears a noise she is so attentive watch it or looking where it came from.. And since i been home she has not been more than a foot away from me.. She hate the crate so we will see who's the more stubborn German me or her..;). She did eat much tall today but I figured as such she drank a lot of water and had a few treat i figure by the morning she'll eat more..if not I'll call you to see what else to do..
Again I just keep staring at her and what a really beautiful girl she is and it funny she hears the click of the camera and want pose then ..what a ham!
Thank you for the opportunity to me you and you family and dogs, I hope to get another girl from you in a years time..
Alice,
Tell me what you think this is what the judge said, and as I said to you before he already had her down as a P before he said all this just based on a walk bye..Her teeth adult teeth are almost all in, we started doing allitle bite work but that I want to be very care with that now, so it's still tracking every day and next week we start obedience one so I'm am still going fwd with that…
I wish I could take one of the puppies off your hands but Ava is still allittle terror 😉 and I'm not sure if I could handle 2 dogs at that age right now.. Let me know if there is anything I could do to help, and if you going to any shows close to me.
God bless
Mark
IMG_0165  (CLICK ON LINK FOR VIDEO!)
Here are some pic's from training last week to show you how she is doing got video also if your interested..Hope you like
Bless
Mark
Alice I was just wondering if you got it or not , I can send a hard copy if you prefer, as you can see in the picture she doing great..debating if Im going to take her to the nationals for her bh or do it here..kentucky is a 9 hr drive from here and traveling with 2 dogs is rough.. My shepherds sire won the wusv in Finland first usa dog and second women to do it ..Debbie Zappie with Iron von wollfen.. Ava is so good with her teaching her a lot..
Hope you and your family are well
Bless 
Mark
Alice just FYI Ava received her ztp adrk judge Paul Viehoff, I couldn't hear all the critic but I fwd u a copy when I get it..she growled on the sleeve and had to regroup but the helper spokeup and said he stepped on her paw when pushing her fwd so the judge understood..
Hope you and your family are well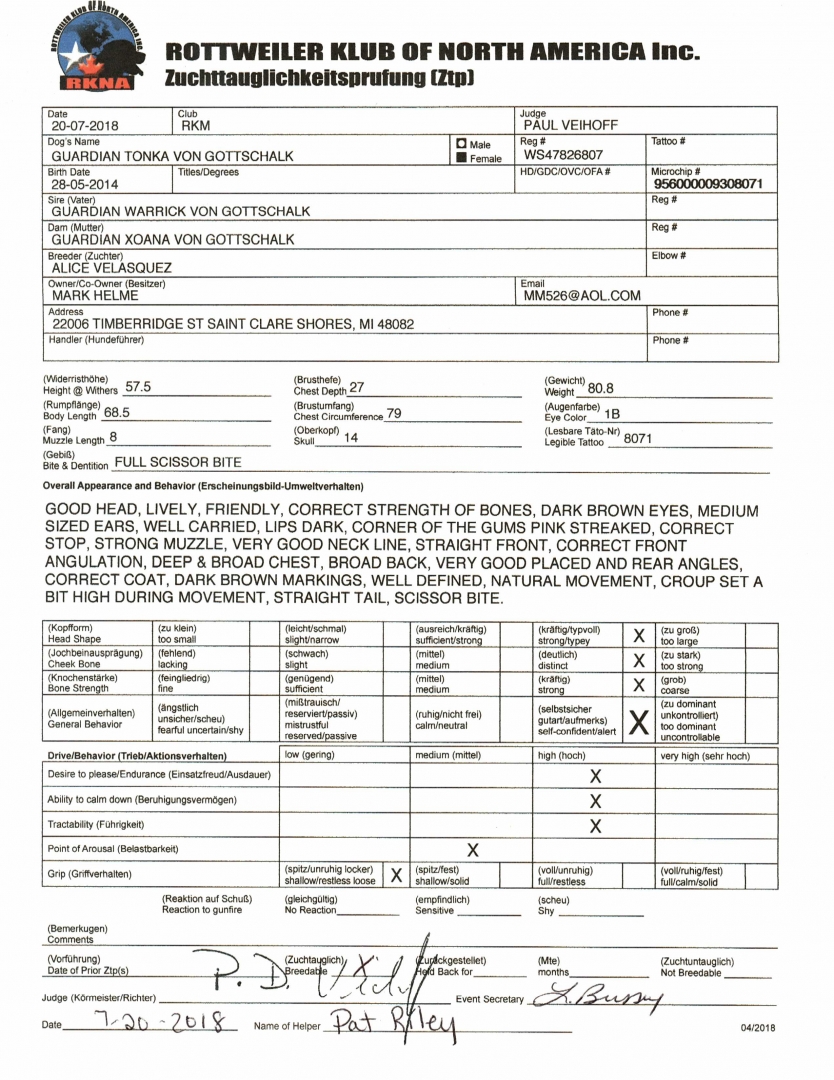 We could not be more proud of Ava!!  What a PHENOMENAL critique!  She scored the highest possible ratings in every category except arousal and grip!  Huge kudos to her owner for doing such a remarkable job with her!  Another Ocho kid rocking it!!
---
Guardian Titus Von Gottschalk
He is getting so big!  We are so in love with Titus already!!! It's only been one day and he has brought so much joy to our household.  My husband is already planning a second dog!!! (When we retire) he wasn't even as excited about getting a pup as me, but he is soooo glad we got aka Titus.
Thank you so much for giving us the opportunity to meet your family. Both furry and 2- legged. You have a wonderful kennel that's more like a Rottweiler sanctuary.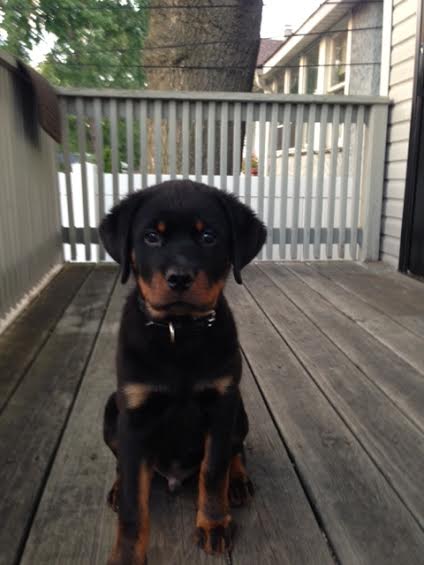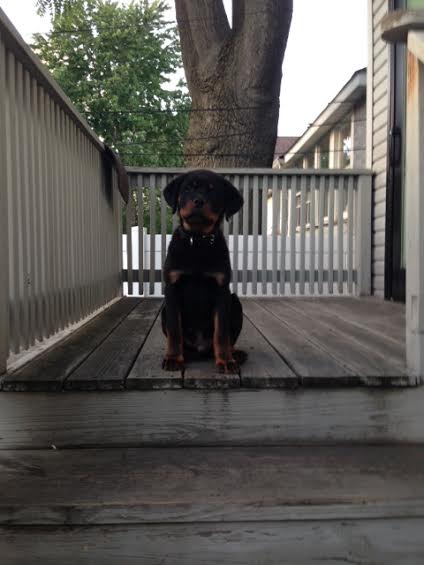 Hope all is well with you and your family. Just wanted to share a few more pictures of our big baby. At almost 5 months old he is such a good pup.  He has been in puppy boot camp with our trainer for obedience training this past week.  It's a 2 week program and I miss him so much already.  I know it's important to get him the proper training so I won't complain.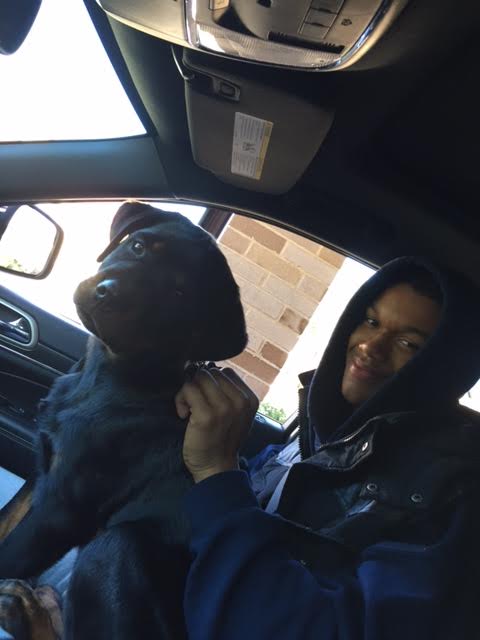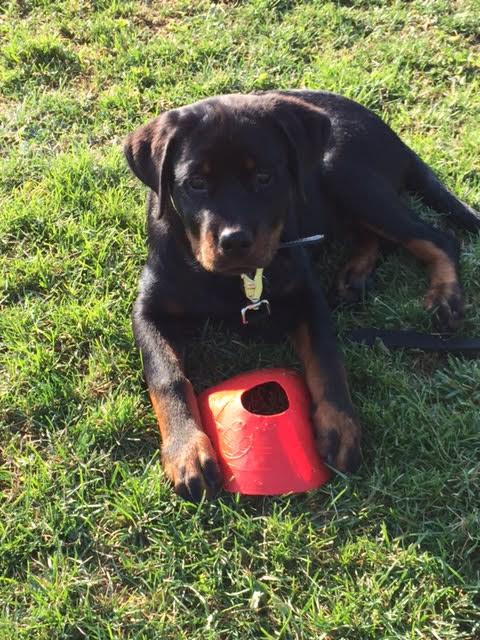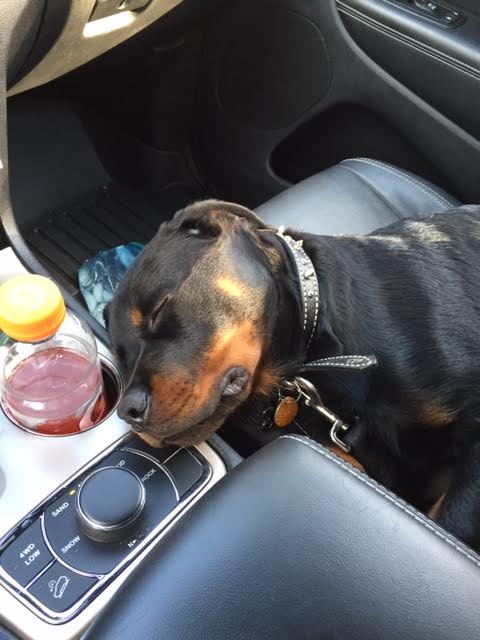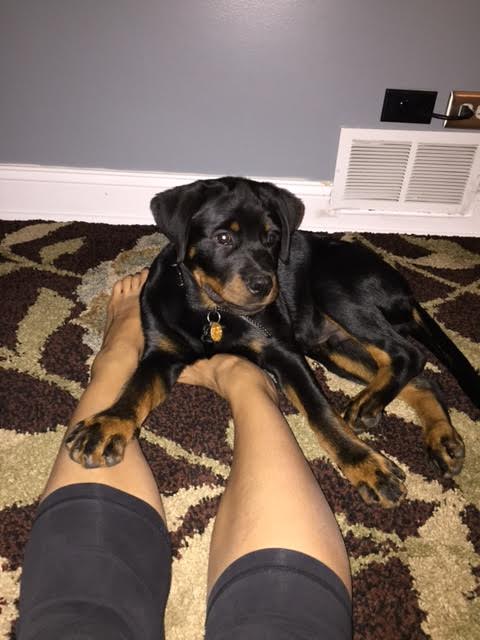 Titus aka Torque is the best puppy ever! We love him unconditionally. He has such a sweet spirit and a funny attitude.  His training is going well and we socialize him constantly.

Hope all is going well with you and your family.  We are all doing wonderful here, our young pup Titus turns 1 year old on May 28th, oh- my how time flies.  Elizabeth and I see that his father Ocho has returned to you guys.  When we purchased last year he was away in Germany so we didn't have an opportunity to meet him.  Would it be possible for us to possibly come out and see Ocho?  I now you guys are busy breeding and selling pups so if this isn't something that you allow then no worries, we just thought we would ask.
Please find a few pics of our big boy!
Regards
Torris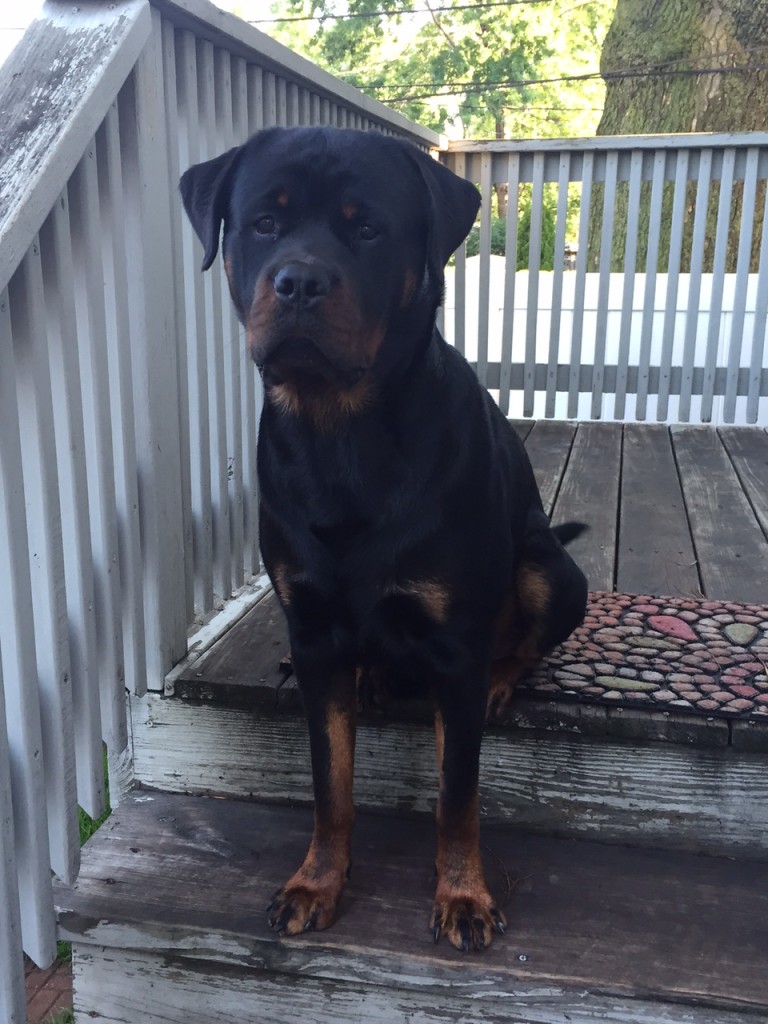 Good morning it's Titus Von gotschalk!?? looking for a little sister if cinnamon is still available how much would she be?
IMG_2416
(please click here for an adorable video <3 )
---
"Rex" Guardian Trigger Von Gottschalk
Rex my little devil dog has been terrorizing me all week. He is non stop, balls – to – the – wall playing, chewing, running, pooping,  peeing (mostly outside). FINALLY, he crashed. In true Rottie form, he sleeps on his back and exposes himself to the world. He also snorts and snores!
We've done a lot of bonding this week and he is already protective of mommy–grr-ing at the door when someone walked by. He's gotten "sit" down pretty well and we're working on"stay," especially at the front door and at feeding time. Puppy training session #2 (private, of course, because you don't get group until 6 months) is on Saturday.
More later….. have a good holiday weekend.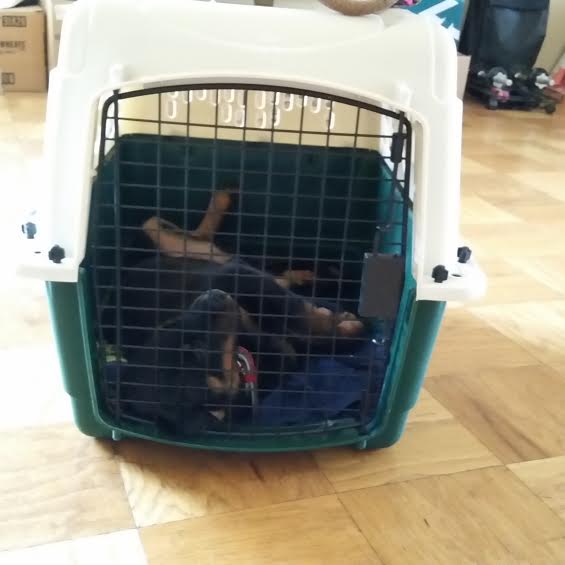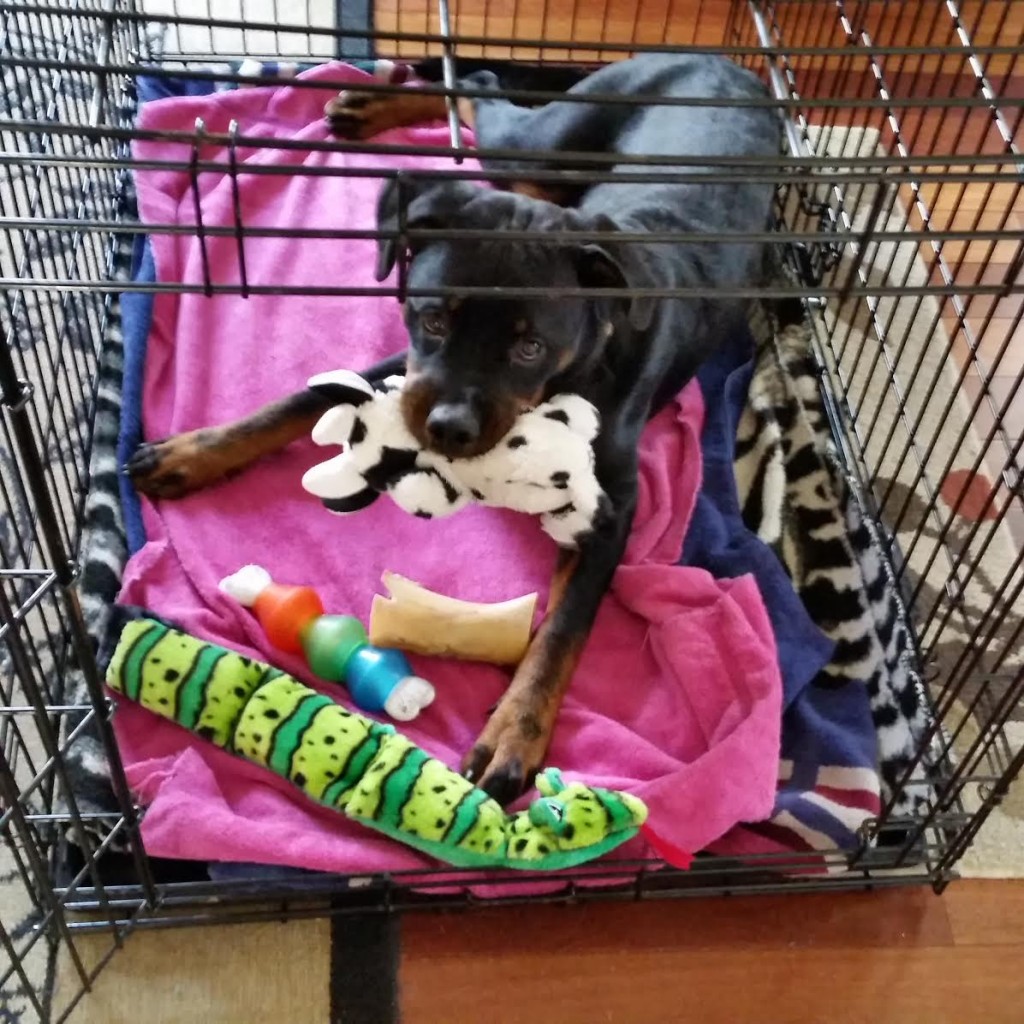 Toy hog……   😉
My little man just chilling on Easter Sunday! LOL!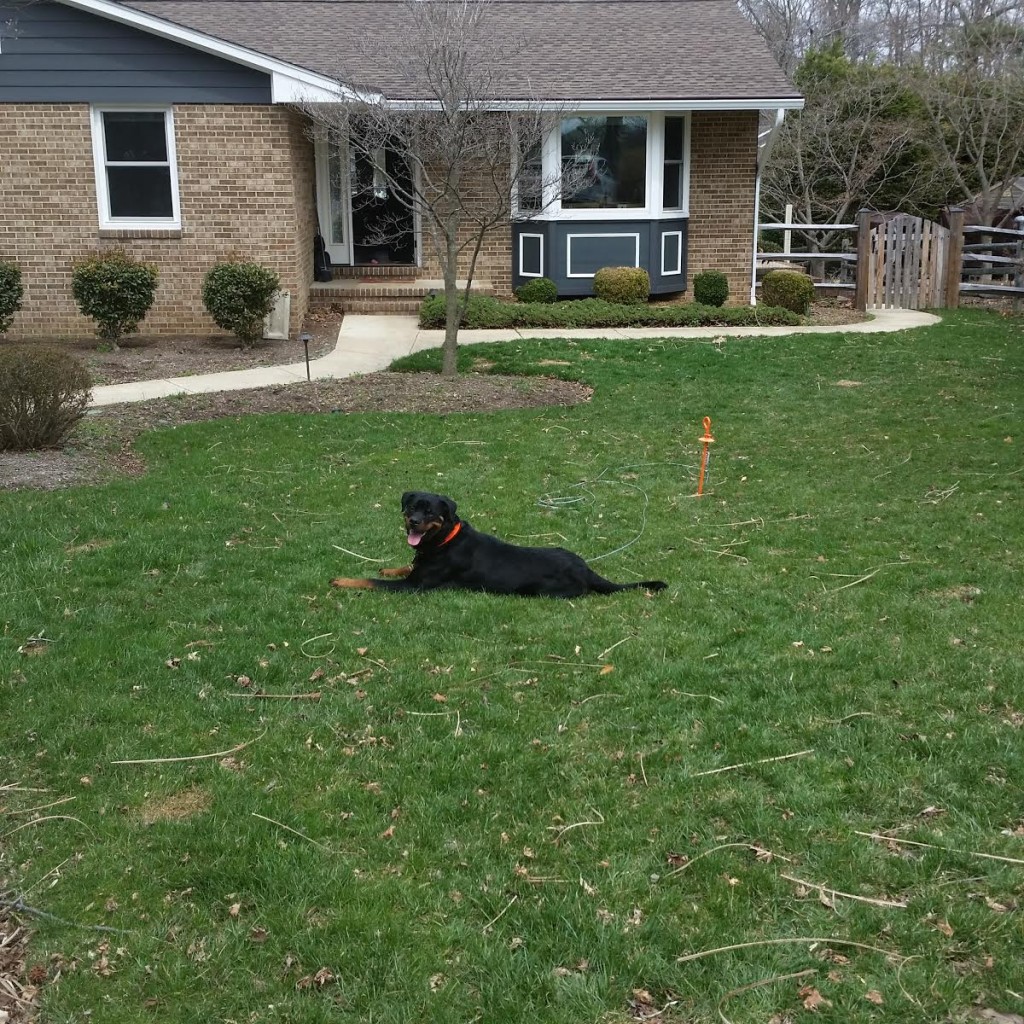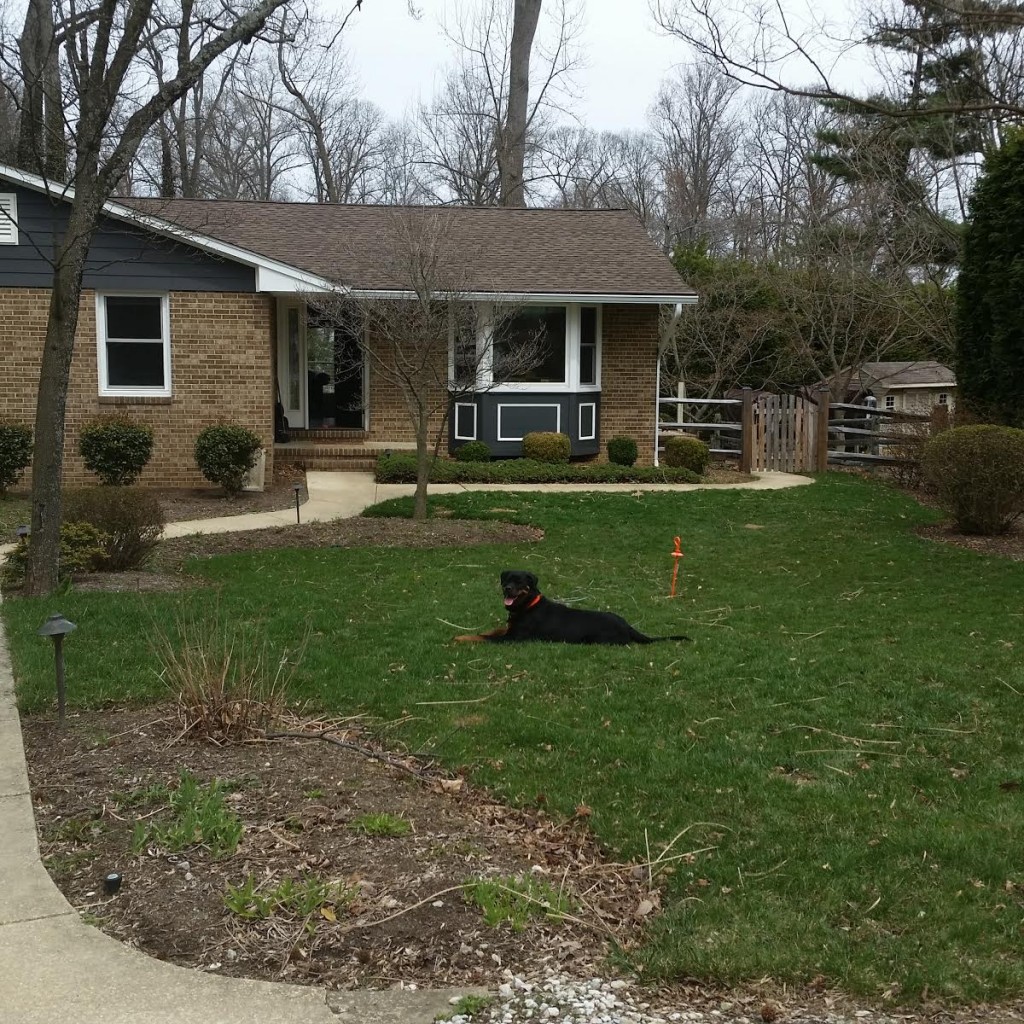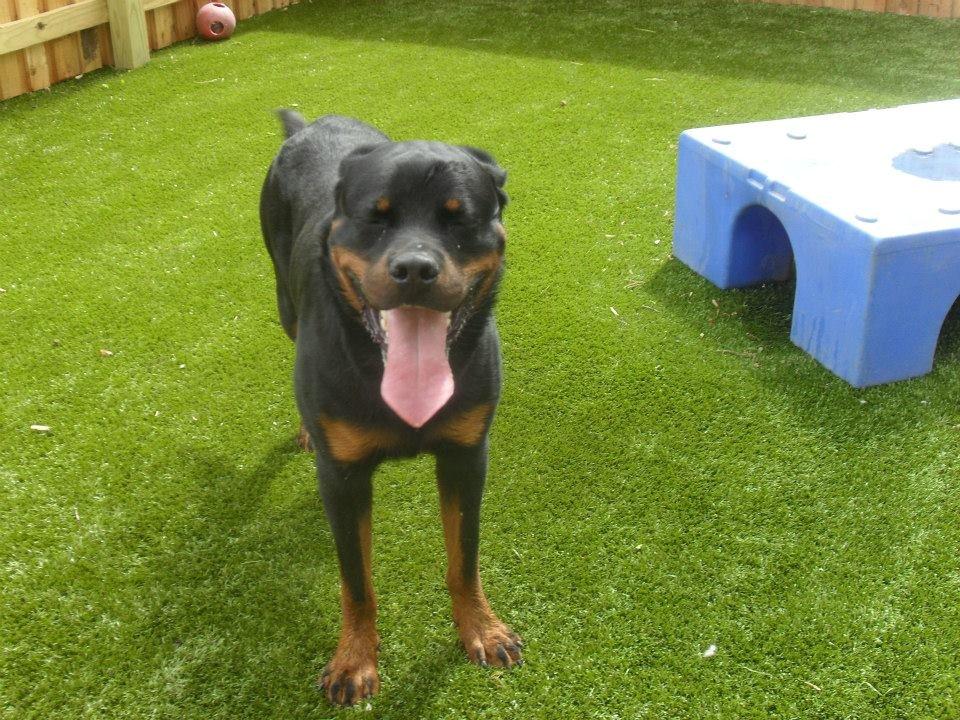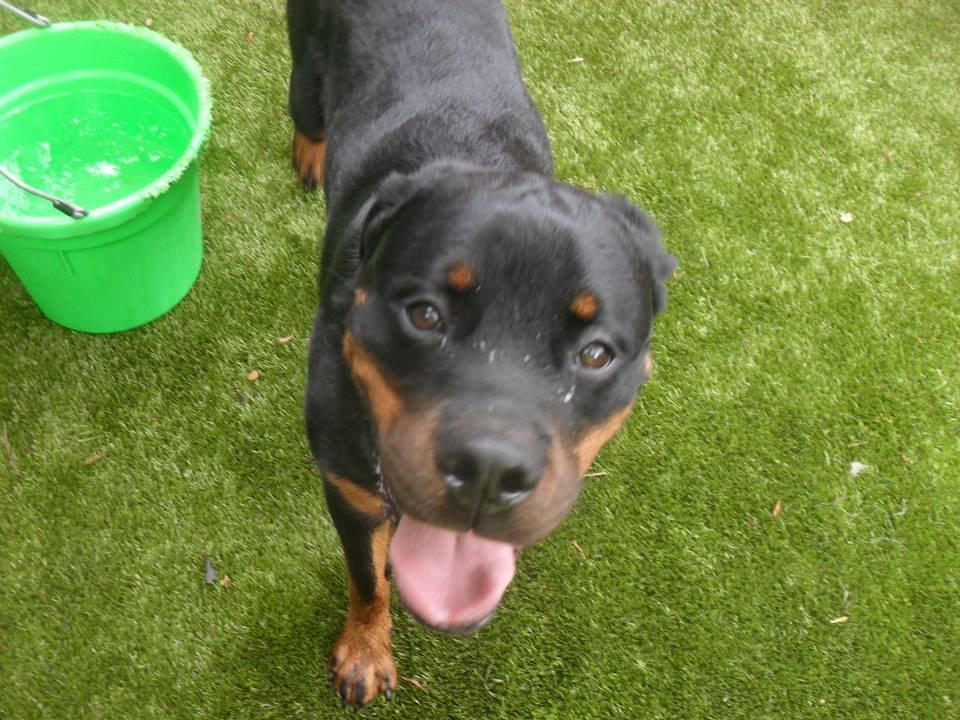 I think this is probably one of my most favorite photos ever <3  THIS is a Rottweiler <3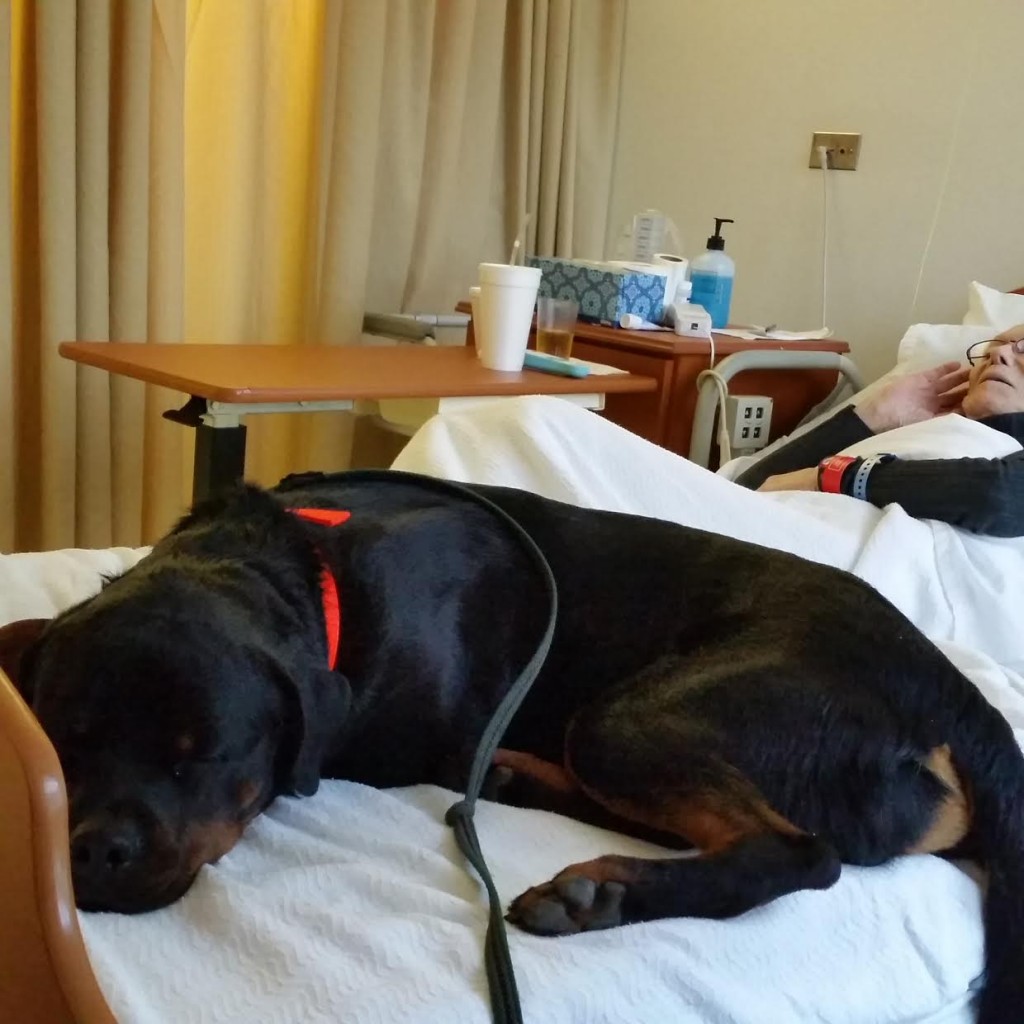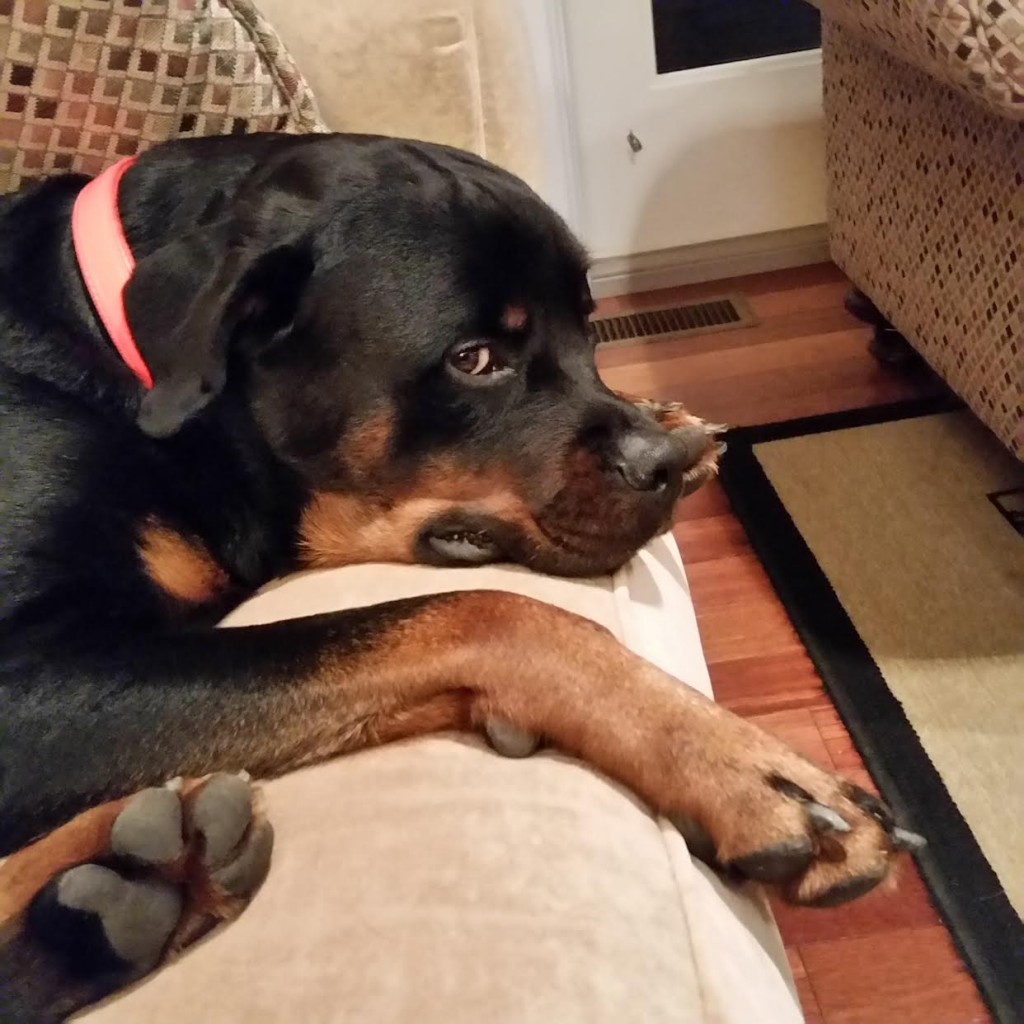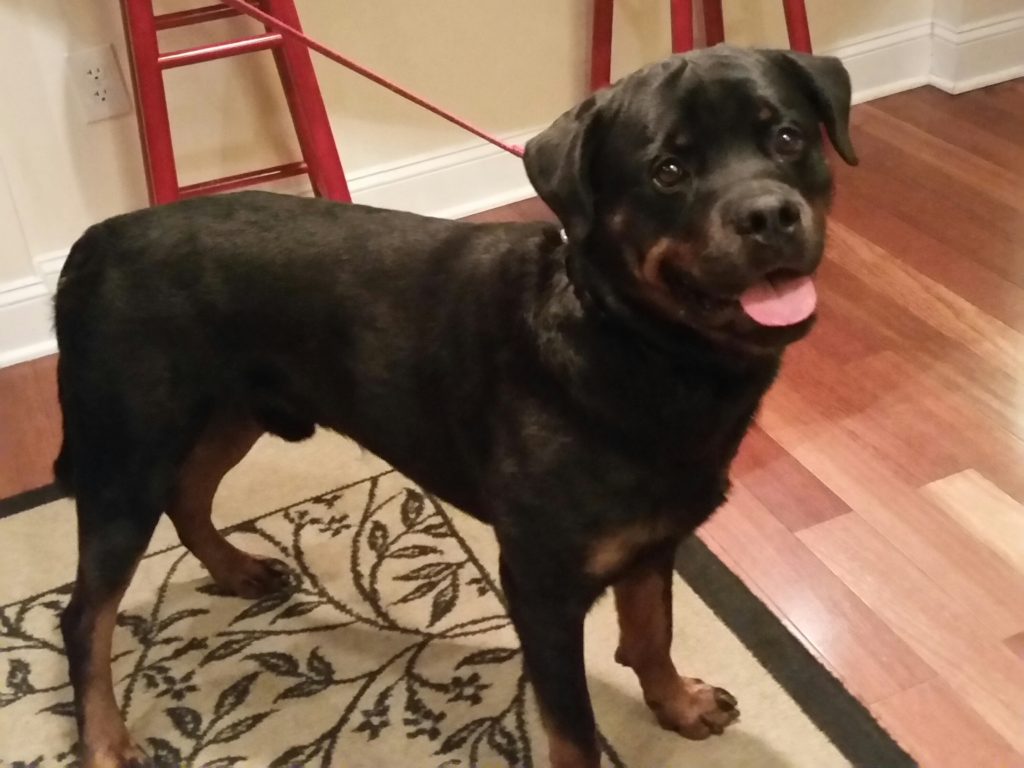 Mama's boy–or grandpa's.

(Visited 30 times, 1 visits today)