Guardian Rottweilers Y LITTER
Sire: Marsio Ri Mobby Dick
Dam: Mona Se Ungo-Rot
International Champion                     International Champion
Marsio Ri Mobby Dick                          Mona Se Ungo-Rot                 
HD-FREI, ED+/-  IPO-1                        HD- A (frei) ; ED-0 (frei)  
Youth Champion Serbia06                 IPO – I
Adult Champion Bulgaria 06             Adult Champion Serbia 06
Adult Champion Serbia 07                 Adult Champion Macedonia 06
Adult Champion Macedonia 07        Adult Champion Bulgaria 07
CACIB Athens Greece 08                    Candidate for Hungary CH.
V15x, Youth Winner 2x,                      Balkan Champion 07
RCACIB 11x, CAC 3x,BOB, BOG,       4 x C.A.C.I.B. ; R.C.A.C.I.B. ;
R.YOUNG BOG, BIS III PLACE         23 x C.A.C. ; 2 x B.O.B.
CACIB 6x, RBOG

---
"Apollo" Guardian Yukio Von Gottschalk
Alice,
Sorry for the delayed response….Apollo is doing great.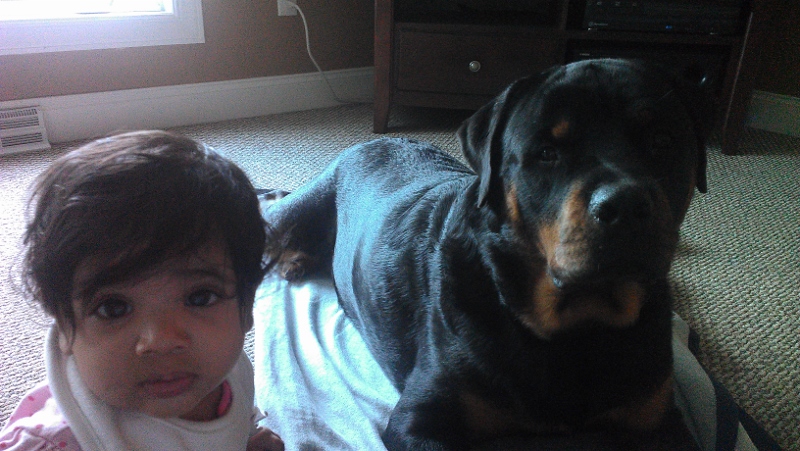 He is growing so fast and is learning alot (except the peeing!).  He knows to sit and wait for us before getting into the house, he sits obediently when we go to feed him and he does well with playing by himself  while I cook/clean in the kitchen.  And he is such a ham with the neighbors and milks it for all its worth!  He is also playing well with our neighbor's 4yr old boston terrier who is only half his size.
Thanks,
Kruti
Thanks for the reply…He is actually  a great addition to our family and is extremely intelligent.  Potty training is much better!!!  He is going to the door most of the time.  We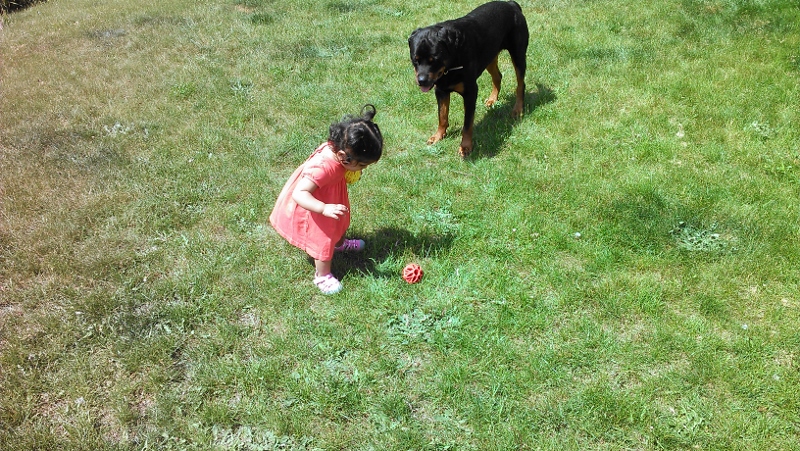 are changing out our entire flooring on our house, so I sent him to my cousins for week.  She ahs a 12 year old retriever and a 1 year old retriever, so I think he learned a lot by watching them.   He does GREAT with other dogs and knows the difference between how to play with a big dog versus a small dog.   And he does really well with the kids on our street, even the  3 year old.  We take him out 3-4 times a day so that he can meet as many neighbors while he is a puppy.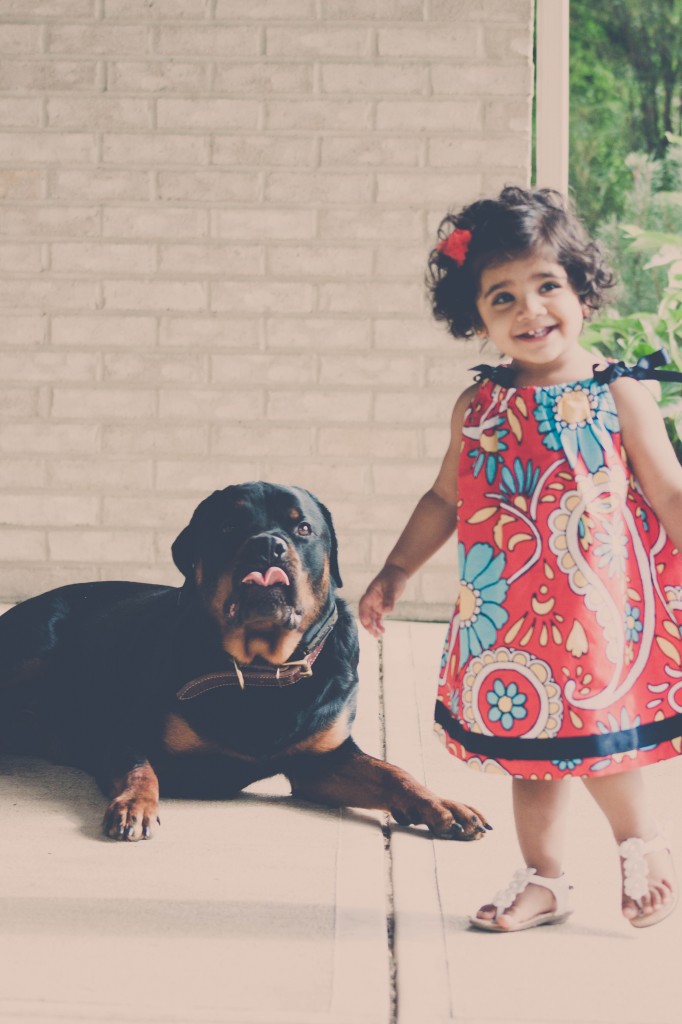 He does enjoy his sleep, especially after his afternoon walk when its bit hotter.  I think we are going to start the training in the next few weeks and the trainer is also the same one who teaches the puppy class at the obedience school, so it will be a great transition.  Even though he has his moments, we can already tell that with the right love and attention he is going to be exceptional!
Thanks and I hope all is well on your end.
Kruti
Alice,
We got our Apollo (Yukio) from you in August of 2010.  I wanted to send you an update email. 
Apollo has turned out to be a great companion and family member.  He is now 3 and starting to turn into an adult male, though I think his personality is such that he will always have that puppy excitement in him!  He is not the most graceful, but he is very affectionate and loving.
Since getting Apollo, we have had a little one, Avni, who is 15 months.  It took him some time to learn the concept of being gentle, but he knew she was family from the beginning.  As you can see she and Apollo are becoming great friends.  She tests his patience when she decides his toys are more interesting than hers or feels like sitting on him just when he is falling asleep or decides to use him as a stool to get on the couch.  However, she is very good about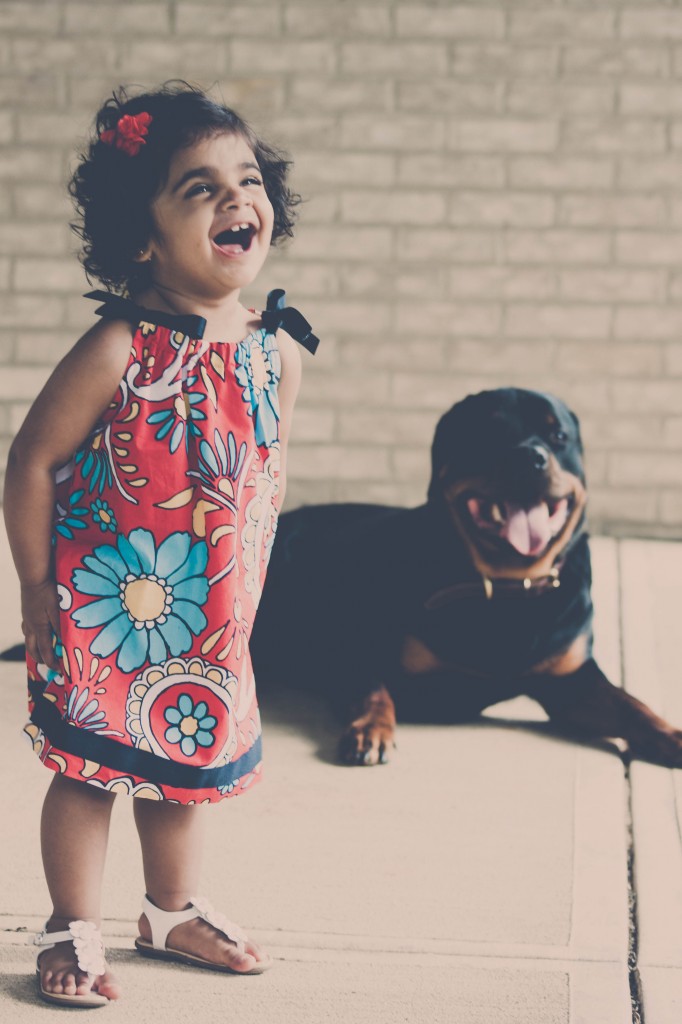 sharing her snacks with him, which is probably why he is so forgiving!  The video is from when she was about 10 months old and was trying to play peek-a-boo with him. 
When my husband told me he wanted a Rottweiler, I was definitely hesitant.  But I kept an open mind and so glad that I did.  He was right and knew then what I know and appreciate now (but don't tell him I said that!)  It took a year to find you and I am so glad we did and that we were patient. 
In part, this email is say thank you for doing what you do and bringing Apollo into our lives and my daughter's.  I often think that getting him was one of the best things we did and I am so glad we I got him before having kids.  Apollo was the first time as an adult I was reminded what complete and total unconditional love was.  He definitely helped me be a better mother for my daughter.  And I know she is lucky to have him as her companion and her guardian.
Thank you.
Kruti
Alice,
Happy New Year! We wanted to inquire about a puppy for our family.  We previously got our beloved Apollo (Yukio Von Gottschalk) from you back in 2010.  He passed away this past spring on May 18th, a little shy of his 10th birthday. He was diagnosed with osteosarcoma in fall of 2019.  He gave us a lot more time than they expected.  He was an amazing dog and definitely my best bud.  After getting him in 2010, we had our 3 kids (2012, 2014, & 2015) and they had so many amazing memories with him.  While we miss our Apollo dearly, I think we also miss having a presence in the house that only a dog can bring.  He was my once in a lifetime dog and I can only hope that the kids will also get to have theirs.
Ideally we would love to get a pup in the spring, though I know there is often a long wait list. We need a calm temperament, even if he is high energy.  We are not concerned about the sex of the dog, unless you have a specific recommendation given our kids and thier ages.  I don't know if there is a way to have a pup within his family bloodline (or if that's even possible).
Please feel free to email or give me a call at your convenience.  412-434-4828.  I have included some pictures of him throughout the years.  Thank you for what you do.  He is such a special part of our family and has left a big imprint in our hearts.  He was my once in a lifetime dog and I can only hope that the kids will also get to have theirs.
Thanks,
---
"Athena" Guardian Yin Von Gottschalk

---
Guardian Yenko Von Gottschalk

Alice, I wanted you to see this boy. He is crazy fun! We love him so much he is just a wonderful addition to our family. YENKO keeps us on our toes and reminds us daily not to leave anything we like to much laying around where he can get it. (like our cell phones) At this point I believe he has a life time WIFI connection in his belly and he may or may not be able to contact other planets lol  Yenko is 6 months old and Weighs 85 lbs he is just a solid hunk of love!
We love our baby even if he is nuts!
I hope you and you family had a wonderful Holiday! We loved the pic
Ronnie, Michelle & Yenko
(Visited 6 times, 1 visits today)